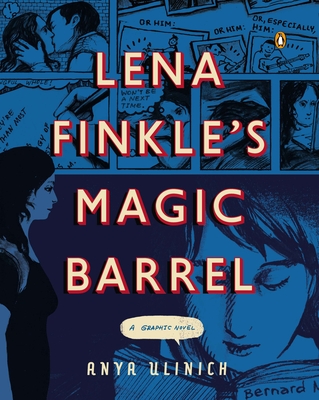 Lena Finkle's Magic Barrel
A Graphic Novel
Paperback

* Individual store prices may vary.
Description
*A New York Times Notable Book*

"Funny, painful, outrageous . . . Anya Ulinich is the David Sedaris of Russian-American cartoonists."
—Gary Shteyngart

Anya Ulinich turns her sharp eye toward the strange, often unmooring world of "grown-up" dating in this darkly comic graphic novel. After her fifteen-year marriage ends, Lena Finkle gets an eye-opening education in love, sex, and loss when she embarks on a string of online dates, all while raising her two teenage daughters. The Vampire of Bensonhurst, the Orphan, Disaster Man, and the Diamond Psychiatrist are just a few of the unforgettable characters she meets along the way. Evoking Louis C. K.'s humor and Amy Winehouse's longing and anguish, and paying homage to Malamud and Chekhov, Lena Finkle's Magic Barrel is a funny and moving story, beautifully told.
Praise For Lena Finkle's Magic Barrel: A Graphic Novel…
Praise for Lena Finkle's Magic Barrel

"Lena Finkle's Magic Barrel transcends its influences so thoroughly it creates a form, a language, all its own. . . . The simplest way to describe it is to say that it's about Lena's efforts to reconcile herself to sex and love (through OkCupid, among other contemporary intercessions), but that doesn't do justice to the complexity of what Ulinich has in mind. Rather, Lena Finkle's Magic Barrel works as something of a confessional, a series of notebooks that excavate its protagonist's life and psyche from the inside. . . . This is the power of the graphic novel, that it not only tells but also shows us, that by integrating images into the narrative, it draws us into Lena's experience with the force of memory. Ulinich means—not unlike Pekar in American Splendor or Karl Ove Knausgaard in My Struggle—to set aside literature with a capital L (whatever that is) in favor of the epic textures of the day-to-day."
—David Ulin, Los Angeles Times

"An engrossing graphic novel about the vicissitudes of love, family, immigration, and art . . . Its intricate layering of memory, speech, and time exemplifies the sophistication and confidence with which Ulinich, a novelist who trained as a visual artist, approaches comics. . . . Her book can stand beside the work of other writers who've immigrated from the former Soviet Union—Gary Shteyngart, David Bezmozgis, and Keith Gessen. . . . She leaves us, her readers, with an unmistakable sense of having encountered a rare, indeed magical, talent."
—Ayelet Waldman, The New York Times Book Review

"Relentlessly in search of a self, Lena Finkle is armed with an OkCupid account, an irrepressible inner voice rendered as a miniature Lena, and a penchant for quickly reducing others to bit players in her one-woman show. Ulinich's subject—of sex leading to a woman's understanding of herself rather than a perfect union—shouldn't be noteworthy at this point in pop culture. But somehow it still is. . . . Pitched toward the same pop culture consumers who are drawn into the best serial shows, Lena Finkle's Magic Barrel is a fast read but not a dumb one, and, like good television, the visual information is working both to reinforce, and to offer a different take on, the language."
—The New York Times

"A bold new graphic novel . . . Lena's online-dating match-ups range from promising to disastrous, exposing the sexy sensibility and bookish panache of her darkly delightful Russian-American soul."
—Elle

"A very personal (and universal) book about romance and a breakup. . . . It's smart, and it's wise in a clean-cut journalistic way, and it's incredibly, incredibly funny—and the painting is beautiful."
—Slate

"Splendid . . . Ulinich packs Lena Finkle's Magic Barrel with wit, making the most of the absurdities and indignities of online dating. To that, she adds insight into the immigrant experience and startling descriptions of lovesickness that comes from suffering it for the first time at a relatively late age. For its richness and depth, Lena Finkle's Magic Barrel belongs alongside Marjane Satrapi's Persepolis and Alison Bechdel's Fun Home. . . . Books such as this—beautifully conceived, smartly told, imaginatively illustrated—are gifts. Serious readers who haven't ventured into visual storytelling should do themselves a favor. Try this one."
—Cleveland Plain Dealer

"Anya Ulinich's semi-autobiographical work kept me guessing about Finkle's fate—will this Russian-American divorcée overcome her insecurities, her passive-aggressive mother, and a rogue's gallery of Mr. Wrongs to revive her romantic mojo? . . . Her writing is so fine-edged that Magic Barrel effortlessly balances its poignant and humorous episodes."
—The San Diego Union-Tribune

"I really enjoyed Lena Finkle's Magic Barrel, which I read in one sitting. . . . It's wonderfully evocative and honest and teaches you things about life that only its author knows."
—Eric Alterman, TheNation.com

"An honest and absorbing tragicomedy about love, sex, and everything that goes with them. . . . The result is an affecting portrait of how we become who we are and how we try desperately to be who we want."
—Publishers Weekly

"An entertaining intellect . . . Ulinich follows her debut with a graphic novel chronicling a young immigrant writer's adventures through family, friendship, and sex. It's fitting that Ulinich's protagonist shares a first name with the creator of Girls. . . . The book shares terrain with the Dunham verse, being the story of a creative young woman's emotional fallout from sexual exploits in neobohemia. . . . engagingly expressed as short, comic strip–like vignettes."
—Kirkus Reviews

"Funny, painful, outrageous . . . Anya Ulinich is the David Sedaris of Russian-American cartoonists."
—Gary Shteyngart, author of Super Sad True Love Story and Little Failure

"Intelligent, sincere, and painfully funny, Lena Finkle's Magic Barrel is  the divorced women's Maus."
—Etgar Keret, author of The Nimrod Flipout and Suddenly, A Knock on the Door

"Fun, lively, dirty, honest, outrageous, and deep."
—Jami Attenberg, author of The Melting Season  and The Middlesteins

"This book will make you laugh so hard you'll get stares from strangers. In crisp, mordant prose, Anya Ulinich lampoons bohemian Brooklyn parents, bad aspiring writers, and elusive emo boys. But make no mistake: she is deadly serious on female desire and her ultimate subject, the search for selfhood. Lena Finkle will stay with you long after her journey ends."
—Amy Sohn, author of The Actress and Prospect Park West

"Hilarious and heartbreaking in exactly equal measure. Anya Ulinich's uncompromising artistic vision is glorious, unique, and rare."
—Emily Gould, author of And the Heart Says Whatever and Friendship
Penguin Books, 9780143125242, 368pp.
Publication Date: July 29, 2014
About the Author
Anya Ulinich is the critically acclaimed author of Petropolis, which was awarded the Goldberg Prize, named a best book of the year by The Christian Science Monitor and The Village Voice, and translated into ten languages. Her stories and essays have appeared in The New York Times, Newsweek, n+1, and Zoetrope: All-Story, and she has taught at New York University and Gotham Writers' Workshop. She lives in Brooklyn, New York.