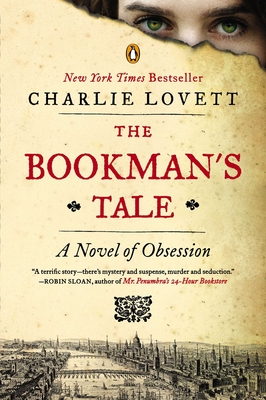 The Bookman's Tale
A Novel of Obsession
Paperback

* Individual store prices may vary.
Other Editions of This Title:
Digital Audiobook (6/26/2013)
Description
A mysterious portrait ignites an antiquarian bookseller's search through time and the works of Shakespeare for his lost love. Charlie Lovett's new book, The Lost Book of the Grail, is now available.

Guaranteed to capture the hearts of everyone who truly loves books, The Bookman's Tale is a former bookseller's sparkling novel and a delightful exploration of one of literature's most tantalizing mysteries with echoes of Shadow of the Wind and A.S. Byatt's Possession.

Nine months after the death of his beloved wife Amanda left him shattered, Peter Byerly, a young antiquarian bookseller, relocates from North Carolina to the English countryside, hoping to outrun his grief and rediscover the joy he once took in collecting and restoring rare books. But upon opening an eighteenth-century study of Shakespeare forgeries, he discovers a Victorian watercolor of a woman who bears an uncanny resemblance to Amanda.
 
Peter becomes obsessed with learning the picture's origins and braves a host of dangers to follow a trail of clues back across the centuries—all the way to Shakespeare's time and a priceless literary artifact that could prove, once and for all, the truth about the Bard's real identity.
Praise For The Bookman's Tale: A Novel of Obsession…
"With THE BOOKMAN'S TALE, Charlie Lovett tells us a terrific story—there's mystery and suspense, murder and seduction—but more important, he shows us how it's all connected, all of this: the reading and the keeping and the sharing of books. It forms a chain long and strange enough to tie a heartbroken young scholar from North Carolina back to the Bard himself, who might or might not have been William Shakespeare. Every link along the way is a bookman's tale all its own, and Lovett tells them all, except the very last, of course: because that's you, about to read this book right now."—Robin Sloan, New York Times bestselling author of Mr. Penumbra's 24-Hour Bookstore
 
"Lovett's novel, THE BOOKMAN'S TALE, is a marvelous new Shakespearean mystery: an intelligent thriller that is also a love song for books and the people who relish them. Lovett knows his stuff about Shakespeare, rare books, and the passions that both inspire, and he weaves from these a delicious tale of love, loss, and the thrill of discovery. It kept me turning pages till the wee hours for days. The only disappointment was that it came to an end."—Jennifer Lee Carrell, author of Interred with Their Bones
 
". . .A gripping literary mystery that is compulsively readable until the thrilling end. For fans of Geraldine Brooks's People of the Book, Shakespeare aficionados, and bibliophiles."—Library Journal (Starred)
 
"A pleasurably escapist trans-Atlantic mystery is intricately layered with plots, murders, feuds, romances, forgeries—and antiquarian book dealing."—Kirkus
 
"Fans of mysteries, of love stories, and of rare books will all find moments in Lovett's novel to treasure."—Booklist

"I don't read much fiction. I'm picky.  But I loved racing through Charlie Lovett's The Bookman's Tale, a richly rewarding thriller filled with real-world details about the discovery of a rare book that may or may not be a priceless Shakespearean artifact. Fun for everyone who's ever fondled a soft leather binding!"—DANIEL SINGER, founder, Reduced Shakespeare Company and co-author of The Complete Works of William Shakespeare (Abridged)

"[A] suspenseful romp spanning centuries and continents and peppered with romance, skulduggery, forgery and murder, all driven by one of the enduring questions of literary scholarship."—Washington Post

"The Bard is back in this rollicking literary mystery….This novel has something for everyone: William Shakespeare, a love story, murder and even a secret tunnel."—Star Tribune
 
"A Bookman's Tale has plenty of richness to offer….Daring intricacy."—The Atlanta Journal-Constitution

"Da Vinci Code–like sleuthing into the works of Shakespeare and sliding back to the bard's time."—Library Journal

"A treat."—New York Journal of Books

"Begin this book in the evening only if you're willing to pull an all-nighter…The novel will appeal not only to bookworms and mystery hounds but to anyone who smiles at abiding love or simply enjoys a good read." —Winston-Salem Monthly
 
"All too good to resist….The Bookman's Tale is a book about books, written for lovers of books."—The Fayetteville Observer

"Roguish booksellers, feuding nobles and unexpected plot twists."—The Asheville Citizen-Times

"[A] charismatic tale about the rare book world and history come to life….Like a gigantic hug to all book lovers."—MinnesotaReads.com

"[A]n immensely satisfying and plesurable read that combines a range of genres and above all else, celebrates the beauty and wonder of the literary word."—SeattlePI.com

"Lovett's tale sparkles with seasoned storytelling."—The Mountain Times

 
Penguin Books, 9780143125389, 368pp.
Publication Date: May 27, 2014
About the Author
Charlie Lovett is a writer, teacher, and playwright whose plays for children have been seen in more than three thousand productions worldwide. He served for more than a decade as writer in residence at Summit School in Winston-Salem, North Carolina. He is a former antiquarian bookseller, and he has collected rare books and other materials related to Lewis Carroll for more than twenty-five years. He and his wife, Janice, split their time between Winston-Salem and Kingham, Oxfordshire.