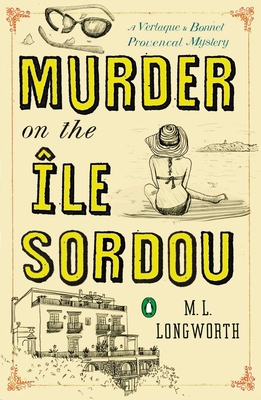 Murder on the Ile Sordou (A Provençal Mystery #4)
Paperback

* Individual store prices may vary.
Other Editions of This Title:
Digital Audiobook (10/15/2018)
Description
In this decadent installment, Verlaque and Bonnet find themselves hunting a murderer on a remote island in the glittering Mediterranean Sea

Provençal Mystery Series #4
Now a series on BritBox.

On-again couple Antoine Verlaque and Marine Bonnet are hoping for a relaxing holiday at the Locanda Sordou, but someone has other plans.

Hoteliers Maxime and Catherine Le Bon have spent their life savings restoring the hotel, which lies in an archipelago of sun-soaked islands off the coast of Marseille. To celebrate the grand opening, a group of privileged guests joins Verlaque and Bonnet: Marine's free-spirited best friend; an aging film star, his much-younger wife, and her disgruntled son; a pair of affable American tourists; and a querelous Parisian couple. But the murder of one of the guests casts a shadow over everyone's vacation, and things go from bad to worse when a violent storm cuts off all communication with the mainland. Will the killer strike again?

Like Donna Leon and Andrea Camilleri, M. L. Longworth enchants mystery lovers with a taste for good food and gorgeous landscapes in this installment of her acclaimed mystery series.

"A charming read with a well-crafted mystery and characters as rich and full-bodied as a Bordeaux." —Milwaukee Journal Sentinel
Praise For Murder on the Ile Sordou (A Provençal Mystery #4)…
Praise for M. L. Longworth's Provençal Mystery series
 
"The Verlaque and Bonnet mysteries . . . plunge you into a languid world of epicurean pleasures and good living." —Eleanor Beardsley, NPR
 
"Beguiling . . . Longworth evokes the pleasures of France in delicious detail—great wine, delicious meals, and fine company." —Publishers Weekly


Praise for Murder on the Île Sordou

"Charming." —Marilyn Stasio, The New York Times Book Review

"Thoroughly delightful . . . Longworth deftly handles what is in effect a locked-room mystery, but the book's real strength lies in the backstories she creates for each of the distinctive characters. The puzzle's answer, buried in the past, is well prepared by what has come before." —Publishers Weekly (starred review)

"Longworth once again immerses readers in French culture with this whodunit, which will delight Francophiles and fans of Donna Leon and Andrea Camilleri. The setting will also appeal to readers who enjoy trapped-on-the-island mysteries in the tradition of Agatha Christie's And Then There Were None." —Library Journal

"Longworth's novels, set in the south of France, are mysteries for foodies, with the plot providing a table upon which the enchanting meals and accompanying wines are served." —Booklist

"[A] charming read with a well-crafted mystery and characters as rich and full-bodied as a Bordeaux." —Milwaukee Journal Sentinel

"A splendid read." —Mystery Scene

"The best thing about each novel in this series is that they are as much about lifestyle in the south of France as they are about a legal tangle, a disappearance or a murder. . . . By this third [novel] in the series, Longworth, shows the reader why those who love Donna Leon's Brunetti and Martin Walker's Bruno take up her novels with enthusiasm." —Kings River Life Magazine

"Longworth's maritime version of a country-house cozy offers genuine pleasures." —Kirkus Reviews


Praise for Death in the Vines

"Judge Antoine Verlaque, the sleuth in this civilized series, discharges his professional duties with discretion. But we're here to taste the wines, which are discussed by experts like Hippolyte Thebaud, a former wine thief, and served in beautiful settings like a 300-year-old stone farmhouse. So many bottles, so many lovely views. A reader might be forgiven for feeling woozy." —Marilyn Stasio, The New York Times Book Review

"Though the plot is hair-raising, what keeps you glued to this mystery is its vivid portrait of everyday life in Aix, which deftly juxtaposes the elegance of the city . . . with quotidian woes and pleasures." —Oprah.com

"As much as the mystery intrigues—in this case some intertwined crimes involving a local winery, a missing elderly woman, and a rich man's suspicious construction project—what really makes Longworth's books enjoyable are the atmosphere and details that she includes of the South of France." —The Seattle Post-Intelligencer

"What follows is a lovely, almost cozy police procedural that deserves to be read with a glass of wine in hand. Longworth paints such a loving picture of Provence that it's likely you'll start planning a vacation trip to France the moment you set the book down." —The Denver Post

"This is an intelligently written police procedural with the warm comfort of a baguette with banon cheese." —Ellery Queen Mystery Magazine

"Enjoyable . . . the book's real strength is its evocation of place." —Publishers Weekly
Penguin Books, 9780143125549, 320pp.
Publication Date: September 30, 2014
About the Author
M. L. Longworth has lived in Aix-en-Provence since 1997. She has written about the region for the Washington Post, the Times (London), the Independent (London), and Bon Appétit. She is the author of a bilingual collection of essays, Une Américaine en Provence. She is married and has one daughter.