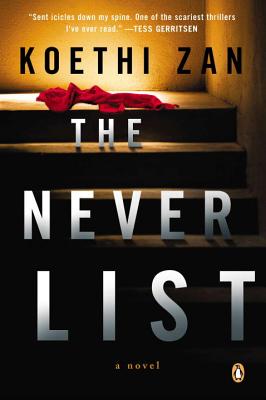 The Never List
Paperback

* Individual store prices may vary.
August 2013 Indie Next List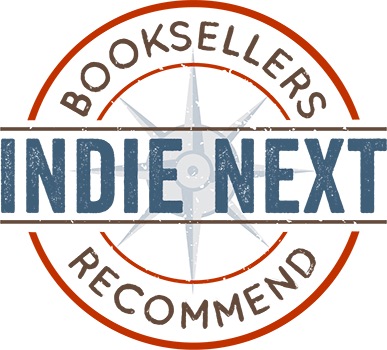 "Koethi Zan's debut is a doozy! Part thriller, part mystery, all spell-binding, The Never List leads the reader into a world of kidnapping, hostages, dank cellars, BDSM, and many wicked characters. Set in the present day, The Never List chronicles Sarah's attempt to locate Jennifer who disappeared shortly after their abduction and three year captivity in a cellar of torture and abuse. Zan keeps the narrative lively with terse dialog, top-notch character development, an occasional red herring, and edge-of-your-seat confrontations. This engrossing book has Hollywood movie written all over it. Treat yourself: read this book! - Nancy Simpson-Brice Book Vault Oskaloosa, IA"
— Nancy Simpson-Brice, The Book Vault, Oskaloosa, IA
View the List
Description
Psychological thriller writing at its best. Cancel appointments and give up on sleep. It's that kind of book. Jeffery Deaver
For years, Sarah Farber and her best friend, Jennifer, kept what they called the Never List: a list of actions to be avoided at all costs, for safety's sake. But one night, against their best instincts, they accept a cab ride one with grave, everlasting consequences. For the next three years, they are held captive with two other girls in a dungeon-like cellar by a connoisseur of sadism. Ten years later, Sarah's abductor is up for parole and she can no longer ignore the twisted letters he sends to her from prison. But when Sarah decides to confront her phobias and reconnect with the other survivors she begins unraveling a mystery more horrifying than even she could have imagined.
A blazingly fast read with eerie similarities to the recent kidnapping case in Cleveland, The Never List is a smart, riveting, and bold pageturner that will leave readers awake all night with the lights on.
Praise For The Never List…
"As gripping as last summer's Gone Girl—but darker, and with an eerie timeliness—Koethi Zan's debut novel . . . is this year's edge-of-your-towel beach reach."
—Elle

"A perfect breezy thriller for a hot day at the beach."
—Entertainment Weekly

"This is one scary throat-grabber… As twisted and terrifying as any novel in years."
—Parade

"Thoroughly enjoyable nail biter."
—Ralph Gardner Jr., Wall Street Journal

"It is being billed as a page turner, and the author is being compared to Gillian Flynn, whose Gone Girl was the big book of summer 2012. I think you'll need thicker skin for this one though!"
—About.com

"This fast-paced, disturbing thriller boasts a chilling premise as well as a layered first-person narrative full of shocking twists and turns."
—Library Journal

"Zan's debut novel is shocking and disturbing. The intense psychological thriller combines a horrifying plot, well-developed characters, thought-provoking psychoanalysis and some great phrasing. Read it if you dare."
—RT Reviews, 4 ½ stars

"Zan's first novel is a haunting depiction of the emotional scars left on women held in captivity."
—Kirkus

"This story is a twisted tale of a courageous woman trying to make sense of a madman's mind . . . For readers looking for a psychological thriller, The Never List will be hard to beat."
—BookPage

"And thus begins a solid new series by a capable new writer."
—Mystery Scene Magazine

"A fast-paced, don't-dare-put-the-book-down read that will leave you cringing as your darkest fears emerge from the shadows as Zan takes you to the places you never wanted to go."
—Suspense Magazine

"This summer's most breath-stealing thriller."
—Elle.com

"A dark psychological thriller, it will touch every nerve you have."
—Tami Hoag

"A novel with powerful and poignant psychological insights.  Zan's razor-sharp debut combines the very best of page-turning suspense with classic head-game thrills and chills.  Not to be missed."
—Lisa Gardner

"Throat clutching from the outset! The Never List stands as a sterling example of psychological thriller writing at its best. Cancel appointments and give up on sleep. It's that kind of book."
—Jeffery Deaver

"The Never List is a perfect entertainment. Thrilling, super smart, witty, and just about the most distracting thing in my recent life. I've stayed up past my bedtime, missed whole subway stops, left children at the playground. First readers will have to know what happens, and then they'll be awed by the flair with which Koethi Zan makes it happen.  This novel deserves all the success it is sure to have."
—Darin Strauss

"Sent icicles down my spine. One of the scariest thrillers I've ever read. This should be on every mystery reader's must-read list!"
—Tess Gerritsen

"Cleverly plotted and highly entertaining, The Never List is a haunting psychological thriller that begs to be read in one sitting.  Be prepared."
—Alafair Burke

"From the first page of The Never List you have to know how this terrifying book will possibly end, and my advice to the reader is to only pick it up when you have the time to devote to it, because it's impossible to put down. Even a casual glance will tell you this is no ordinary thriller: you WILL lose sleep over it. A book to devour in one sitting!"
—Elizabeth Haynes

"A nonstop psychological thriller with heart-wrenching twists."
—Jed Rubenfeld

"A chilling premise that sucked me in from the first page and had me gripped all the way to the end as I tried to guess what was going to happen next.  An impressive debut!"
—Chevy Stevens

"The Never List got its sticky, sharp talons into me on the first paragraph and wouldn't let go until I'd finished it in less than two days…a stylish and impressive debut thriller."
—S.J. Bolton
Penguin Books, 9780143125587, 303pp.
Publication Date: June 24, 2014
About the Author
Koethi Zanwas born and raised in rural Alabama, then moved to New York City after earning a J.D. from Yale Law School. She has practiced entertainment law for more than fifteen years, most recently at MTV. She now lives in upstate New York."
or
Not Currently Available for Direct Purchase