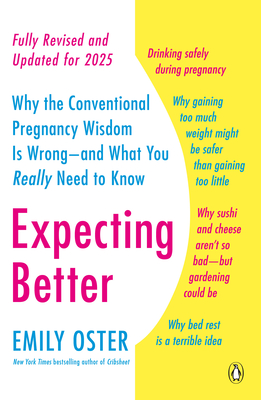 Expecting Better: Why the Conventional Pregnancy Wisdom Is Wrong--And What You Really Need to Know (Paperback)
Why the Conventional Pregnancy Wisdom Is Wrong--And What You Really Need to Know
Penguin Books, 9780143125709, 313pp.
Publication Date: June 24, 2014
Description
*Newly Updated, this Revised Edition Includes the Latest Research and Findings on Genetic Testing and more*
"Gives moms-to-be a big helping of peace of mind " --Harvey Karp M.D., bestselling author of The Happiest Baby on the Block

Pregnancy--unquestionably one of the most pro-found, meaningful experiences of adulthood--can reduce otherwise intelligent women to, well, babies. Pregnant women are told to avoid cold cuts, sushi, alcohol, and coffee without ever being told why these are forbidden. Rules for prenatal testing are similarly unexplained. Moms-to-be desperately want a resource that empowers them to make their own right choices.
When award-winning economist Emily Oster was a mom-to-be herself, she evaluated the data behind the accepted rules of pregnancy, and discovered that most are often misguided and some are just flat-out wrong. Debunking myths and explaining everything from the real effects of caffeine to the surprising dangers of gardening, Expecting Bettering is the book for every pregnant woman who wants to enjoy a healthy and relaxed pregnancy--and the occasional glass of wine.
About the Author
Emily Oster, the daughter of two economists and the wife of a third, is an associate professor of economics at the University of Chicago Booth School. She lives with her husband and daughter in Chicago.
Praise For Expecting Better: Why the Conventional Pregnancy Wisdom Is Wrong--And What You Really Need to Know…
"Expecting Better gives moms-to-be a big helping of peace of mind! Oster debunks many tired old myths and shines a light on issues that really matter."
—Harvey, Karp, MD, bestselling author of The Happiest Baby Guide to Sleep and The Happiest Baby on the Block
 
"It took someone as smart as Emily Oster to make it all this simple. She cuts through the thicket of anxiety and received wisdom, and gives us the facts. Expecting Better is both enlightening and calming. It almost makes me want to get pregnant."
—Pamela Druckerman, New York Times bestselling author of Bringing Up Bébé and Bébé Day by Day
 
"This is a fascinating—and reassuring—look at the most important numbers of your pregnancy. It will make parents-to-be rethink much of the conventional wisdom: think bed rest is a good idea? Think again. This may be the most important book about pregnancy you read."
—Steven D. Levitt, New York Times bestselling co-author of Freakonomics
 
"Expecting Better is a fascinating and reassuring tour of pregnancy and childbirth, with data leading the way at every juncture.  From start to finish, Oster easily leads us through the key findings of the extant pregnancy-related research.  My only regret is that my wife and I had three children without the benefit of this insightful approach."
—Charles Wheelan, New York Times bestselling author of Naked Statistics
 
"The only antidote to pregnancy anxiety is facts, and Emily Oster has them in spades. Disarmingly personal and easy to read, this book is guaranteed to cut your freaking out in half. Pregnancy studies has a new heroine. Every pregnant woman will cheer this book—and want to take Oster out for a shot of espresso."
—Rachel Simmons, New York Times bestselling author of Curse of the Good Girl
Advertisement