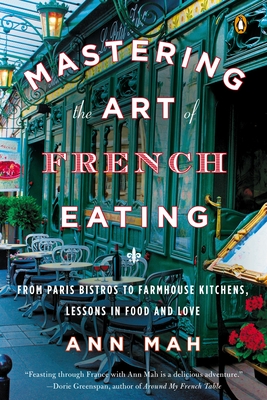 Mastering the Art of French Eating
From Paris Bistros to Farmhouse Kitchens, Lessons in Food and Love
Paperback

* Individual store prices may vary.
Other Editions of This Title:
Hardcover, Large Print (1/8/2014)
Hardcover (9/26/2013)
Description
The memoir of a young diplomat's wife who must reinvent her dream of living in Paris—one dish at a time

When journalist Ann Mah's diplomat husband is given a three-year assignment in Paris, Ann is overjoyed. A lifelong foodie and Francophile, she immediately begins plotting gastronomic adventures à deux. Then her husband is called away to Iraq on a year-long post—alone. Suddenly, Ann's vision of a romantic sojourn in the City of Light is turned upside down.

So, not unlike another diplomatic wife, Julia Child, Ann must find a life for herself in a new city.  Journeying through Paris and the surrounding regions of France, Ann combats her loneliness by seeking out the perfect pain au chocolat and learning the way the andouillette sausage is really made. She explores the history and taste of everything from boeuf Bourguignon to soupe au pistou to the crispiest of buckwheat crepes. And somewhere between Paris and the south of France, she uncovers a few of life's truths.

Like Sarah Turnbull's Almost French and Julie Powell's New York Times bestseller Julie and Julia, Mastering the Art of French Eating is interwoven with the lively characters Ann meets and the traditional recipes she samples. Both funny and intelligent, this is a story about love—of food, family, and France.
Praise For Mastering the Art of French Eating: From Paris Bistros to Farmhouse Kitchens, Lessons in Food and Love…
"Mastering the Art of French Eating makes you want to be in Paris as [Mah] describes the delight of crusty baguettes spread with butter and jam, surprise glimpses of Notre Dame caught from the bus, nursing a glass of red wine in a cafe that has mirrored columns and a zinc bar. . . . the book has appealing honesty and vulnerability, overlaid as it is with the pain of her husband's absence. It will also make you very hungry."
—Wall Street Journal

"Mah admirably fits her research into easily digested bites, the reader's enthusiasm mirroring her own."
—The New York Times Book Review

"A well-written entrée into French dining."
—The Daily Beast

"Our readers were enraptured by [Mah's] luscious and detailed descriptions of the meals that became the rich medium for a lonely wife's tentative socializing in a strange land."
—Elle

"Consistently passionate and emotionally resonant, Mah's prose brims with true love . . . A bighearted, multisensory tour of France."
—Kirkus

"The author's investigations into the importance of each dish to the people she meets are beautifully woven together with her reflections on culture, identity, love, and marriage, resulting in an enjoyable and thoughtful read that sparkles with humor. . . . This honest, funny, and eloquent memoir is sure to delight lovers of France, food, or travel."
—Library Journal

"The real joy of this book . . . is in Mah's mouthwatering, bite-by-bite descriptions of the plates set before her in Parisian cafés, country homes, and hole-in-the-wall foodie hideaways. Francophiles will delight in the smattering of French words and phrases sprinkled throughout every page, and serious cooks may endeavor to follow the lengthy recipes for a signature regional dish included at the end of each chapter."
—Booklist

"Whether you're French or Francophile, a long-time connoisseur of French food or someone who's just figuring out the difference between frites and frangipane, feasting through France with Ann Mah is a delicious adventure.  Ann's writing is lovely, her curiosity boundless and her good taste assured.  Spending time with her in Mastering the Art of French Eating is a treat."
—Dorie Greenspan, author of Around My French Table and owner of Beurre & Sel Cookies

"Ann Mah dishes up a welcoming concoction, a good dose of French history, a personal, vibrant, enthusiastic picture of life in a country she adores, without apology. I am hungry already!"
—Patricia Wells, author of The Food Lover's Guide to Paris and Simply Truffles

"Excellent ingredients, carefully prepared and very elegantly served. A really tasty book."
—Peter Mayle, author of The Marseille Caper and A Year in Provence

"Ann Mah writes inspiringly about basic French dishes we thought we knew all about. She joins Elizabeth David in being a joy and an instruction to read."
—Diane Johnson, author of Le Divorce

"A tour de force through French cuisine, Ann Mah crisscrossed France, learning about all my favorite foods—from buckwheat galettes to the secrets of authentic cassoulet. Her personal culinary tale will have you packing your bags. But if you can't make it to France, Ann offers delicious recipes, culled from experts!"
—David Lebovitz, author of The Sweet Life in Paris

"Ann Mah goes straight to the essential in this lively, mouth-watering book as she explores the foundations of French cuisine.  She even goes where all before her have failed to tread—the wild country of andouillette—to tempt with her stories and her approachable recipes. Bravo!"
—Susan Herrmann Loomis, author of On Rue Tatin

"Like a bowl of homemade cassoulet, this book is warm to the touch. Ann Mah writes about her international experiences—and origins—with great sensitivity.  She gives us a peek into French kitchens foodies will envy, and no Francophile could resist."
—Elizabeth Bard, author of Lunch in Paris

"From the peaks of the French Alps to Brittany's buckwheat fields, Lyon's bouchons to Burgundy's wineries, Ann takes us all over France in pursuit of its culinary traditions. But at the heart of her story is Paris—and all the love, wistfulness and deliciousness found there."
—Amy Thomas, author of Paris, My Sweet
Penguin Books, 9780143125921, 288pp.
Publication Date: October 28, 2014
About the Author
Ann Mah is a journalist and the author of two novels, The Lost Vintage and Kitchen Chinese. Her articles have appeared in the New York Times, Condé Nast Traveler, Washingtonian, the South China Morning Post, BonAppétit.com, Vogue.com, and other media outlets. In 2005, she was awarded a James Beard Foundation culinary scholarship. Mah currently splits her time between Paris and Washington, D.C.
 
If you'd like to receive a special recipe from Ann's travels in France, email her at ann@annmah.net.
How does the quotation from Brillat-Savarin at the beginning of Mastering the Art of French Eating reflect Ann's experience in France?
Does the idea of Ann and Calvin's foreign service life—moving constantly, learning languages, adjusting to new cultures—fill you with excitement or with anxiety? What would be the most challenging part of this kind of life? The most enjoyable?
Were you familiar with Julia Child's life story? In what ways does her experience parallel Ann's?
Is there anywhere in the world where you've always dreamed of living or traveling to? What draws you to this place?
There are numerous French stereotypes in American culture. Did you have any opinions—positive or negative—about France before you read the book? How, if at all, have they changed?
Ann's love for Paris began when she was young and carried through to adulthood. How did the reality of living in the city measure up to her expectations?
Could you ever imagine writing your own memoir? What would the title be?
What does the French expression "il faut profiter" (p. 59) mean? In what ways does Ann take this expression to heart?
If you were to describe Ann in three words, what would they be?
While many people find the idea of French cooking intimidating, the recipes that Ann shares are easy to understand and straightforward in their technique. Have you tried to make any of the dishes? If you did, how did that enrich your experience of the book?