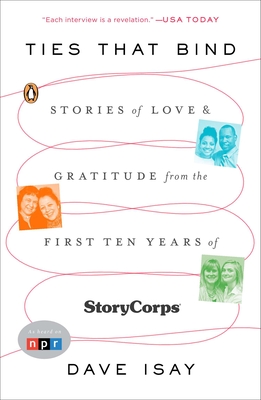 Ties That Bind (Paperback)
Stories of Love and Gratitude from the First Ten Years of StoryCorps
Penguin Books, 9780143125969, 224pp.
Publication Date: September 30, 2014
Other Editions of This Title:
Hardcover (10/17/2013)
* Individual store prices may vary.
Description
A celebration of the relationships that bring us strength, purpose, and joy

Ties That Bind honors the people who nourish and strengthen us. StoryCorps founder Dave Isay draws from ten years of the revolutionary oral history project's rich archives, collecting conversations that celebrate the power of the human bond and capture the moment at which individuals become family. Between blood relations, friends, coworkers, and neighbors, in the most trying circumstances and in the unlikeliest of places, enduring connections are formed and lives are forever changed.

The stories shared in Ties That Bind reveal our need to reach out, to support, and to share life's burdens and joys. We meet two brothers, separately cast out by their parents, who reconnect and rebuild a new family around each other. We encounter unexpected joy: A gay woman reveals to her beloved granddaughter that she grew up believing that family was a happiness she would never be able to experience. We witness lifechanging friendship: An Iraq war veteran recalls his wartime bond with two local children and how his relationship with his wife helped him overcome the trauma of losing them.

Against unspeakable odds, at their most desperate moments, the individuals we meet in Ties That Bind find their way to one another, discovering hope and healing. Commemorating ten years of StoryCorps, the conversations collected in Ties That Bind are a testament to the transformational power of listening.
About the Author
DAVE ISAY is the founder of StoryCorps and the recipient of numerous broadcasting honors, including six Peabody awards and a MacArthur "Genius" Fellowship. He is the author/editor of numerous books that grew out of his public radio documentary work, including three StoryCorps books: Listening Is an Act of Love (2007), Mom: A Celebration of Mothers from StoryCorps (2010), and All There Is: Love Stories from StoryCorps (2012)—all New York Times bestsellers. Dave is also an Executive Producer of StoryCorps Animated Shorts, as seen on the PBS documentary series, POV. StoryCorps' first-ever animated special, Listening Is an Act of Love, premiered last Thanksgiving on PBS.
Praise For Ties That Bind: Stories of Love and Gratitude from the First Ten Years of StoryCorps…
Frank Bruni, The New York Times:
"As good as we humans are at division, we're better still at connection. Ties That Bind shows this again and again."

Publishers Weekly:
"A testimony to the power of narrative and vision....The collection features an astonishing range of voices, and the stories recount exceptional events in the lives of 'noncelebrated' people. As a result of the participants' refreshing lack of cynicism, the book is appealingly down-to-earth and, ultimately, moving. The collection successfully fulfills its mission: to make readers feel 'more connected, awake, and alive.'"