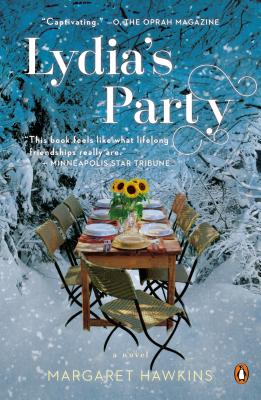 Lydia's Party (Paperback)
Penguin Books, 9780143126119, 304pp.
Publication Date: January 27, 2015
Other Editions of This Title:
Digital Audiobook (5/21/2014)
Compact Disc (5/22/2014)
MP3 CD (5/22/2014)
Hardcover (1/23/2014)
Hardcover, Large Print (5/28/2014)
* Individual store prices may vary.
Description
An exquisite and profound tale for fans of Anne Tyler and Anna Quindlen
Glowingly reviewed everywhere from "O, The Oprah Magazine" and "Good Housekeeping "to sites across the blogosphere, "Lydia's Party" sparks a-ha moments and heartfelt conversations about friendship, regrets, and ambitions. Margaret Hawkins's earlier books, all published by small presses, have gained her a devoted following, but this gem of a novel will introduce her to the wider audience she deserves.
Lydia is hosting her Bleak Midwinter Bash, a late Christmas party that has become an annual tradition. Her guests six friends who bonded twenty years ago over art, dogs, and their budding careers and romances think they know everything about one another, but tonight Lydia prepares to shock them with a devastating announcement.
About the Author
MARGARET HAWKINS is the author of two previous novels and a memoir. She is a Senior Lecturer at the School of the Art Institute of Chicago. Hawkins lives in Chicago.
Early in the novel, Lydia reflects upon her parents' journey into old age, and "here was the ridiculous and shameful part she hated to admit: she'd thought they'd brought it on themselves. . . . Sometimes she even thought they were that way by choice" (p. 7). Is Lydia being too hard on herself? Is it possible for young, healthy people to grasp the realities of aging?generic viagra price canada
How has your own list of fears changed over the years? What is the one fear you would most like to confront?generic viagra price canada
What does Lydia's orange pot represent? Why does it wind up in Norris's portrait of Ted?generic viagra price canada
Lydia and Spence used to have dinner parties with three other couples, but after they divorced, her friendships with the other women dissolved. If you are in a long-term relationship, compare the friendships you've made as a single person versus those you've made as part of a couple.generic viagra price canada
Did Roy just use Maura or did he really love her? What does Elaine's harsh criticism of their relationship-even after Roy's death-say about her?generic viagra price canada
Jayne occasionally smokes cigarettes even though her husband, Douglas, disapproves, and Celia and Peter both cheat on their tight budget and hide their splurges from each other. Are secrets like these normal and harmless, or are they evidence of a marriage's deeper problems?generic viagra price canada
Compare Maura's relationship with Roy with Celia's experiences with marriage and motherhood. Who would you say finds greater happiness?generic viagra price canada
Ted, Spence, and Peter hover around the margins of the party, helping but without being invited inside. In your experience, are men jealous of female friendships? Do women generally feel constrained by the presence of men and children?generic viagra price canada
Why are dogs and other pets such a large part of Lydia's story?generic viagra price canada
How-if at all-does your opinion of Norris change over the course of the novel? Does her creative genius excuse her behavior?generic viagra price canada
Each of the women is transformed by Lydia's announcement. How do Norris's portraits help them to heal?generic viagra price canada
Has reading Lydia's Party inspired you to make changes in your own life?generic viagra price canada
or
Not Currently Available for Direct Purchase