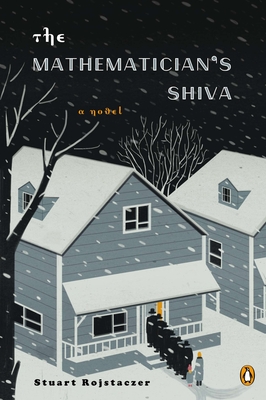 The Mathematician's Shiva
A Novel
Paperback

* Individual store prices may vary.
Other Editions of This Title:
Digital Audiobook (7/13/2015)
MP3 CD (7/14/2015)
Compact Disc (7/14/2015)
Description
WINNER OF THE NATIONAL JEWISH BOOK AWARD FOR OUTSTANDING DEBUT FICTION

For readers of This Is Where I Leave You and Everything Is Illuminated, "a brilliant and compelling family saga full of warmth, pathos, history and humor" (Jonathan Evison, author of West of Here)
 
When the greatest female mathematician in history passes away, her son, Alexander "Sasha" Karnokovitch, just wants to mourn his mother in peace. But rumor has it the notoriously eccentric Polish émigré has solved one of the most difficult problems in all of mathematics, and has spitefully taken the solution to her grave. As a ragtag group of mathematicians from around the world descends upon Rachela's shiva, determined to find the proof or solve it for themselves—even if it means prying up the floorboards for notes or desperately scrutinizing the mutterings of her African Grey parrot—Sasha must come to terms with his mother's outsized influence on his life.

Spanning decades and continents, from a crowded living room in Madison, Wisconsin, to the windswept beach on the Barents Sea where a young Rachela had her first mathematical breakthrough, The Mathematician's Shiva is an unexpectedly moving and uproariously funny novel that captures humanity's drive not just to survive, but to achieve the impossible.
Praise For The Mathematician's Shiva: A Novel…
"The Mathematician's Shiva is for everyone. . . . Optimistic and funny."
 –Boston Herald
 
"A delight….[Rojstaczer] delivers a smart, funny debut novel about family dynamics, the immigrant experience and the elegance of mathematics."
–San Jose Mercury-News
 
"You can never really complain about a book being too alive, too curious, too alert, too true to itself. . . . The novel works for the same reason the humor [in it] does: It is smart, and brutally honest. Late in the narrative…Sasha rants about how Americans treat any show of intelligence as a display of bad taste. If he's right – and he is – then The Mathematician's Shiva is in very bad taste, and all the better for it."
–The New York Times Book Review
 
"A hugely entertaining debut."
–Publishers Weekly
 
"Rollicking. . . Rojstaczer's humor and imagination keep the story moving, while delving into some of the more important issues of the last century.
–The Jewish Daily Forward
 
"A wryly funny coming-of-middle-age story . . . [and] a fresh look at family, genius, and the Jewish Eastern European immigrant experience."
–The Bellingham Herald
 
"A family saga of human endurance, of adaptation, of exile, of love and loss . . . filled with humor, with wry observation, and with eccentric, quirky characters . . . Funny, poignant and thought-provoking."
–Chicago Jewish Star
 
"A gripping, ground-breaking, intelligent novel, sure to become a book club favorite . . . and to be recommended by librarians and booksellers for years to come."
–The Wisconsin Jewish Chronicle
 
"A poignant and at times funny novel that is a celebration of human endurance and the life of the mind."
–Durham Herald-Sun
 
"Wonderfully quirky . . . [A] bittersweet novel . . . reminiscent of Jonathan Tropper's This is Where I Leave You."
–Jewish Book World
 
"[A] wryly funny first novel about middle-age, family, genius and the Jewish Eastern European immigrant experience after World War II."
–The Wisconsin Gazette
 
"[Rojstaczer] obviously knows a thing or two about the insular world of academia, as well as the challenges and heartbreaks of growing up in an immigrant Jewish family. The result is an engaging novel that resonates emotionally while providing a math lesson or two along the way.
–Jewish News
 
"Effortlessly combine[s] laughter and tears . . . Like all shivas, there is time to both cry and laugh, and the overall effect is profoundly healing."
–Washington Jewish Week
 
"A heartwarming novel...[about] the tremendous capabilities of the human spirit."
–The Strait Times
 
"Funny indeed. You risk many a giggle if you venture to read this secretly during a boring meeting. . . . It is certainly a novel I can recommend for mathematicians."
–European Mathematical Society
 
 "An enjoyable debut…distinguished by a fluid, lyrical style."
–Kirkus
 
"There are rock stars; then there are math stars. Apparently, both have their groupies, and this debut novel may win Rojstaczer a few….[His] tale maintains a satisfying balance between humor and warmth."
–Booklist
 
"[Rojstaczer] has created a complex and chaotic rainbow of characters that makes his first novel both comedic and compelling."
–Library Journal
 
"A funny, warm book, written by a geophysicist with a loving, detailed eye towards the beauty of math and the incorrigibility of people."
–7x7.com, "3 Books On Our Must-Read List This Week"
 
"Highly recommended."
–San Diego Jewish Journal
 
"A brilliant and compelling family saga full of warmth, pathos, history, and humor, not to mention a cast of delightfully quirky characters, and a math lesson or two; all together, a winning equation! When Rojstaczer writes about mathematics, you'd think he was writing about poetry."
–Jonathan Evison, New York Times bestselling author of West of Here and The Revised Fundamentals of Caregiving
 
"I loved this smart, funny, big-hearted novel.  As hilarious and wise as early Philip Roth, The Mathematician's Shiva will delight and move you."
–Steven Strogatz, author of The Joy of x
 
"Stuart Rojstaczer writes with enormous wit, style and empathy, and The Mathematician's Shiva is a big-hearted, rollickingly funny novel that's impossible to put down. A tremendous debut."
–Molly Antopol, author of The UnAmericans
 
"I love The Mathematician's Shiva. Who else will love it? Anyone who knows the manic world of the intellectually obsessed that Rojstaczer so perfectly captures, and anyone who loves dialogue that sparkles with wit, characters full of quirks and pathos, and a plot that fluctuates between hilarity and heartbreak."
–Rebecca Newberger Goldstein, author of 36 Arguments for the Existence of God and Plato at the Googleplex
 
 "Here is the rare book that invites us into the romance of pure mathematics and the very human company of those who spend their decades unknotting the abstractions that describe our reality."
–Lore Segal, author of Shakespeare's Kitchen and Half the Kingdom
 
"This funny, moving, perceptive look at one man's relationship to his eccentric mother and the legacy of her genius succeeds to the nth degree.  Rojstaczer is a wise, warm-hearted, and wonderful new writer."
–Eric Puchner, author of Model Home
 
"Stuart Rojstaczer has written a mathematician's history of the family, full of challenging equations, emotional calculus and unexpected conclusions. The Mathematician's Shiva is  intricate, intelligent and funny, a pleasure to read."
–Roxana Robinson, author of Sparta
 
"At last! The long hoped-for proof that a group of people even crazier than Yiddish-speakers can, in fact, exist."
–Michael Wex, author of Born to Kvetch 
Penguin Books, 9780143126317, 384pp.
Publication Date: September 2, 2014
About the Author
Stuart Rojstaczer was raised in Milwaukee and has degrees from the University of Wisconsin, the University of Illinois, and Stanford. For many years, he was a professor of geophysics at Duke University. He lives in Northern California.