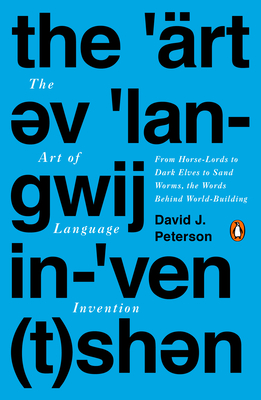 The Art of Language Invention
From Horse-Lords to Dark Elves to Sand Worms, the Words Behind World-Building
Paperback

* Individual store prices may vary.
Other Editions of This Title:
Digital Audiobook (9/28/2015)
Description
An insider's tour through the construction of invented languages from the bestselling author and creator of languages for Legendary's Dune, the HBO series Game of Thrones and the Syfy series Defiance

From master language creator David J. Peterson comes a creative guide to language construction for sci-fi and fantasy fans, writers, game creators, and language lovers. Peterson offers a captivating overview of language creation, covering its history from Tolkien's creations and Klingon to today's thriving global community of conlangers. He provides the essential tools necessary for inventing and evolving new languages, using examples from a variety of languages including his own creations, punctuated with references to everything from Star Wars to Janelle Monáe. Along the way, behind-the-scenes stories lift the curtain on how he built languages like Dothraki for HBO's Game of Thrones and Shiväisith for Marvel's Thor: The Dark World, and an included phrasebook will start fans speaking Peterson's constructed languages. The Art of Language Invention is an inside look at a fascinating culture and an engaging entry into a flourishing art form—and it might be the most fun you'll ever have with linguistics.

The Art of Language Invention includes a new chapter on phrases, specifically, word order, negation, question formation, pragmatic concerns, relativization, and subordination, providing a complete introduction to language creation and linguistics. Invented languages featured in the book now include Chakobsa from Legendary's Dune, Trigedasleng (or Grounder) from The 100, Méníshè language from Motherland: Fort Salem and Ravkan from the Netflix series Shadow and Bone.  
Praise For The Art of Language Invention: From Horse-Lords to Dark Elves to Sand Worms, the Words Behind World-Building…
"David Peterson's language work transformed our show, investing it with a sense of reality and history that would have been impossible without him. There's nothing like the real thing, and David Peterson is it. This fascinating book will not only illuminate the task of language creation--it will make you look at your own language in a whole new way."
—David Benioff and D.B. Weiss, co-creators of HBO's Game of Thrones 

"George R. R. Martin created Khal Drogo, and David Benioff and Dan Weiss believed in me, but David Peterson gave me life."
—Jason Momoa

"David J. Peterson's The Art of Language Invention accomplishes a minor miracle in taking a potentially arcane discipline and infusing it with life, humor and passion.  It makes a compelling and entertaining case for language creation as visual and aural poetry.  I cherish words, I love books about words and for me this is the best book about language since Stephen Fry's The Ode Less Traveled.  And, best of all, there's a phrasebook!"
—Kevin Murphy, co-creator and showrunner of Syfy's Defiance

"If you want to know how someone makes up a language from the ground up, you'll find out how in this book—and the glory of it is that along the way you'll get the handiest introduction now in existence to what linguistics is. In fact, read this even if you DON'T feel like making up a language!"
—John McWhorter, author of The Language Hoax

"Accessible, entertaining, and thorough, Peterson has created an invaluable resource for authors, dedicated fans, and casual enthusiasts. This is the book I wish I'd had when I started writing."
—Leigh Bardugo, New York Times bestselling author of Shadow and Bone

"This book not only lucidly ushers language invention into its own as an art form, it's also an excellent introduction to linguistics."
—Arika Okrent, author of In the Land of Invented Languages
  
"Mr. Peterson illuminates the ins and outs of being a professional developer of "constructed languages"...Language invention requires not only technical know-how but also playfulness and a degree of historical savvy."
—The Wall Street Journal
Penguin Books, 9780143126461, 336pp.
Publication Date: September 29, 2015
About the Author
David J. Peterson began creating languages in 2000, received his MA in Linguistics from the University of California, San Diego, in 2005, and cofounded the Language Creation Society in 2007. He has created languages for HBO's Game of Thrones, Syfy's Defiance and Dominion, the CW's Star-Crossed, and Thor: The Dark World. He has also created languages for many other television shows, such as the CW's The 100, Netflix's The Witcher, and Showtime's Penny Dreadful, as well as films such as Marvel's Doctor Strange, Netflix's Bright, and Legendary's Dune.
Coverage from NPR