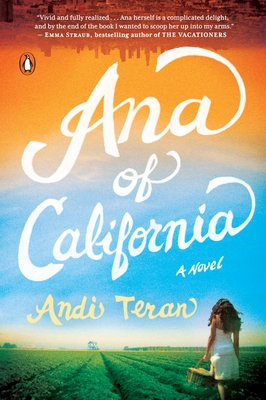 Ana of California (Paperback)
A Novel
Penguin Books, 9780143126492, 368pp.
Publication Date: June 30, 2015
Other Editions of This Title:
MP3 CD (6/30/2015)
Compact Disc (6/30/2015)
Pre-Recorded Audio Player (8/2/2015)
Library Binding, Large Print (3/21/2018)
* Individual store prices may vary.
Description
A modern take on the classic coming-of-age novel, inspired by Anne of Green Gables

In the grand tradition of Anne of Green Gables, Bridget Jones's Diary, and The Three Weissmanns of Westport, Andi Teran's captivating debut novel offers a contemporary twist on a beloved classic. Fifteen-year-old orphan Ana Cortez has just blown her last chance with a foster family. It's a group home next—unless she agrees to leave East Los Angeles for a farm trainee program in Northern California.

When she first arrives, Ana can't tell a tomato plant from a blackberry bush, and Emmett Garber is skeptical that this slight city girl can be any help on his farm. His sister Abbie, however, thinks Ana might be just what they need. Ana comes to love Garber Farm, and even Emmett has to admit that her hard work is an asset. But when she inadvertently stirs up trouble in town, Ana is afraid she might have ruined her last chance at finding a place to belong.
About the Author
ANDI TERAN, a native of El Paso, Texas, currently lives in Los Angeles. Ana of California is her first novel.
Praise For Ana of California: A Novel…
"Andi Teran's first novel is vivid and fully realized, an entire universe expertly condensed into the pages you hold in your hands. Ana herself is a complicated delight, and by the end of the book I wanted to scoop her up into my arms." —New York Times bestselling author Emma Straub

"What is so memorable about this novel is the reminder that happiness is a choice, a courageous and daring opportunity to express love for the things we value. At the outset we learn that Ana Cortez is an orphan, but as we live with her during one particular summer on Garber Farm we witness the creation of family before our eyes, and admire the passion, humility and valor of one of the most tender-hearted characters in literature today—a jewel of a book." – Mario Alberto Zambrano, author of Loteria

"Anne of Green Gables fans will rejoice; newcomers will find a satisfying tale; and Ana's high jinx will leave both types of readers smiling and asking for more." – Kirkus Reviews

"Fans of Montgomery's series will appreciate nods to blackberry bushes, Ana's uncontrollable mouth, and the farm setting, but not recognizing these references will not hinder other readers enjoyment." – Publisher's Weekly

"Debut fiction author Teran's contemporary reimagining of Anne of Green Gables brilliantly captures the essence of Lucy Maud Montgomery's classic story of a girl who will win your heart with her well-meaning imperfections. Highly recommended." – Library Journal
Lupe Saucedo knows that Ana's last foster situation was far from ideal, but she's unable to place her with another family. Should Lupe have taken Ana in herself? Does Lupe have Ana's best interests at heart?
On the ride home from the airport, Emmett warms to Ana after learning that she likes Neil Young. Later, Ana and Rye bond over their shared love of the band Hex. Music can be a powerful force that brings strangers together. Why might this be?
Why is Abbie so nervous when Ana arrives at the farm? Should Abbie have told Ana about Josie and why she left in order to prevent future misunderstandings?
What does Miranda's mistake about "Mexican Coke" say about her? Do Miranda's later actions redeem her initial treatment of Ana?
Ana's parents were gang members who were involved in illegal activities and eventually murdered by a rival gang. Even though Ana was just a young child, she fears that prison—or worse—is her "destiny." How do kids like Ana come to believe that they are criminals without even committing a crime?
Once the school year starts, Ana, Rye, and Brady are harassed by some of the popular kids and eat lunch together at "the official weirdo table" (p. 196). How well does the author capture the realities of being a teenager?
When Vic, Rolo, and Rene are tempted to leave the Garbers and begin working at the Keyserville farm for higher pay, it's Ana who convinces them to stay. Besides helping Emmett pay their full wages, how does Ana persuade them to change their minds?
Why does Abbie find it so difficult to believe that Will is interested in her romantically? Would their ages make any difference if Will were the older of the two?
What are some ways in which Ana is similar to the heroine of Anne of Green Gables? What are some ways in which she's different?
Besides Ana, who is your favorite character? What is it about him or her that appeals to you?
Would Cole's mother have objected to Ana's relationship with Cole if she hadn't been living with the Garbers?
After Rye told Cole she was gay, he outed her to their classmates. How might he have handled this situation differently?
Rye tells her parents that it was Ana's idea to take psychedelic mushrooms even though her lie may cause the Garbers to send Ana back to Los Angeles. Does Rye fully understand what returning to L.A. might mean for her friend? Should Ana have tried to prevent Rye from taking them?
If you were Ana, would you forgive Rye for jeopardizing your situation with the Garbers?