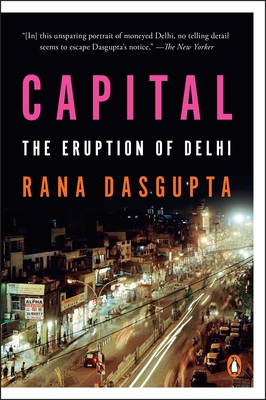 Capital
The Eruption of Delhi
Paperback

* Individual store prices may vary.
Other Editions of This Title:
Digital Audiobook (6/30/2014)
MP3 CD (7/1/2014)
Compact Disc (7/1/2014)
MP3 CD (5/24/2016)
Compact Disc (5/24/2016)
Hardcover (5/15/2014)
Description
**Winner of the 2017 Ryszard Kapuściński Award for Literary Reportage** 
 
**Short-listed for the Orwell Prize and for the Royal Society of Literature Ondaatje Prize**

An extraordinary portrait of the fastest-growing city in the world—and the rise of a new global elite

Since the opening up of India's economy in 1991, wealth has poured into the country, and especially into Delhi. Capital bears witness to the astonishing metamorphosis of India's capital city, charting its emergence from a rural backwater to the center of India's new elites. No other place on earth better embodies the breakneck, radically disruptive nature of the global economy's growth over the past twenty years. In a series of extraordinary meetings with a wide swath of the population—from Delhi's forgotten poor to its rich tech entrepreneurs— Commonwealth Writers' Prize winner Rana Dasgupta presents an intimate portrait of the people living, suffering, and striving for more in this tumultuous city of extremes, as well as an uncanny glimpse of our shared global future.
Praise For Capital: The Eruption of Delhi…
Salman Rushdie:
"Rana Dasgupta's Capital is a terrific portrait of Delhi right now and hits a lot of nails on the head."

The New Yorker:
"[An] unsparing portrait of moneyed Delhi, no telling detail seems to escape Dasgupta's notice. His novelistic talents are matched by his skill at eliciting astonishing candor from his subjects. The best passages are incisive summaries of the human and environmental costs of the elite's wealth and privilege and his persuasive predictions of crises yet to come. Dasgupta constantly seeks to upend conventional wisdom about Delhi, the murky circulation of its money, and the roots of its periodic outbursts of violence, making this one of the most worthwhile in a strong field of recent books about India's free-market revolution and its unintended consequences."

Ramachandra Guha, The New Republic:
"Dasgupta [uses] his profiles to reflect more broadly on the beauty and savagery of capitalism, its zest and drive, its haste and amorality…Capital is principally a book about the wealthy and the well-connected of Delhi. Yet there are some telling pages on the Anglophone middle class, and on the generational changes within it… The excerpts from interviews with businessmen and fixers…[are] revealing as well as chilling…[Dasgupta's] analysis is often original and the writing always outstanding."

Library Journal (starred): 
"A grim picture of a city run by oligarchs and the 'new black-money elite,' where success depends on 'influence, assets, and connections.' This book is highly recommended for anyone looking for background information on Delhi…The author's account of the downside of the post-1991 free market economy and the pursuit of self-interest above all serves as a cautionary tale, doing for Delhi what Suketu Mehta's Maximum City accomplished for Mumbai."

Kirkus Reviews:
"A sincere, troubling look at India's wrenching social and cultural changes."

The Guardian (UK):
"A vivid and haunting account…Dasgupta's combination of reportage, political critique and oral history is mordant rather than dyspeptic, sorrowful rather than castigatory. But what makes it more than a local study, what makes it so haunting, is that its textured, tart accounts of the privatisation of public space, of the incestuous relationship between the political and business classes, of the precarity that renders daily life so fraught all apply as much to Britain and the west as they do to the Indian capital." 

The Times (UK):
"In his portrait of this hubris and its aftermath, Rana Dasgupta peels back the layers of denial with insight, humanity and, at times, exquisitely beautiful writing. He exposes some festering wounds but succeeds in fascinating rather than repelling… [Dasgupta] brings insights that flow from compassion and understanding along with access to the clique nexus of politics and money."

The Observer (UK):
"Intense, lyrical, erudite, and powerful."

Financial Times:
"[Dasgupta] mostly lets his subjects speak for themselves…The interviews at the core of the book are a cleverly tangential way to investigate a city that is among the world's largest—about 22m people live in and around Delhi—and has been made a microcosm of India by the hundreds of thousands who arrive each year as migrants. As we read of Delhi's frantic modernisation—from, among others, an outsourcing entrepreneur, a gay fashion designer, a property speculator, assorted tycoons and the victims of medical scams that extract cash from the relatives of the dying—we trace Dasgupta's personal journey from excited arrival in 2000 to disillusionment."

The Independent (UK):
"Capital sets a scholarly and sympathetic tone…[Dasgupta's] subjects are as varied as the city's upper and lower classes, men and women, Hindus, Sikhs and Muslims; property magnates, money launderers, technology entrepreneurs and activists working to uplift Delhi's slum areas…A remarkable and exhaustive account of a primordial free-zone whose assets are being stripped by the wealthy."

The Telegraph (UK):
"Compelling, often terrifying…[Dasgupta's] lyrical encounters with a wide range of modern Delhiites reveal a novelist's ear and are beautifully sketched."

The International New York Times:
"Lyrical and haunting."

The Spectator:
"Capital is constructed around a series of mesmerising interviews . . . Among many lively episodes in Dasgupta's appropriately large, sprawling and populous book is one describing the experience of driving in Delhi."

South China Morning Post (Hong Kong):
"[Dasgupta] shows observational acuity worthy of Don DeLillo… [An] edgy, visionary masterpiece."

William Dalrymple, author of City of Djinns:
"Capital is a beautifully written study of a corrupt, violent and traumatized city growing so fast it is almost unrecognizable to its own inhabitants.  An astonishing tour de force by a major writer at the peak of his powers, it will do for Delhi what Suketu Mehta so memorably did for Bombay with Maximum City."

Praise for Rana Dasgupta's Solo:

Salman Rushdie:
"Rana Dasgupta [is] the most unexpected and original Indian writer of his generation"

James Wood, The New Yorker:
"[Dasgupta is] graced with an ironic eye and a gift for sentences of lancing power and beauty."
Penguin Books, 9780143126997, 480pp.
Publication Date: April 28, 2015
About the Author
RANA DASGUPTA is the author of Solo, which won the Commonwealth Writers' Prize, and Tokyo Cancelled, which was shortlisted for the John Llewellyn Rhys Prize. He lives in Delhi, India.
or
Not Currently Available for Direct Purchase