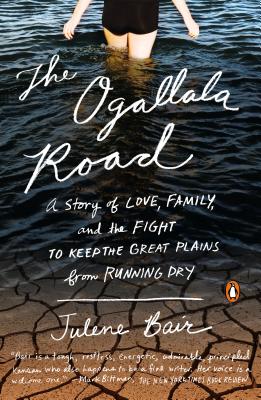 The Ogallala Road
A Story of Love, Family, and the Fight to Keep the Great Plains from Running Dry
Paperback

* Individual store prices may vary.
Other Editions of This Title:
Digital Audiobook (3/5/2014)
Compact Disc (3/6/2014)
MP3 CD (3/6/2014)
Compact Disc (3/6/2014)
Description
"A moving story of love and loss, denial and reckoning, and the emergence of a new kind of hope." —Ruth Ozeki

When Julene Bair inherits part of a large farm on the High Plains of Kansas, she intends to honor her father's commandment, "Hang on to your land!" But she learns some troubling facts about the ecological harm done by farms like hers, which depend on water pumped from the rapidly depleting Ogallala Aquifer. A single mother balancing multiple allegiances, she meets Ward, a rancher who she hopes will become her partner in seeking a path to save her legacy.

The Ogallala Road eloquently interweaves pressing issues of environmental degradation with a deeply personal story of love and family. Bair's moving memoir, capturing her unfolding love affair and search for a new way to farm, powerfully updates the literature of the American West.
Praise For The Ogallala Road: A Story of Love, Family, and the Fight to Keep the Great Plains from Running Dry…
Praise for The Ogallala Road

"A story of land, water, relationships, and love . . . Bair witnesses many changes from her birth in 1949 until the turn of the twenty-first century, a time when the small American family farm and many of its supporting towns were pretty much overwhelmed by industrial agriculture. . . . Her mournful tale is told with resignation, honesty, and heartbreak, but also with strength and joy. . . . This is a book by a tough, restless, energetic, admirable, principled Kansan who also happens to be a fine writer. Her voice is a welcome one."
—Mark Bittman, The New York Times Book Review

"Powerfully captures the stubborn beauty and dignity of a farm family on the Western High Plains—the open, rolling landscape that has defined Bair's life. . . . The Ogallala Road weaves two equally absorbing love stories into a complex tale that is both personal and political."
—Chicago Tribune

"A narrative that a number of readers greatly enjoyed . . . Bair balances several themes: inheriting part of a Kansas farming empire and returning to live on the ancestral land; becoming an eco-activist when she realizes that her farm and all around it are draining the gargantuan, life-giving Ogallala aquifer beneath her feet; and getting romantically involved with a neighbor of decidedly different political views."
—Elle, Elle's Lettres Readers Pick, April 2014

"Bair's way with words is beautifully descriptive and one senses a deep connection to the land. The Ogallala Road is a wonderful mix of reminiscing one's personal journey and history back to their roots, so to speak, concern for man's impact and depleting of the land's limited natural resources, and a poignant, sweet little love story with a bona-fide cowboy. . . . Julene Bair shares her heart and will touch yours with this powerful book."
—San Francisco Chronicle

"Bair's voice is fierce, passionate, and determined. . . . Readers of environmental literature will hear echoes of Terry Tempest Williams, Rick Bass, Wallace Stegner, and Rachel Carson. Yet she doesn't lean too heavily on her literary forebears. She has written her own tale and coupled it with a story of water that concerns us all."
—Los Angeles Review of Books

"The book takes on a narrative drive that goes beyond the usual environmental book. Will they fall in love? Will they find a way to keep the farm without draining the aquifer, like farmers had been doing for decades? . . . . But that's a reckoning that is yet to come for Julene Bair, the farmers in Kansas, or for the rest of us who live on what was once one of the greatest grasslands on Earth."
—Minneapolis Star-Tribune

"Eye-opening and beautiful."
—Andy Borowitz on The Leonard Lopate Show

"In this thoughtful consideration of life at a crossroads, Bair tackles questions about single parenthood, romance, and the monumental task of determining the future of the family farm. . . . She recounts her long concerns with the demands farming places on the land, especially the Ogallala aquifer. . . .  Bair's measured approach to her family's ultimate decision about the farm provides a thoughtful look into America's heartland. Book groups should find much to discuss here, from love to family to the big questions we all must face about how we live now."
—Booklist (starred review)

"Nostalgia for the family farm in arid western Kansas vies with a deep consternation about the draining of the Ogallala Aquifer by crop irrigation in Bair's ardent, deliberative narrative. . . . Her thoughtful work underscores the dilemma now facing farmers on the High Plains."
—Publishers Weekly

"A moving story of love and loss, denial and reckoning, and the emergence of a new kind of hope."
—Ruth Ozeki, author of A Tale for the Time Being and My Year of Meats

"The Ogallala Road is a story about love, family, and the unraveling of the earth. But more than anything it is about what it means to be shaped by a place, to love it so much its waters run in your veins like your own blood. Like Wallace Stegner, Julene Bair writes about people inseparable in every way from the land."
—Peter Heller, author of The Dog Stars

"Bair elegantly weaves heart and earth, love and the place where it is born. You can taste the water in this book, and the thirst when it is gone."
—Craig Childs, author of The House of Rain and Animal Dialogues

"Folded into an eloquent appeal for the preservation of the nation's most vital source of fresh water, this wonderful book is also the most poignant remembrance of a prairie love affair—a small and finely-crafted masterpiece."
—Simon Winchester, author of The Men Who United the States and The Professor and the Madman

"Julene Bair has given us a profound account of a dramatic tragedy."
—Wes Jackson, founder and president of The Land Institute
Penguin Books, 9780143127079, 288pp.
Publication Date: August 4, 2015
About the Author
JULENE BAIR also wrote One Degree West: Reflections of a Plainsdaughter. A graduate of the Iowa Writers' Workshop and the Iowa Nonfiction Writing Program, her awards include a fellowship from the National Endowment for the Arts. She lives in Longmont, Colorado.
or
Not Currently Available for Direct Purchase