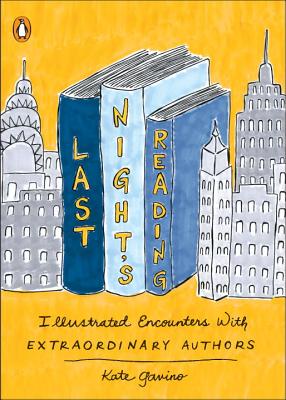 Last Night's Reading (Paperback)
Illustrated Encounters with Extraordinary Authors
Penguin Books, 9780143127314, 160pp.
Publication Date: October 27, 2015
* Individual store prices may vary.
Description
An irresistible illustrated collection of charming, wise, and hilarious quotations from your favorite authors

Why do we go to book readings? For a chance to see the authors we love come to life off the page, answering our questions and proving to be the brilliant, witty people we catch glimpses of through their work. Illustrator Kate Gavino (author of Sanpaku) captures the wonder of this experience firsthand. At every reading she attends, Kate hand-letters the event's most memorable quote alongside a charming portrait of the author. In Last Night's Reading, Kate takes us on her journey through the literary world, sharing illustrated insight from more than one hundred of today's greatest writers—including Zadie Smith, Junot Diaz, Lev Grossman, Elizabeth Gilbert, and many more—on topics ranging from friendship and humor to creativity and identity. A celebration of authors, reading, and bookstores, this delightful collection is an advice book like no other and a love letter to the joy of seeing your favorite author up close and personal.

"Instead of putting together a lengthy play-by-play of the event she witnessed, Gavino records the best quote, and accompanies it with a colorful sketch of the author. It sounds simple, but the results are striking and unforgettable." –Flavorwire

"A witty love letter to the literary world." –The Boston Globe
About the Author
Kate Gavino is a writer and illustrator living in Brooklyn. Over the last few years, she has attended hundreds of readings around New York City in venues ranging from factories to cemeteries, chronicling each one on her Tumblr. In 2018, she was named one of Brooklyn Magazine's "30 Under 30." Her graphic novel, Sanpaku, is forthcoming from Boom! Studios.
Praise For Last Night's Reading: Illustrated Encounters with Extraordinary Authors…
Featured in O, The Oprah Magazine's "Gratitude Meter" as one of  "5 things we can't stop smiling about this month!"

"Instead of putting together a lengthy play-by-play of the event she witnessed, Gavino records the best quote, and accompanies it with a colorful sketch of the author. It sounds simple, but the results are striking and unforgettable."
–Jason Diamond, Flavorwire

"This book of illustrated quotes from authors will inspire you."
–Buzzfeed Books

"A witty love letter to the literary world."
–The Boston Globe

"Kate's drawings of authors at readings in New York are tremendous, but the quotes from each that she chooses to accompany her skilled art make this book a true treasure."
–The Rumpus

"You have a favorite writer, and he or she is likely immortalized in Gavino's distinctive marker next to a brilliant soundbite...We're so lucky to have [Kate] silently sketching, chronicling among the seats—she always seems to catch the most poignant moments that sometimes pass by the rest of us."
–Electric Lit

"Books of inspirational quotations appear to be a growing trend, especially for gift-giving…My favorite so far is the charming Last Night's Reading, by Kate Gavino."
–Star Tribune

"Part of the appeal of literary readings is the chance to see in person the writers behind the books—to see how they carry themselves, to listen to them speak, and to witness their offhand moments of humor or insight. Illustrator Kate Gavino captures these moments in her new illustrated book."
–Poets and Writers

"Kate Gavino is the unofficial chronicler of the New York literary scene."
–Brooklyn Magazine

"As inspirational as it is beautiful."
–Largehearted Boy
 
"So think of Last Night's Reading as cliff notes for the book reading circuit, but way cooler."
–Women You Should Know

"Funny, deep, insightful and maybe even life-changing illustrations."
–Brit + Co 

"[Last Night's Reading] gives you a glimpse of the ingenious minds of contemporary authors...in a joyous manner through Kate's colorful drawings."
 –Lomography Magzine

"Definitely a book that you'll want to add to your library or gift to your favorite book lover. You won't regret it!"
–To Read or Not to Read

"Everything about this book, from the drawings to the hand-lettered quotes, is absolutely charming."
–Books on the Table