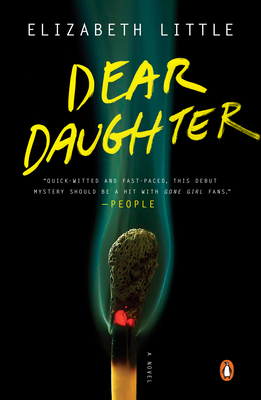 Dear Daughter
A Novel
Paperback

* Individual store prices may vary.
Other Editions of This Title:
Digital Audiobook (7/30/2014)
Compact Disc (7/31/2014)
Hardcover, Large Print (12/24/2014)
Hardcover (7/31/2014)
Description
From the author of Pretty as a Picture, a sensational thriller featuring an unforgettable heroine who just might have murdered her mother•  Winner of the Strand Critics Award for Best First Novel  •  Nominated for the Barry and Macavity Awards for Best First Novel   •  Longlisted for the CWA John Creasy (New Blood) Dagger Award

"Quick-witted and fast-paced." —People magazine 

"A really gutsy, clever, energetic read, often unexpected, always entertaining." —Kate Atkinson
 
"This is an all-nighter . . . The best debut mystery I've read in a long time."—Tana French 


Former "It Girl" Janie Jenkins is sly, stunning, and fresh out of prison. Ten years ago, at the height of her fame, she was incarcerated for the murder of her mother, a high-society beauty known for her good works and rich husbands. Now, released on a technicality, Janie makes herself over and goes undercover, determined to chase down the one lead she has on her mother's killer. The only problem? Janie doesn't know if she's the killer she's looking for.

Janie makes her way to an isolated South Dakota town whose mysteries rival her own. Enlisting the help of some new friends (and the town's wary police chief), Janie follows a series of clues—an old photograph, an abandoned house, a forgotten diary—and begins to piece together her mother's seemingly improbable connection to the town. When new evidence from Janie's own past surfaces, she's forced to consider the possibility that she and her mother were more alike than either of them would ever have imagined.

As she digs tantalizingly deeper, and as suspicious locals begin to see through her increasingly fragile facade, Janie discovers that even the sleepiest towns hide sinister secrets—and will stop at nothing to guard them. On the run from the press, the police, and maybe even a murderer, Janie must choose between the anonymity she craves and the truth she so desperately needs.

A gripping, electrifying novel with an ingenious and like-it-or-not sexy protagonist, Dear Daughter follows every twist and turn as Janie unravels the mystery of what happened the night her mother died—whatever the cost.
Praise For Dear Daughter: A Novel…
"When former It Girl Janie Jenkins is released from prison, she embarks on a mission to discover if it was really she who murdered her mother. The debut novel's twists will easily hook you, but it's the narrator's dark wit and sharp observations that make this a truly fun read." 
—
Entertainment Weekly 
"Little keeps you guessing until the end — and then closes her book with a final, twisted flourish."
—Daneet Steffens, The Boston Globe
"Compelling. . . . This novel's engrossing suspense comes from its unreliable (and not especially likable) narrator who pursues answers with relentless fervor, regardless of the painful truths she turns up about herself. . . . Excellent."
—Stephanie Klose, Oprah.com
 
"Engrossing. . . The unlikable protagonist with a biting personality and outrageous actions, but who is fascinating at the same time, has never been more popular. Just think of 
Gone Girl
. In her confident fiction debut, Elizabeth Little puts a fresh spin on this character in the form of Jane Jenkins, a young woman famous for being famous until she was sent to prison for the murder of her wealthy socialite mother. Little also makes 
Dear Daughter
 a parable about the cult of the celebrity stoked by a relentless press and a ruthless public's thirst for details of a woman it loves to hate."
—Associated Press 
 
"This is not your mother's mystery. The clever, prickly and profane heroine is, after all, a former It Girl whose aim as a teen was to be the next Paris Hilton, only better. . . . Sassy and lively. . . . The book's satisfying conclusion somehow manages to tie things up while also providing a cliffhanger, a pretty neat trick for a debut novel."
—Colleen Kelly, The Minneapolis Star Tribune 
"The best debut crime novel of 2014, a spiky, voicey, jolting, surprising story of a celebutante convicted of murdering her mother . . . Little also produces one of the best endings of 2014, too."
—Sarah Weinman, 
The National Post
 (Canada)  
"A former It Girl hunts down her mom's murderer in this can't-put-down thriller."
—Cosmopolitan 
"Do you want a mystery novel that you can stay up all night reading and then take to the beach to finish it off the next day? Elizabeth Little's 
Dear Daughter
 is pretty much all you need: the tale of a former high society girl who gets out of prison and goes on a mission to find out who really killed her mother." 
—Flavorwire (Must-Read Books for August) 
"In prison for her mother's murder, L.A. socialite Jane Jenkins is released on a technicality. To track down the real killer Jane gets plain, goes underground and stirs up dangerous amounts of dirt in her mom's South Dakota hometown."
—Good Housekeeping 
"[A] fun and riveting debut mystery." 
—The San Diego Union Tribune
"Part celebrity, part sleuth and all sass, the memorable Janie Jenkins is out to prove she didn't murder her mother in this smart debut thriller. . . . Little drives 
Dear Daughter
 with the string of surprises and buried secrets revealed as Janie unravels the mystery of her mother's past. It is a thriller much like Gillian Flynn's blockbuster 
Gone Girl
--except instead of the East Coast literary angst of Flynn's protagonists stuck in Missouri, Little's Midwest visitor really does have L.A. 'glitter in her veins.'" 
—Shelf Awareness 
"Little makes a thrilling debut with this gripping read. Fans of Tana French and Gillian Flynn are going to enjoy the smart narrator and the twists and turns in the case." 
—Library Journal (starred review) 
"Agatha Christie meets Kim Kardashian in this sharp-edged, tart-tongued, escapist thriller. . . A stylishly written tale that plays off our culture's obsession with celebrity scandal."
—Kirkus Reviews 
"Stunning and chilling. . . . A harrowing story that will keep readers on the edge of their seat. The ending is like a punch in the nose, coming out of nowhere and leaving readers breathless. Whether you take this mystery to the beach or relax in front of your air conditioner, this is a novel you should not miss."
—Bookreporter.com 


"Clever. . . . This is a killer debut, in every sense of the word!" 
—BookPage
"[An] assured fiction debut . . . Little effectively intersperses outside perspective in the form of emails, text messages, and other communications in Jane's entertainingly caustic first-person narrative."
—Publishers Weekly
"Janie keeps them all guessing . . .  An unusual protagonist who will intrigue readers who favor strong, smart women."
—
Booklist
"A really gutsy, clever, energetic read, often unexpected, always entertaining. I loved Janie Jenkins's sassy voice and Elizabeth Little's too. In the world of crime novels, 
Dear Daughter
 is a breath of fresh air."
—Kate Atkinson, New York Times bestselling author of Life After Life
"Dear Daughter has three of my favorite things in a book: a smart, damaged, unstoppable narrator with a slicing sense of humor; needle-sharp writing that brings characters and atmosphere leaping off the page; and a vivid, original plot full of satisfying twists. This is an all-nighter, and the best debut mystery I've read in a long time."
—Tana French, New York Times bestselling author of Broken Harbor and In the Woods
"Clever, original, and darkly witty, 
Dear Daughter's
 many twists will keep you on your toes as you fall under the spell of its unapologetic, whip-smart narrator."
—Kimberly McCreight, New York Times bestselling author of Reconstructing Amelia
"What a devilish, delightful treat of a novel! Crackling with wit and shining with originality, 
Dear Daughter
 is the kind of whirlwind mystery that will keep you hooked—and guessing—until the very end."
—Sara Shepard, New York Times bestselling author of Pretty Little Liars
Penguin Books, 9780143127369, 400pp.
Publication Date: July 28, 2015
About the Author
A graduate of Harvard University, Elizabeth Little is the author of the nonfiction books Biting the Wax Tadpole and Trip of the Tongue. She lives in Los Angeles with her family.