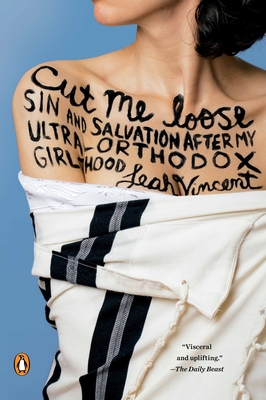 Cut Me Loose (Paperback)
Sin and Salvation After My Ultra-Orthodox Girlhood
Penguin Books, 9780143127413, 240pp.
Publication Date: May 12, 2015
Other Editions of This Title:
Digital Audiobook (1/20/2014)
MP3 CD (1/21/2014)
Hardcover (1/21/2014)
Compact Disc (1/21/2014)
Compact Disc (1/21/2014)
* Individual store prices may vary.
Description
"Visceral and uplifting." -- The Daily Beast

A raw and electrifying memoir about a young woman's journey from self-destruction to redemption, after cutting ties with her ultra-Orthodox Jewish family

For fans of the television series Unorthodox and Shtisel, this brutally honest memoir tells the story of one woman's quest to define herself as an individual. Leah Vincent was born into the Yeshivish community, an ultra-Orthodox Jewish sect. As the daughter of an influential rabbi, she was taught to worship two things: God, and the men who ruled their society. 
Then, at sixteen, Leah was caught exchanging letters with a boy, violating religious law that forbids contact between members of the opposite sex. Shunned by her family, she was cast out of her home, alone and adrift in New York City, unprepared for the freedoms of secular life and unaccustomed to the power and peril inherent in her own sexuality. Fast-paced, harrowing, mesmerizing, and ultimately triumphant, Leah's story illuminates both the oppressive world of religious fundamentalism and the broader issues facing young women of all backgrounds.
About the Author
Leah Vincent, who now goes by Jericho Vincent, is the author of Cut Me Loose: Sin and Salvation After My Ultra-Orthodox Girlhood and the co-author of Legends of the Talmud, a collection of illustrated children's stories. They have lectured on sexual assault, trauma, and Judaism at colleges, organizations, and synagogues across the country. Their essays have appeared in the New York Times, Salon, the Cut, the Daily Beast, Mask Magazine, the Forward, and the Rumpus. The first member of their family to go to college, Jericho was a Pforzheimer Fellow at Harvard, where they earned a master's degree in public policy. Named to the Jewish Week's 36 Under 36, they have organized numerous initiatives advocating for reform in the ultra-Orthodox community, including co-producing the nationally-profiled It Gets Besser Project. They live in Brooklyn with their partner and collaborator, Ben Ash Blum.
Praise For Cut Me Loose: Sin and Salvation After My Ultra-Orthodox Girlhood…
"Vincent doesn't sensationalize what happened to her; she's more concerned with writing about he she reclaimed what belonged to her all along -- freedom, agency, self-sufficiency. This is what separates her tale from most...Orthodox memoirs: it's as thoughtful and heroic as it is gripping and tragic...It's the finest example of this sort of memoir yet." —Flavorwire

"Wrenching ... Her book should be read, not just as a warning of the very real dangers of the world, but also of the price to be paid when, in the name of religion, people forget humanity." —The Wall Street Journal

"A sometimes-sweet, sometimes-harrowing memoir by a smart, passionate ultra-Orthodox girl. . . . engrossing and so thoughtfully written, and never mocks the traditions and values of a culture that few of us can fully comprehend." —People.com

"Painfully raw." —Susannah Cahalan, New York Post

"Gripping. . . . Readers will appreciate Vincent's uncensored honesty in sharing the horrors of her past." —The Washington Post

"Compulsively readable." —Bookpage

"Never before has rebellion been so sweetly rendered. And never—not since the memoirs of Mary Karr—has the connection between self-destruction and family dysfunction been so tangible and clear." —Koren Zailckas, bestselling author of Smashed and Mother, Mother

"Cut Me Loose brims with a girl's longing, and shines with a woman's insight." —Christa Parravani, author of Her

"Gutsy, smart, and incredibly difficult to put down." —Wendy Lawless, author of Chanel Bonfire

"Vincent's story is full of despair, of longing, of trying to find a place for herself amid a world that doesn't allow girls to be their whole yearning selves. The reader cheers for her when she finally escapes the prisons built by the various institutions she grew up with." —Kerry Cohen, author of Loose Girl: A Memoir of Promiscuity

"The voice Vincent has claimed is unflinchingly honest and incisive. It has already begun to resound on behalf of others who struggle to escape abuse and oppression." —Anouk Markovits, author of I Am Forbidden

"Vincent's writing brims with tension, insight, and longing." —Margaux Fragoso, author of Tiger, Tiger

"Leah Vincent shares a harrowing journey that will speak to all children fleeing intolerance, who struggle to be seen and accepted on their own terms." —Julie Metz, bestselling author of Perfection
or
Not Currently Available for Direct Purchase