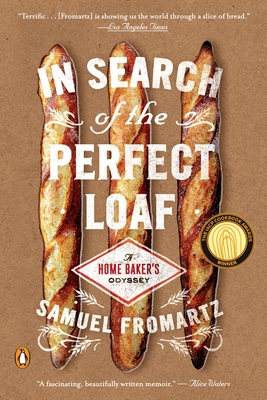 In Search of the Perfect Loaf (Paperback)
A Home Baker's Odyssey
Penguin Books, 9780143127628, 320pp.
Publication Date: July 21, 2015
Other Editions of This Title:
Hardcover (9/4/2014)
Hardcover, Large Print (12/1/2014)
* Individual store prices may vary.
Description
"An invaluable guide for beginning bakers."—The New York Times 

An irresistible account of bread, bread baking, and one home baker's journey to master his craft

In 2009, journalist Samuel Fromartz was offered the assignment of a lifetime: to travel to France to work in a boulangerie. So began his quest to hone not just his homemade baguette—which later beat out professional bakeries to win the "Best Baguette of D.C."—but his knowledge of bread, from seed to table.

For the next four years, Fromartz traveled across the United States and Europe, perfecting his sourdough in California, his whole grain rye in Berlin, and his country wheat in the South of France. Along the way, he met historians, millers, farmers, wheat geneticists, sourdough biochemists, and everyone in between, learning about the history of breadmaking, the science of fermentation, and more. The result is an informative yet personal account of bread and breadbaking, complete with detailed recipes, tips, and beautiful photographs.

Entertaining and inspiring, this book will be a touchstone for a new generation of bakers and a must-read for anyone who wants to take a deeper look at this deceptively ordinary, exceptionally delicious staple: handmade bread.
About the Author
Samuel Fromartz is a food, environment, and business journalist and the author of Organic, Inc.: Natural Foods and How They Grew. Co-Founder and Editor-in-Chief of the Food & Environment Reporting Network, his work has appeared in The New York Times, The Washington Post, The Atlantic, Salon, Inc., Fortune, Business Week, the Nation and more, and has been selected for The Best Business Stories of the Year. A native of Brooklyn, he lives in Washington, D.C. with his wife and daughter, where he bakes all his family's bread.
Praise For In Search of the Perfect Loaf: A Home Baker's Odyssey…
WINNER OF THE INTERNATIONAL ASSOCIATION OF CULINARY PROFESSIONALS' AWARD FOR LITERARY WRITING 

NAMED ONE OF THE BEST FOOD BOOKS OF 2014 BY THE ATLANTIC AND NATIONAL GEOGRAPHIC

"Terrific…. Fromartz is much more than an obsessive cook. He's also a fine reporter and writer. And Perfect Loaf is much more than a book about baking bread….What Fromartz is really writing about is how a deeper understanding of something leads to a deeper appreciation of it.
He is showing us the world through a slice of bread."
–Los Angeles Times
 
"[An] engaging and informative book…about, among many things, the return of artisan baking in France and its rise in the United States, the cultivation of wheat here and abroad, the magic and mystery of sourdough starters, and by no means least, the education of a baker."
–Washington Post
 
"Terrific to read….This is the book for beginning and would-be bread bakers, with information on flours, sourdough making, loaf formation, and oven rejiggering anyone needs."
–The Atlantic, "The Best Food Books of 2014"
 
"A flavorful delight….Fromartz's 'Odyssey' is just that; he has stoked every coal when it comes to bread. Though this isn't a cookbook by any means, he does include nine recipes…all graded by difficulty and annotated so that it's like having an expert at your side. Does he find the perfect loaf? He finds a lot more than that."
–Kansas City Star
 
"This is no mere cookbook, but a journey…[Fromartz's] evolution lays out a compelling path for anyone with flour, water, salt and yeast and an appetite for the perfect loaf of bread."
–Minneapolis Star-Tribune
 
"[Fromartz] educates readers through a journeyman narrative, with a handful of recipes from an 'easy-to-make baguette' inspired by travels in France, to pain de compagne from California bakers and German Roggenweizenbrot he learned in Berlin.….If you don't know much about how or why handcrafted bread is vastly different from what's sold in bakeries and grocery stores, start with this book.'
–Pittsburgh Post-Gazette
 
"In Search of the Perfect Loaf asks and answers some essential questions….I hope his book leads other people to go on their own search for the perfect loaf."
–Jim Lahey, The Wall Street Journal
 
"A memoir, recipe book, and ultimately, a meditation on reviving diversity and flavor in a food too many take for granted."
–The Plate, National Geographic, "Best Books of 2014"
 
"[Fromartz] mixes practical advice and age-old wisdom and leavens the combination with interesting characters and irresistible writing. What arises is an absolute must-have book for the bread baker on your list…But it is also a page-turning read for anyone with a vicarious curiosity about how this miracle food is made.
–Barry Estabrook, Civil Eats, "10 Book Recommendations for Conscientious Eaters"
 
"Thoroughly researched and engagingly written….This impressive work falls somewhere between a cookbook, an exploration of bread-baking techniques, and a history of bread....Even those who think they know bread will find something to gain here….Highly recommended."
 –Library Journal, starred review
 
"[A] fun and informative memoir [that] provides a fascinating miniature course on the techniques involved in making different varieties…baking methods used by our ancestors…and even a little history on grains and practices dating back to the Fertile Crescent."
–Publishers Weekly
 
"A consummate celebration of the deceptively simple loaf of bread…Besides imparting a history of grains and their places in culture over the past 105,000 years (when grain consumption appears to have begun), Fromartz includes step-by-step recipes for nurturing dough starters and for baking baguettes, flatbread, rye bread (which he learned to make in Berlin) and a loaf made from an artisanal grain, Turkey Red wheat….Richly detailed [and] lively."
–Kirkus Reviews
 
"Part food science, part cultural history, part memoir, Fromartz's book blends a variety of ingredients (the history of wheat production, the science of yeast fermentation, half a dozen bread recipes) into a delicious, informative dish that will have readers reaching for their aprons."
–ShelfAwareness
 
"Fromartz offers the fruits of his researches so that other home bakers may profit. His recipes are
detailed and accessible for any earnest and patient home baker committed to an honest loaf."
–Booklist
 
"This fascinating, beautifully written memoir reveals Sam Fromartz as that rare breed of cook: craftsman, historian and scientist all in one, following his senses and questing after what is delicious, authentic, and pure."
–Alice Waters, vice president of Slow Food International, owner of Chez Panisse, and author of The Art of Simple Food
 
"In this lovely book, Sam Fromartz offers a signature mix of baking insights and wonderful storytelling as he hits the road to find his perfect loaf. If you make bread—or ever intend to—you need to read this book."
–Ruth Reichl, former editor-in-chief of Gourmet and author of Delicious!
 
"Sam Fromartz's odyssey teaches us that being a great baker takes more than simply following recipes–it is a relentless quest. His conversations with bakers and then his reinterpretation of their lessons at home is a double education. I love this book."
–Nancy Silverton, founder of La Brea bakery and author of The Mozza Cookbook
 
"In Search of the Perfect Loaf is really the best kind of read—a quest for true bread enriched by research, knowledge and pleasure. The passion Sam Fromartz brings to this journey is incredible and infectious. Fromartz is generous in sharing his baking intel, but the real recipe for delicious bread, we learn, begins long before the kitchen. This book will change the way you look at bread."
–Dan Barber, co-owner/executive chef of Blue Hill and Blue Hill at Stone Barns and author of The Third Plate
 
"In his search for the holy grail of baguettes, Sam Fromartz has beautifully captured the joys, loneliness, frustrations, and rewards of his bread making journey. And, wonderfully for us, he shares both the life and baking lessons learned from the many amazing people he met along the way. You will want to bake from this book."
–Peter Reinhart, author of The Bread Baker's Apprentice and Bread Revolution
 
"This book makes the reader reexamine a subject truly overlooked:  the culture of the baker and, in particular, of bread.  Through his quixotic quest to find and learn how to make the perfect bread, Sam Fromartz brings us into the bakery and illustrates and captures the essence of what bread culture is.  It is an exquisite work, written with passion and expertise.  With many of the stories, Fromartz helps the reader understand the mind of the baker.  He himself is truly obsessed, and this book is ideal for anyone wishing to further their knowledge of the subject of what craft or artisan baking is and ought to be.  He presents, through the lives and stories of other practitioners of the craft, a future for bread which is both meaningful and dignified."
–Jim Lahey, owner/founder of Sullivan Street Bakery and author of My Bread
 
"If you love great bread, you will love this book! Inside, Sam shares his journey in search for the perfect loaf, baking with some of the most inspirational and leading bakers of our time. From Paris, to Berlin, to Marienthal, Kansas, we follow Sam on his quest as he shares his love for great bread and the 'baking secrets' he learned along the way. I read this book with my favorite music in the background, in my most comfortable chair, a glass of wine in hand, and a rustic loaf of bread."
–Daniel Leader, founder of Bread Alone Bakery and author of Bread Alone: Bold Fresh Loaves from Your Own Hands
 
"Great bread is one of life's simple pleasures, and this book captures so much of what is inspiring in the realm of bread baking right now. From California to Berlin, we meet passionate, committed bakers, and see how Sam translates their craft to the home kitchen. Bread geeks will love it, but so too will those wondering about all we've lost in our daily bread—and what we might recapture."
–Heidi Swanson, author of Super Natural Every Day
 
"Fromartz is a passionate, deeply serious home baker who writes eloquently and gracefully about what it takes in skill and ingredients to produce a delicious baguette or country loaf.  His account of the history and comeback of heritage wheat grains is a revelation that will send even the most gluten-phobic reader to search for breads made from them. In Search of the Perfect Loaf is a lovely book—a perfect read for anyone who cares about good food."
–Marion Nestle, professor of nutrition, food studies, and public health at New York University and author of Eat, Drink, Vote: An Illustrated Guide to Food Politics
 
"Fromartz has managed to elevate the humble loaf of bread into a riveting tale of history, passion and practical technique along with a rare glimpse into the workings of early morning bakeries from Paris to Berlin to San Francisco. You won't look at bread the same way again."
–Kathleen Flinn, author of The Sharper Your Knife, the Less You Cry and Burnt Toast Makes You Sing Good