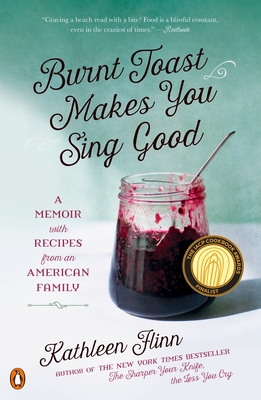 Burnt Toast Makes You Sing Good
A Memoir with Recipes from an American Family
Paperback

* Individual store prices may vary.
Other Editions of This Title:
Digital Audiobook (8/13/2014)
Compact Disc (8/14/2014)
MP3 CD (8/14/2014)
Compact Disc (8/14/2014)
Description
A delicious new memoir from the New York Times bestselling author of The Sharper Your Knife, the Less You Cry

A family history peppered with recipes, Burnt Toast Makes You Sing Good offers a humorous and flavorful tale spanning three generations as Kathleen Flinn returns to the mix of food and memoir readers loved in her New York Times bestseller, The Sharper Your Knife, the Less You Cry. Brimming with tasty anecdotes about Uncle Clarence's divine cornflake-crusted fried chicken, Grandpa Charles's spicy San Antonio chili, and Grandma Inez's birthday-only cinnamon rolls, Flinn—think Ruth Reichl topped with a dollop of Julia Child—shows how meals can be memories, and how cooking can be communication. Burnt Toast Makes You Sing Good will inspire readers (and book clubs) to reminisce about their own childhoods—and spend time in their kitchens making new memories of their own.
Praise For Burnt Toast Makes You Sing Good: A Memoir with Recipes from an American Family…
"Flinn shares uplifting stories of the recipes that shaped her life, from her Swedish grandmother's pancakes to her mom's chicken and biscuits." - More Magazine

" A memoir with lots of eating, road trips and family history, this combination platter will fill you up." - Campus Circle 

"Kathleen is a born storyteller! Her books grab you from page one, and hold onto you and your imagination, until the last page is turned, so it's no surprise that this book is full of charm and wit as well! ...This book will have you laughing and crying! "- Bless Their Hearts Mom Blog

"I was in a reading slump until I picked up Kathleen Flinn's newest book Burnt Toast Makes You Sing Good. If you love food or love eating food, this book is for you." - Feed Your Reader Blog 

"This book offers something for us all, and the recipes just add to the charm." - Five Minutes For Books blog

"Craving a beach read with a bite? Kathleen Flinn's new memoir, Burnt Toast Makes You Sing Good, chronicles her Midwestern family's culinary adventures, starting with a move cross-country to run her uncle's pizzeria. There are plenty of hilarious missteps (like a maybe-don't-try-this-at-home experience raising chickens), but food is a blissful constant, even in the craziest of times. And the book is filled with recipes - Grandpa's Mich-Mex chili, Mom's cinnamon rolls - so you can create some memorable family meals of your own." - Redbook Magazine


"You wouldn't think a memoir consisting of someone else's family stories would be all that interesting, but Kathleen Flinn had me hanging on each and every account in her memoir Burnt Toast Makes You Sing Good.I connected with her immediately, and while reading I often thought of my own parents, grandparents, and great-grandparents... I won't forget these stories." - A Lovely Bookshelf on the Wall

Praise for The Sharper Your Knife, The Less You Cry
"I can never get enough of true stories about people who stop in the middle of their life's journey to ask, 'What do I really want?' and then have the guts to actually go get it. Kathleen Flinn's tale of chasing her ultimate dream makes for a really lovely book— engaging, intelligent and surprisingly suspenseful."—Elizabeth Gilbert, author of Eat, Pray, Love

"The Sharper Your Knife, the Less You Cry is an engaging story about a fantasy fulfilled. It's Under the Tuscan Sun goes to cooking school."—Michael Ruhlman, author of The Soul of a Chef

"Although I can't cook my way out of a sac de papier, I found this book a joy to read. It's is a compelling story about learning to cook and learning to love at the same time, told with humility, humor and passion."—Bill Radke, host of public radio's Weekend America

"Kat Flynn's vivid story of her adventures at Le Cordon Bleu Paris had me smiling page after page. It's about what you should always think about in the pressure behind a hot stove – the pure romance of cooking."—Jerry Traunfeld, author The Herbal Kitchen

"Learning to tame a sadistic chef/instructor is one of the tougher trials Flinn faces in this soufflé-light memoir of her life-changing year at the Cordon Bleu cooking school in Paris.  Bon appetit." – Good Housekeeping

"A charming, yet surprisingly suspenseful account of the education of a chef (with some classic recipes and many tips), but also one woman's inspiring story of rising to, and surmounting, an imposing challenge." – Seattle Post-Intelligencer

"Those who relish the adventures to be found in food will undoubtedly enjoy this tale of a corporate middle manager who followed her heart into the heat of the kitchen and came out a triumphant graduate of Le Cordon Bleu." – The Christian Science Monitor

Praise for The Kitchen Counter Cooking School

"This could be the most important book you'll ever read" –Morgan Spurlock, Super Size Me

"…[A] terrific, inspiring book…" – People (A People Pick)

"If you are going to read one book to change your diet and your life, The Kitchen Counter Cooking School is it." – Associated Press

"An engaging...book on the joys of home cooking and the teaching thereof." – The Wall Street Journal

"Seattle food writer Flinn guides you patiently in the kitchen like the mom you always wish you'd had to learn how to cook from... like Julia Child before her [she], aims to demystify rarefied culinary know-how and bring basic cooking lessons to the simplest level…In the end, the women gained confidence under Flinn's wonderfully encouraging tutelage, and fearlessly faced their kitchens and grocery stores with useful knowledge." —Publishers Weekly

"…Flinn winningly offers inspiration to anyone who cares about cooking but lacks basic tools and skills." —Booklist

"A Seattle-based writer turned chef demonstrates how readers can transform their lives with the right recipe.… Flinn's chronicle of her culinary coaching discusses how her students fared, and acknowledges how the process led her to clean out her own cupboards: 'I am in a battle with myself. It seemed that I had as much to learn as the people I'd just visited.' The author's humble approach is inviting and shows why her students were enthusiastic." –Kirkus (starred)

"An amiable companion to cookbook stalwarts such as Mark Bittman's How To Cook Everything, Pam Anderson's How To Cook Without a Book, and Michael Ruhlman's Ratio, this title provides encouragement where the others offer direction. A mash-up of inspiration and reference, it will appeal to readers who enjoy a story with their instruction."  –Library Journal
Penguin Books, 9780143127697, 288pp.
Publication Date: August 25, 2015
About the Author
KATHLEEN FLINN is the author of The Sharper Your Knife, the Less You Cry, a New York Times best-selling memoir about her experiences at the famed Le Cordon Bleu in Paris. She leveraged her French culinary training to understand what holds home cooks back from cooking in her widely acclaimed follow-up The Kitchen Counter Cooking School, named a 2012 Non-Fiction Book of the Year by the American Society of Journalists & Authors. A trained journalist and writer for more than 25 years, Flinn's work has appeared in more than three dozen publications worldwide. She lives in Seattle and Anna Maria Island, Florida, with her husband, Mike, and their trusty rescue dog, Maddy.