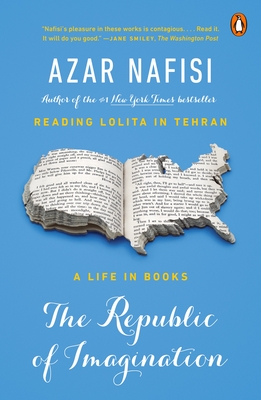 The Republic of Imagination
A Life in Books
Paperback

* Individual store prices may vary.
Other Editions of This Title:
Digital Audiobook (10/20/2014)
Hardcover (10/21/2014)
Compact Disc (10/21/2014)
Description
A New York Times bestseller

The author of the beloved #1 New York Times bestseller Reading Lolita in Tehran returns with the next chapter of her life in books—a passionate and deeply moving hymn to America
 
Ten years ago, Azar Nafisi electrified readers with her multimillion-copy bestseller Reading Lolita in Tehran, which told the story of how, against the backdrop of morality squads and executions, she taught The Great Gatsby and other classics of English and American literature to her eager students in Iran. In this electrifying follow-up, she argues that fiction is just as threatened—and just as invaluable—in America today.

Blending memoir and polemic with close readings of her favorite novels, she describes the unexpected journey that led her to become an American citizen after first dreaming of America as a young girl in Tehran and coming to know the country through its fiction. She urges us to rediscover the America of The Wonderful Wizard of Oz and Adventures of Huckleberry Finn and challenges us to be truer to the words and spirit of the Founding Fathers, who understood that their democratic experiment would never thrive or survive unless they could foster a democratic imagination. Nafisi invites committed readers everywhere to join her as citizens of what she calls the Republic of Imagination, a country with no borders and few restrictions, where the only passport to entry is a free mind and a willingness to dream.
Praise For The Republic of Imagination: A Life in Books…
Praise for The Republic of Imagination

"Do novels still matter in a world where real-life stories are so dramatic? Azar Nafisi's captivating Republic of Imagination answers this question with a resounding yes. Animated by an electrifying intelligence and a generosity that is nothing short of uplifting, this blend of memoir, biography, and a deep reading of three quintessentially American literary texts makes a successful case for the importance of fiction. Nafisi links the freedom of imagination that unites all readers to the founding ideals of our country and the personal values we claim as Americans."
—The Boston Globe

"Nafisi is a master essayist who sinuously weaves together elements of memoir, criticism, biography, and history; you don't realize how completely these topics interpenetrate each other until you come to the end of a chapter or section, often (at least in my case) with eyes stung by tears. No one writes better or more stirringly about the way books shape a reader's identity, and about the way that talking books with good friends becomes integral to how we understand the books, our friends, and ourselves."
—Laura Miller, Salon

"In works by Mark Twain, Sinclair Lewis, and Carson McCullers, Nafisi finds the essence of the American experience, filtered through narratives not about exceptionalism or fabulous success, but alienation, solitude, and landscape. Her argument is compelling, but more than that, her pleasure in these works is contagious. . . . Will Americans be as willing to take to heart a book that puts us on the spot and asks of us the same serious questions that Nafisi asked of the regime in Tehran? We are more spread out than Iranians, more thoughtless, more susceptible to the marketing of ignorance, perhaps—especially in an election season. But read it. It will do you good."
—Jane Smiley, The Washington Post

"Nafisi presents a passionate and compelling case for the return of the imagination to our nation's esteem. . . . As a teacher, she often hears the question posed to all English teachers: Why do we have to read this? This book is a thoughtful and brilliant answer to that question."
—Minneapolis Star-Tribune

"We are all citizens of Azar Nafisi's Republic of Imagination. Without imagination there are no dreams, without dreams there is no art, and without art there is nothing. Her words are essential."
—Marjane Satrapi

"Nafisi is back, this time exploring novels that speak to her about America (now her home). . . . She reminds us that immigrants bring many things to America, starting with a fresh set of eyes."
—Vanity Fair

"Nafisi reflects on her lifelong love for Western literature through an exhilarating exploration of three American classics."
—O, the Oprah Magazine

"The Republic of Imagination is disarming and provocative defense of the grand themes of literature, particularly as they are found in three very American novels. It's designed as a tonic and inspiration for those concerned about the cultural drift away from literature in particular, and a broad education in the humanities in general, in the age of the Tweet, the YouTube video, and the Reddit meme. . . . A blend of memoir and polemic sure to arouse the inner English prof in most readers."
—Santa Cruz Sentinel

"In elegant, insightful prose, she blends literary criticism, personal history and social commentary to create an enticing invitation to inhabit the Republic of Imagination."
—Shelf Awareness

"A passionate argument for returning to key American novels in order to foster creativity and engagement. . . . Literature, writes Nafisi, is deliciously subversive because it fires the imagination and challenges the status quo. . . . Her literary exegesis lightly moves through her own experiences as a student, teacher, friend and new citizen. Touching on myriad literary examples, from L. Frank Baum to James Baldwin, her work is both poignant and informative."
—Kirkus Reviews

"In The Republic of Imagination, the mirror-image of her first book, Nafisi explores the influence fiction has had on life in America, where literature, while not outlawed, is endangered. . . . Her opening tribute to the power of literature segues into revelatory close readings of the three novels she selected, after much deliberation, as salient expressions of the American spirit, specifically our restlessness, 'unending questioning,' and perpetual sense of outsiderness. . . . As a deeply engaged envoy from that republic, Nafisi urges us to read widely and inquisitively."
—Booklist (starred review)

 
Penguin Books, 9780143127789, 352pp.
Publication Date: September 1, 2015
About the Author
Azar Nafisi is the author of two New York Times–bestselling memoirs, Reading Lolita in Tehran and Things I've Been Silent About. A passionate advocate of books and reading, she speaks to packed audiences around the world about the importance of nurturing a democratic imagination. She lives in Washington, D.C.
or
Not Currently Available for Direct Purchase