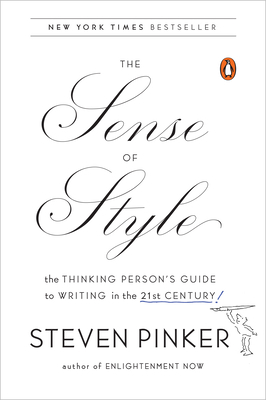 The Sense of Style
The Thinking Person's Guide to Writing in the 21st Century
Paperback

* Individual store prices may vary.
Other Editions of This Title:
Digital Audiobook (9/29/2014)
Hardcover (9/30/2014)
Paperback, Chinese (4/1/2020)
Description
"Charming and erudite," from the author of Rationality and Enlightenment Now, "The wit and insight and clarity he brings . . . is what makes this book such a gem." —Time.com
 
Why is so much writing so bad, and how can we make it better? Is the English language being corrupted by texting and social media? Do the kids today even care about good writing—and why should we care? From the author of The Better Angels of Our Nature and Enlightenment Now.

In this entertaining and eminently practical book, the cognitive scientist, dictionary consultant, and New York Times–bestselling author Steven Pinker rethinks the usage guide for the twenty-first century. Using examples of great and gruesome modern prose while avoiding the scolding tone and Spartan tastes of the classic manuals, he shows how the art of writing can be a form of pleasurable mastery and a fascinating intellectual topic in its own right. The Sense of Style is for writers of all kinds, and for readers who are interested in letters and literature and are curious about the ways in which the sciences of mind can illuminate how language works at its best.
Praise For The Sense of Style: The Thinking Person's Guide to Writing in the 21st Century…
Praise for The Sense of Style
 "[The Sense of Style] is more contemporary and comprehensive than "The Elements of Style," illustrated with comic strips and cartoons and lots of examples of comically bad writing. [Pinker's] voice is calm, reasonable, benign, and you can easily see why he's one of Harvard's most popular lecturers."
—The New York Times
 
"Pinker's linguistical learning…is considerable. His knowledge of grammar is extensive and runs deep. He also takes a scarcely hidden delight in exploding tradition. He describes his own temperament as "both logical and rebellious." Few things give him more pleasure than popping the buttons off what he takes to be stuffed shirts."
—The Wall Street Journal
 
"[W]hile The Sense of Style is very much a practical guide to clear and compelling writing, it's also far more…. In the end, Pinker's formula for good writing is pretty basic: write clearly, try to follow the rules most of the time—but only the when they make sense. It's neither rocket science nor brain surgery. But the wit and insight and clarity he brings to that simple formula is what makes this book such a gem."
—Time.com
 
"Erudite and witty… With its wealth of helpful information and its accessible approach, The Sense of Style is a worthy addition to even the most overburdened shelf of style manuals."
—Shelf Awareness
 
"Forget Strunk and White's rules—cognitive science is a surer basis for clear and cogent writing, according to this iconoclastic guide from bestselling Harvard psycholinguist Pinker... Every writer can profit from—and every writer can enjoy—Pinker's analysis of the ways in which skillfully chosen words engage the mind."
—Publishers Weekly (starred)
 
"Yet another how-to book on writing? Indeed, but this is one of the best to come along in many years, a model of intelligent signposting and syntactical comportment…Pinker's vade mecum is a worthy addition to any writer's library."
—Kirkus Reviews
 
"In this witty and practical book on the art of writing, Pinker applies insights from the sciences of language and mind to the crafting of clear, elegant prose: #requiredreading."
—Publishers Weekly, PW pick Fall 2014 Announcements
 
"Who better than a best-selling linguist and cognitive scientist to craft a style guide showing us how to use language more effectively?"
—Library Journal
 
"[A] dense, fascinating analysis of the many ways communication can be stymied by word choice, placement, stress, and the like. [Pinker's] explanations run rich and deep, complemented by lists, cartoons, charts on diagramming sentences, and more."
—Booklist
 
"This book is a graceful and clear smackdown to the notion that English is going to the proverbial dogs. Pinker has written the Strunk & White for a new century while continuing to discourage baseless notions such as that the old slogan should have been 'Winston tastes good AS a cigarette should.'"
—John McWhorter, author of Our Magnificent Bastard Tongue and The Power of Babel
 
"Great stuff! Only Steven Pinker could have written this marvelous book, and thank heaven he has. 'Good writing can flip the way the world is perceived,' he writes, and The Sense of Style will flip the way you think about good writing. Pinker's curiosity and delight illuminate every page, and when he says style can make the world a better place, we believe him."
 —Patricia T. O'Conner, author of Woe Is I and, with Stewart Kellerman, Origins of the Specious
 
Penguin Books, 9780143127796, 368pp.
Publication Date: September 22, 2015
About the Author
Steven Pinker is the Johnstone Professor of Psychology at Harvard University. He has been listed among Foreign Policy magazine's "Top 100 Public Intellectuals" and Time's "The 100 Most Influential People in the World." He is currently chair of the Usage Panel of The American Heritage Dictionary.