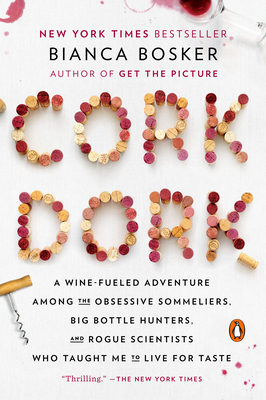 Cork Dork
A Wine-Fueled Adventure Among the Obsessive Sommeliers, Big Bottle Hunters, and Rogue Scientists Who Taught Me to Live for Taste
Paperback

* Individual store prices may vary.
Other Editions of This Title:
Digital Audiobook (3/27/2017)
Paperback, Large Print (4/24/2018)
Description
INSTANT NEW YORK TIMES BESTSELLER AND A NEW YORK TIMES CRITICS' PICK

"Thrilling . . . [told] with gonzo élan . . . When the sommelier and blogger Madeline Puckette writes that this book is the Kitchen Confidential of the wine world, she's not wrong, though Bill Buford's Heat is probably a shade closer." —Jennifer Senior, The New York Times
 
Professional journalist and amateur drinker Bianca Bosker didn't know much about wine—until she discovered an alternate universe where taste reigns supreme, a world of elite sommeliers who dedicate their lives to the pursuit of flavor. Astounded by their fervor and seemingly superhuman sensory powers, she set out to uncover what drove their obsession, and whether she, too, could become a "cork dork."

With boundless curiosity, humor, and a healthy dose of skepticism, Bosker takes the reader inside underground tasting groups, exclusive New York City restaurants, California mass-market wine factories, and even a neuroscientist's fMRI machine as she attempts to answer the most nagging question of all: what's the big deal about wine? What she learns will change the way you drink wine—and, perhaps, the way you live—forever.


"Think: Eat, Pray, Love meets Somm." —theSkimm

"As informative as it is, well, intoxicating." —Fortune
Praise For Cork Dork: A Wine-Fueled Adventure Among the Obsessive Sommeliers, Big Bottle Hunters, and Rogue Scientists Who Taught Me to Live for Taste…
Winner of 2018 M.F.K. Fisher Award for Excellence in Culinary Writing
Finalist for the 2018 Gourmand Award for Wine Writing 
Finalist for the 2018 William Saroyan International Prize for Writing (Non-Fiction)

"Bosker's journey into this sodden universe is thrilling, and she tells her story with gonzo élan. . . . She gives great gossip . . . [and] is, in the main, great company as a narrator—witty, generous, democratic . . . When the sommelier and blogger Madeline Puckette writes that this book is the Kitchen Confidential of the wine world, she's not wrong, though Bill Buford's Heat is probably a shade closer to this book's sensibility and heart."
—Jennifer Senior, The New York Times

"Reads like a wine lover's equivalent of Dante's 'The Divine Comedy': There is paradise, but only after glimpses of purgatory and hell…A funny, thought-provoking and at times frightening look at the sublime tastes, enormous egos and curious rules of a profession that is both insanely rigorous and occasionally ridiculous."
—Associated Press

"A madcap 18-month journey...[that's] as informative as it is, well, intoxicating." 
—Fortune, "The 4 Books You Should Read This Spring"

"A funny, fascinating adventure."
—Real Simple

"Cork Dork is remarkably entertaining. Bosker is a talented writer, a thorough reporter and is unfailingly funny."
—The San Francisco Chronicle

"A savory romp...[that reveals] not just the intricacies and nuances of flavor that vary from grape to grape, but why wine has become such a social staple for the entire world—and how the way we drink it can potentially change our lives." 
—Harper's Bazaar, "12 Books You Need to Read in March"

"Both an entry-level guide to the ever-growing business of wine and a masterclass in the strange, immensely skilled fanatics who make it their life's work."
—The Atlantic, "25 Books Atlantic Staffers Are Reading This Summer"

"If Malcolm Gladwell were to write a book about wine, the results wouldn't linger much more pleasurably on the palate than this accessible, adventurous, amusing and informative book by Bianca Bosker."
—The Times (London)

"[An] often-hilarious memoir."
—Good Housekeeping

"An informative and riveting read that doesn't take itself too seriously—a much needed dose of reality the wine world could benefit from."
–Bon Appétit

"An essential primer on food's favourite companion, Bianca Bosker's incredible book offers an investigation into taste, smell, and restaurant culture any foodie will appreciate."
—BuzzFeed, "27 Books Every Foodie Needs In Their Library"

"Incredibly well written, intelligent, witty, and highly entertaining."  
—Eater

"As fresh and fun as a Wachau Riesling…packed with helpful information, wrapped in honest inquiry, and slathered with humor and wit." 
—Terroirist

"One of the most entertaining drink-related memoirs in years."
—Punch

"A page turner . . . I heartily recommend [it]."
—Martin Moran, The Sunday Times (UK)

"Refreshingly accessible...It's delightful and informative to see a subject as potentially stodgy as wine appreciation refracted through the perspective of someone young, female, and very smart." 
—Portland Mercury

"[A] must-read wine book."
—San Jose Mercury News 

"You'll never feel lost in front of a wine list again." 
—Cynthia Graber and Nicola Twilley of  "Gastropod," via The Atlantic

"I loved this book. It's not just about wine. It's about learning how to listen to your senses, to more deeply experience and appreciate the world around you, and everyone could use another glass of that."
—Mary Roach, author of Gulp

"In this smart and sharply observed book, Bianca Bosker takes us on a marvelous journey through the mad, manic, seductive subculture of wine and wine lovers. It's also a deeply felt story of her own experience, told with great heart and wit."
—Susan Orlean, author of The Orchid Thief

"Cork Dork is a brilliant feat of screwball participatory journalism and Bianca Bosker is a gonzo nerd prodigy. This hilarious, thoughtful and erudite book may be the ultimate answer to the perennial question of whether or not wine connoisseurship is a scam."
—Jay McInerney, author of The Juice
 
"In this delightfully written and keenly observed book, Bianca Bosker helps us become connoisseurs not only of wine but also of people whose passions would more aptly be described as obsessions."
—Walter Isaacson, author of The Innovators

"Speaking as someone who barely knows a good Bordeaux from a bottle of Boone's Farm, I was charmed and entertained by this book."
—John Jeremiah Sullivan, author of Pulphead 
 
"The Kitchen Confidential of wine: Read this book, and you'll never be intimidated by wine—or wine snobs—again."
—Madeline Puckette, co-author of Wine Folly 

"Fascinating…Thanks to Bosker's sensory descriptions, we get to taste and smell alongside her, without dealing with the thousands of hours of study and endless flashcards first." 
—Bustle

"An informative yet funny examination of wine."
—Brightly, "The Best Books of Early 2017"

"A quest—both hilarious and horrifying—to understand the nature of taste."
—Imbibe
 
"An entertaining read." 
—Phoenix New Times

"Reading Bianca Bosker is like sitting down with a brilliant, curious friend for an after-work drink, and suddenly finding it's midnight and the table is littered with empty bottles. Between her hilarious exploits and thoughtful meditations on wine and life, you'll want to stay for just one more."
—Lauren Collins, author of When In French 
 
"A joyful journey of discovery into the 'soul' of wine, filled with wit and insight at every step."
—Maria Konnikova, author of The Confidence Game 
 
"If you have wondered about the mysteries of wine, and the airs of people who claim to know something about it, Cork Dork is essential reading. Read it and you will never look at wine in quite the same way again. This is reportage of a high order."
—Roger Cohen, author of The Girl from Human Street
 
"Rollicking and lively...I gulped down this book with enormous pleasure."
—Julia Flynn Siler, author of The House of Mondavi 
 
"I have read many 'wine books,' some casual, some pedantic, and many happily informative. But Bianca Bosker's book stands out as being spectacularly successful in teaching us about wine, in making us love wine, and in presenting a tone of unfailing good humor."
—Richard E. Quandt, The Journal of Wine Economics

"Always perceptive, curious, and entertaining, the author describes her experiences with precision and a wry sense of humor...Readers will certainly come away from the book knowing more about wine and likely eager to explore it further, but even those less inclined to imbibe will be intrigued."
—Kirkus Reviews (starred review)

"An interesting look at those with an unquenchable thirst for those unique bottles of vinicultural perfection."
—Booklist 

"A page-turning and fascinating memoir."
—Publishers Weekly 
Penguin Books, 9780143128090, 352pp.
Publication Date: March 28, 2017
About the Author
Bianca Bosker is an award-winning journalist who has written about food, wine, architecture, and technology for The New Yorker online, The Atlantic, T: The New York Times Style Magazine, Food & Wine, The Wall Street Journal, The Guardian, and The New Republic. The former executive tech editor of The Huffington Post, she is the author of the critically acclaimed book Original Copies: Architectural Mimicry in Contemporary China (University of Hawaii Press, 2013). She lives in New York City.