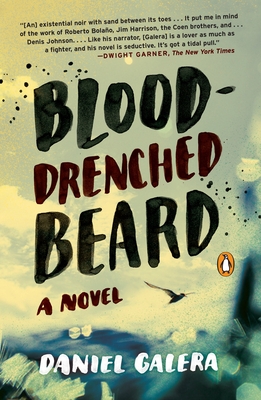 Blood-Drenched Beard
A Novel
Paperback

* Individual store prices may vary.
Other Editions of This Title:
Digital Audiobook (1/21/2015)
Description
From one of Brazil's most acclaimed young novelists, the mesmerizing story of a troubled young man's violent struggle with his family's past
 
A young man's father, close to death, reveals to his son the true story of his own father's end. The mean old gaucho was murdered by some fellow villagers at a Sunday dance in Garopaba, a sleepy town on the Atlantic now famous for its surfing and fishing. It was a sort of execution, vigilante style. Or so the story goes.
 
The unnamed young man, who loves swimming in the sea and has no strong ties to home, strikes out for Garopaba without being quite sure why. He builds a simple life and tries to find out more about his grandfather. But information doesn't come easily. A rare neurological condition means that he doesn't recognize the faces of people he's met, leading to frequent awkwardness and occasional hostility. Life in Garopaba gets complicated until it becomes downright dangerous.
 
Atmospheric, both languid and tense, and soaked in the sultry allure of south Brazil, Blood-Drenched Beard announces one of the greatest young Brazilian writers to the English-speaking world. Daniel Galera's spare and powerful prose unfolds a story of discovery that feels archetypal and builds with oceanic force.
Praise For Blood-Drenched Beard: A Novel…
"Blood-Drenched Beard ought to earn [Daniel Galera] a following north of the border.... [It] is a mournful, masculine novel. It reads like the tale of a man learning to be man without the shadow of his father to box. Can you escape your inherited nature? And what if in trying to break from family you resemble it all the more strongly? The writing can grow so lush one can feel the muscle-memory habits of life in a humid habitat returning — the mosquito swat, the brow swipe. Very few novels in recent memory have dedicated so much elegant prose to describing the texture and color and life of the sea."
—John Freeman, Dallas Morning News
 
"Spooky, superbly executed....Be patient with this book. Its subtle accretion of secrets... produces a magnetic aura of imminence and menace. Superstition, rumor and illusion filter into reality in a way reminiscent of Gabriel García Márquez... The exciting, action-packed culmination to this impressive novel manages to reveal what happened to Gaudério without answering away the eerie mysteries that surround his story."
—Wall Street Journal
 
"Entertaining... a low-key and often very funny existential noir with sand between its toes. At various moments, it put me in mind of the work of Roberto Bolaño, Jim Harrison, the Coen brothers and the Denis Johnson of his black comedy "Already Dead" (1997). It's a campfire story for sensitive, flip-flop-wearing, would-be tough guys.... [Blood-Drenched Beard] is seductive. It's got a tidal pull."
—Dwight Garner, The New York Times
 
"Blood-Drenched Beard, Daniel Galera's exploration of family, is part mystery, part travelogue and part sociology steeped in magical realism. No matter which part this gifted Brazilian stresses, his work feels tidal, like the ocean it features so heavily.... Translated from the Portuguese with grace and swing by Alison Entrekin, the novel plays along the Brazilian coastline, blending the geographical and the psychological. It is a journey into self, a narrative of rich characterization, startling detail and psychedelic sweep."
—Pittsburgh Post-Gazette
 
"Blood-Drenched Beard has at its center a fascinatingly headstrong character, one who swims perfectly but flounders on land, who strives for connection with his grandfather while cutting himself off from family — and one we root for despite not knowing his name. If Galera's other three novels are this potent and absorbing, and if his able-bodied translator Alison Entrekin can be persuaded to return to the helm, then readers are in for a treat."
—The Millions
 
"This is Galera's first novel. It is ambitious, thoughtful... Both Dahlmann and Galera's characters search for the gaucho in an endeavor to revive a sense of the pastoral, but this itself leads only to anachronism. Their longing is the mourning of the thing, hidden by the symbol of it. Though their textual tactics may not cohere, that ambition shared by both Lispector and Galera is inherently pastoral, personal, spiritual. This "pastoralism" is not in the adherence to a genre or fetishization of the wilderness. No, the question of knowing a world beyond its corruption by symbols is not one of style or form but the fundamental question of writing itself."
—Music & Literature
 
"[A] heavily detailed, epic tale, sprinkled with magical realism... Galera's language is captivating.... These are Galera's greatest strengths in "Blood-Drenched Beard" — the quiet and unexpected moments when he forces the reader to pause and wonder: What would I do?"
—Chicago Tribune
 
"In an atmosphere both languid and tense, a story unfolds of a young man searching for the truth of his grandfather's death... but beneath the community's sleepy surface lie violent secrets."
—DuJour, "Winter's Hottest Fiction"
 
"Full of more than just mystery. Galera uses his hero's condition to ruminate on relationships and his search into the past to contemplate beliefs about individuality and connectedness….an intriguing novel from a celebrated Brazilian author."
—Booklist
 
"Galera's keen sense of characters and unflinching depictions of the sometimes awkward desperation of coastal life ground the story and give it a gritty feel that is consistently satisfying."
—Publishers Weekly
 
"[An] altogether impressive novel by a young writer only now becoming known outside Brazil... Galera here blends some of the wistfulness of Latin American magical realism with a brooding dystopianism.... An elegant, literate and literary mystery of appearances and disappearances."
—Kirkus Reviews
 
"Daniel Galera reinterprets American crime fiction and B-movie noir for knowing, postmodernist tastes.... The semi-tropical landscapes of southern Brazil are rendered vividly throughout in their sultry golds and greens; the region's samba, reggae and hip-hop rhythms are nicely evoked, too... Galera's is an absorbing... novel that radiates a sense of unease and menace."
—New Statesman 
 
"[Blood-Drenched Beard] succeeds in creating an unsettling contrast between the beauty of [a] sleepy paradise and its sinister underbelly.... [Galera] has produced an honest, disturbing portrait of a town that is, we discover, a predatory place at heart."
—Financial Times
 
"Coolly seductive... A tensely atmospheric novel whose glassy surface conceals a dangerous undertow."
—The Guardian
Penguin Books, 9780143128366, 384pp.
Publication Date: January 26, 2016
About the Author
Daniel Galera is a Brazilian translator and the author of four acclaimed novels. In 2013, Granta named Galera one of the Best Young Brazilian Novelists. He was born in São Paulo, but lives in Pôrto Alegre, where he has spent most of his life. He has translated the work of Zadie Smith, John Cheever, and David Mitchell into Portuguese.

Alison Entrekin has translated Brazilian works including City of God by Paulo Lins, The Eternal Son by Cristovão Tezza, Budapest by Chico Buarque, and Near to the Wild Heart by Clarice Lispector, shortlisted for the PEN America Translation Prize.
or
Not Currently Available for Direct Purchase