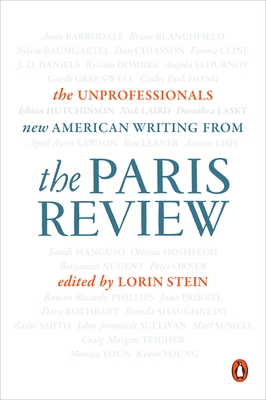 The Unprofessionals (Paperback)
New American Writing from The Paris Review
Penguin Books, 9780143128472, 304pp.
Publication Date: November 17, 2015
* Individual store prices may vary.
Description
"A dispatch from the front lines of literature." —The Atlantic

The Unprofessionals is an energetic collection celebrating the bold writers at the forefront of today's literary world—featuring stories, essays, and poems from "America's greatest literary journal" (Time)
 
For more than half a century, the Paris Review has launched some of the most exciting new literary voices, from Philip Roth to David Foster Wallace. But rather than trading on nostalgia, the storied journal continues to search outside the mainstream for the most exciting emerging writers. Harmonizing a timeless literary feel with impeccable modern taste, its pages are vivid proof that the best of today's writing more than upholds the lofty standards that built the magazine's reputation.

The Unprofessionals collects pieces from the new iteration of the Paris Review by contemporary writers who treat their art not as a profession, but as a calling. Some, like Zadie Smith, Ben Lerner, and John Jeremiah Sullivan, are already major literary presences, while others, like Emma Cline, Benjamin Nugent, and Ottessa Moshfegh, will soon be household names. A master class in contemporary writing across genres, this collection introduces the must-know voices in the modern literary scene.
About the Author
Since its founding in 1953, The Paris Review has been America's preeminent literary quarterly. The magazine introduced readers to the earliest writings of Jack Kerouac, Philip Roth, T. C. Boyle, V. S. Naipaul, Ha Jin, Jay McInerney, and Mona Simpson, among many others. 
Praise For The Unprofessionals: New American Writing from The Paris Review…
"A dispatch from the front lines of literature."
-The Atlantic

"A new generation of writers is not only keeping American literature alive but restoring the excitement of it - pushing it forward, rediscovering and rethinking the world we live in - and the Paris Review, despite its age and pedigree, is at the forefront of the renaissance."
-Jonathan Franzen

"This book is electric. I got to encounter voices I already loved and fall in love with writers I'd never read, got to realize this would be the day I'd always remember as the day I read them first."
-Leslie Jamison

"Lesser-known writers manage startling feats in the array of stories, poems, and nonfiction pieces collected in this anthology. But don't be surprised—or disappointed—to encounter the work of very successful pros, too, from Zadie Smith and Ben Lerner to Dan Chiasson and John Jeremiah Sullivan."
-The Atlantic

"In presenting writing like this, The Paris Review has fashioned a valuable correction to the prevailing notion that a writer's success can only be gauged by megabucks contracts, media attention, and multiple printings."
-Elle

"Like a beautifully unified concept album...The Unprofessionals lulls readers away from the conventional and everyday with its limpid prose and toward the edge of some psychological abyss."
-Sam Sacks, The New Republic

"Good writers are always beginners, unprofessionals, driven by desire: ears open, vision wiped clean. They find their home in The Paris Review."
-Hilary Mantel
 
"The best possible introduction to the best literary magazine we have."
-Akhil Sharma

"There's a searing reality present in the collection that feels wholly different from the kind of writing we all consume on a daily basis...In the absence of morality and self-consciousness, the collection almost shakes its way off the page, so buzzing is it with life and shame and voice."
-Kirkus