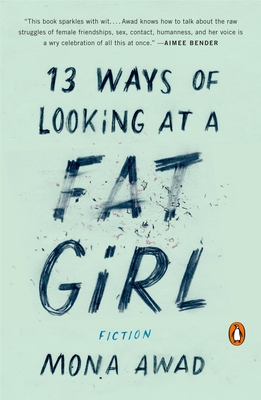 13 Ways of Looking at a Fat Girl
Fiction
Paperback

* Individual store prices may vary.
Other Editions of This Title:
Digital Audiobook (5/9/2016)
Digital Audiobook (9/4/2017)
MP3 CD (5/10/2016)
Compact Disc (5/10/2016)
Compact Disc (5/10/2016)
March 2016 Indie Next List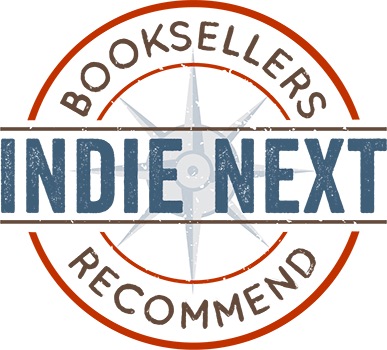 "For anyone who has ever, at any moment of her life, felt inadequate, insecure, inferior, or inept, and turned to the LifeCycle for a bit of solace only to find herself feeling even worse, 13 Ways of Looking at a Fat Girl will resonate, rattle, and inspire. Mona Awad is an exciting new voice, both honest and hilarious, with the ability to face, with head held high, all of the obstacles we throw at ourselves that often stand in the way of our own happiness."
— Susan Hans OConnor (W), Penguin Bookshop, Sewickley, PA
View the List
Description
"Stunning . . . As you watch Lizzie navigate fraught relationships—with food, men, girlfriends, her parents and even with herself—you'll want to grab a friend and say: 'Whoa. This. Exactly.'" —Washington Post

A "hilarious, heartbreaking book" (People) from the author of Bunny

Named one of the best books of the year by NPR, The Atlantic, Time Out New York, and The Globe and Mail

Growing up in the suburban hell of Misery Saga (a.k.a. Mississauga), Lizzie has never liked the way she looks—even though her best friend Mel says she's the pretty one. She starts dating guys online, but she's afraid to send pictures, even when her skinny friend China does her makeup: she knows no one would want her if they could really see her. So she starts to lose. With punishing drive, she counts almonds consumed, miles logged, pounds dropped. She fights her way into coveted dresses. She grows up and gets thin, navigating double-edged validation from her mother, her friends, her husband, her reflection in the mirror. But no matter how much she loses, will she ever see herself as anything other than a fat girl?
 
In her brilliant, hilarious, and at times shocking debut, Mona Awad simultaneously skewers the body image-obsessed culture that tells women they have no value outside their physical appearance, and delivers a tender and moving depiction of a lovably difficult young woman whose life is hijacked by her struggle to conform. As caustically funny as it is heartbreaking, 13 Ways of Looking at a Fat Girl introduces a vital new voice in fiction.

WINNER OF THE AMAZON CANADA FIRST NOVEL AWARD

FINALIST FOR THE SCOTIABANK GILLER PRIZE

FINALIST FOR THE COLORADO BOOK AWARD FOR LITERARY FICTION

LONGLISTED FOR THE DUBLIN LITERARY AWARD

ARAB AMERICAN BOOK AWARD HONORABLE MENTION FOR FICTION

NAMED ONE OF THE MOST ANTICIPATED BOOKS OF 2016 BY ELLE, BUSTLE, AND THE GLOBE AND MAIL

NAMED ONE OF THE BEST BOOKS OF THE MONTH BY THE HUFFINGTON POST, BUSTLE AND BOOKRIOT
Praise For 13 Ways of Looking at a Fat Girl: Fiction…
"Honest, searing, and necessary." —Elle

"Simultaneously tart and tender, 13 Ways of Looking at a Fat Girl is stunning...The way food and body image define Elizabeth's life is depressing and sad. But the book is neither. There is so much humor here — much of it dark, but spot on, like Dolores in Wally Lamb's She's Come Undone or Lena Dunham in Girls." —Washington Post

"Heartbreaking . . . [rife] with beauty and humor . . . As addictive as potato chips and as painful as the prospect of eating nothing but 4-ounce portions of steamed fish for the rest of your life." —Chicago Tribune

"Gutting . . . Awad gets everything right and, throughout these interconnected stories, reveals how absurd our culture is about women and their bodies. Several sections had me in tears. . . . I highly recommend this one." —Roxane Gay (via GoodReads) 

"Awad tells Lizzie's story from a variety of different perspectives and in different scenes, some deeply funny, some dreamlike, many tragic. Throughout, her prose is lively, while her insight into the often-baffling complexities of being a woman is touching and sharp." —The Atlantic, "The Best Books We Missed This Year"

"Awad is a fine writer with a keen sense of black humor, which makes this often sad story more entertaining than you might expect." —Lynn Neary, NPR's "Guide To 2016's Great Reads"

"A ferocious look at body image and how it permeates every aspect of our lives. At times funny, at others heart-breaking, this is an important one to read this year." —BookRiot, "The Best Books of 2016, So Far"

"Dark and caustically funny...[This] book somehow manages to strike a balance between depressing and hilarious. —Time Out New York, "The 15 Best Books of 2016"

"Awad's sensitive, unflinching depiction of [Lizzie's struggle] is a valuable addition to the canon of American womanhood." —Time

"Moving." —The New York Times Book Review

"A novel in thirteen vignettes about the experience of being a woman dealing with body image issues or simply put: The experience of being a woman. . . . Even someone who has never struggled with her weight should be able to see her teenage self in Awad's pages." —The Rumpus

"With dark humor and heartbreaking honesty, Awad cuts away at diet culture and the pressure on women to make thinness and beauty their priority." —San Francisco Chronicle

"Awad explores the sometimes funny, sometimes heartbreaking ways that a person's struggle with body image can seep into every part of her existence. . . . 13 Ways of Looking at a Fat Girl is not really about how Lizzie March looks. . . . [it's] about how she sees herself." —Wall Street Journal

"Awad portrays Lizzie's humiliations with unflinching honesty and a dose of dark humor." —NPR

"It's as if the writer has eavesdropped on your most pathetic, smallest thoughts. . . . Awad's writing is heartbreaking and witty, while her prose is insightful and sharp-elbowed in its caustic edge. . . . [Lizzie is] a vulnerable, funny and fierce narrator." —The Salt Lake Tribune

"Awad's satiric edge is on display in her debut novel." —Los Angeles Times

"[A] mordant coming-of-age novel." —O, The Oprah Magazine

"In this dark, honest debut, Awad sharply observes . . . the struggles of growing up, growing out, and trying to slim down, at any cost." —Marie Claire

"The nuance Awad adds to conceptions of weight and body image is applied also to her realizations of female friendships. Lizzie's relationships with other women are at once petty and kind, jealous and admiring." —The Huffington Post

"Blunt and funny, 13 Ways of Looking at a Fat Girl is a refreshingly honest look at how society views physical appearance, how we internalize those critiques and how that affects the way we navigate the world." —Mashable

"Awad's writing is white hot, and deserves to be invoked alongside Gaitskill in its observation and cutting humor, its literary pleasures. It's impossible not to care for Lizzie: not a talking point, but a sweet, calculating, hurt person—that is to say, a real woman, who leaves that scarequote-worthy cliché miles behind. . . . Fantastic new genre-bending fiction." —Tin House

"While many women writers are leaning toward a brand of feminism that links all women by making sweeping (and often suffocating) generalizations, Mona Awad insists on difference. . . . Lizzie Smith is not the funny fat girl we've grown used to in literature and popular culture. She isn't a body empty of nuance, but one loaded instead with fluffy musings about what it means, in fact, to be a fat girl. . . . Awad's tight control of the narrative and the effective work that the 13 chapters accomplish makes it impossible not to understand why Lizzie is doing what she's doing." —Los Angeles Review of Books

"Awad is an incredibly skilled writer, with a rare ability to construct tiny moments of both acute empathy and astonishing depth. . . . [and] a profoundly sensitive understanding of the subject matter. . . . It's impossible not to be deeply affected by [her] prose. . . . A real narrative achievement." —The Globe and Mail (Canada)

"[This] darkly comic book isn't afraid to shock." —Minnesota Public Radio, "The Best Books of 2016 (so far)"


"Empathetic, engaging and bitingly funny. . . . In subject and voice, there are echoes of Margaret Atwood's The Edible Woman and Janice Galloway's The Trick Is to Keep Breathing, but neither has the wit of 13 Ways of Looking at a Fat Girl." —The Irish Times

"Absorbing . . . Subtle but poignant . . . This sort of intrafeminine aggression will be familiar to most women, whatever side of the body war they've been on. But it is is a side of experience that hasn't been much explored by literary novelists." —The Guardian

"A total must-read . . . Awad's raw and empathetic prose is alternately darkly humorous and painful to read. . . . If you're a woman living in the year 2016, you've felt some semblance of doubt, pressure or stress about the way you look. As such, you need to read Mona Awad's fantastic new novel." —PureWow

"Mona Awad writes exactly what you're thinking, and that's one of the many reasons you're going to love her debut. . . . [13 Ways] announces her as a writer with real insight not only to the mind, but also to the heart." —Bustle, "17 Of 2016's Most Anticipated Books"

"Funny and frank." —Vice

"As Lizzy examines the body she's never loved, our thin's-in, thigh-gap-crazy world comes into focus." —Cosmopolitan

"Throughout these often raw, poignant stories, Awad adeptly skewers the culture of fitness and dieting, a constant battle of self-denial. . . . [An] insightful debut." —BookPage

"A painfully raw—and bitingly funny—debut . . . [Lizzie] gets under your skin, and she stays there. Beautifully constructed; a devastating novel but also a deeply empathetic one." —Kirkus Reviews, starred review

"Assured and terrific." —Publishers Weekly

"Touching . . . Behind the title of Awad's sharp first book, a unique novel in 13 vignettes, is brazen-voiced Lizzie, who longs for, tests, and prods the deep center of the cultural promise that thinness, no matter how one achieves it, is the prerequisite for happiness." —Booklist

"This book sparkles with wit and at the same time comes across as so transparent and genuine—Awad knows how to talk about the raw struggles of female friendships, sex, contact, humanness, and her voice is a wry celebration of all of this at once." —Aimee Bender, author of The Particular Sadness of Lemon Cake
 
"Hilarious and cutting . . . Mona Awad has a gift for turning the every day strange and luminous, for finding bright sparks of humor in the deepest dark. She is a strikingly original and strikingly talented new voice." —Laura van den Berg, author of Find Me and The Isle of Youth
 
"Luminous . . . full of sharp insight and sly humor . . . It seems that Mona Awad can describe the imperfect nature of any love perfectly: whether it's love between friends, between mother and daughter, husband and wife, woman and food." —Katherine Heiny, author of Single, Carefree, Mellow

"Remarkable . . . committed to the most honest and painful portrayal and comprehension of what it means to be human, with all its flaws and joys." —Brian Evenson, author of Fugue State and Immobility

"I loved this book!" —Molly Antopol, author of The UnAmericans

Penguin Books, 9780143128489, 224pp.
Publication Date: February 23, 2016
About the Author
Mona Awad is the author of Bunny, named a Best Book of 2019 by Time, Vogue, and the New York Public Library. It was a finalist for the New England Book Award and a Goodreads Choice Award for Best Horror. It is currently in development for film with Jenni Konner and New Regency Productions. Awad's first novel, 13 Ways of Looking at a Fat Girl, was a finalist for the Scotiabank Giller Prize and winner of the Colorado Book Award. Her writing has appeared in The New York Times Magazine, Vogue, Time, McSweeney's, Ploughshares, and elsewhere. She teaches in the creative writing program at Syracuse University.
Coverage from NPR