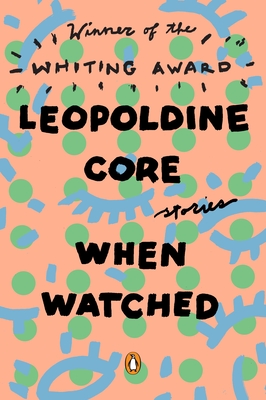 When Watched
Stories
Paperback

* Individual store prices may vary.
Description
A National Book Foundation 5 Under 35 Honoree
Whiting Award Winner
PEN/Hemingway Award Finalist
Lambda Literary Award Finalist
Longlisted for the PEN/Robert W. Bingham Prize for Debut Fiction & The Story Prize

"Core captures a precious slice of what it is to be human. . . . She reaches moments of extraordinary grace." —The New York Times Book Review

"Pick up this book and prepare to face sublime recognition." —Rookie 

"Full of dazzling insight and empathy." —Refinery 29

Refreshing, witty, and absolutely close to the heart, Core's twenty stories, set in and around New York City, have an other-worldly quality along with a deep seriousness—even a moral seriousness. What we know of identity is smashed and in its place, true individuals emerge, each bristling with a unique sexuality, a belief-system all their own. Reminiscent of Jane Bowles, William Burroughs, and Colette, her writing glows with an authenticity that is intoxicating and rare.
Praise For When Watched: Stories…
"Core's stories have a voyeuristic quality, like peering through the windows of a groundfloor apartment as you walk by. . . . Core's narrative voice has earned her comparisons to Mary Gaitskill, Jane Bowles and even William Burroughs, but these references don't do justice to the intimacy and relative gentleness with which the author treats her group of modern, often millennial drifters. . . . Core captures a precious slice of what it is to be human. . . . She reaches moments of extraordinary grace."
—Alexandra Kleeman, The New York Times Book Review

"These distinct stories are flawless and strange at the same time. Core's command of detail and nuance allows each of these stories to shimmer with just the lightest touch. . . . The writing is smart, profound, and sexy."
—Travel + Leisure, "The Best Books to Read on Vacation This Summer"

"This collection of short stories starts off tough, astute, and bleeding with emotional generosity. Within the first few pages, Leopoldine Core hits you with nuggets of poignant gold. Her stories embody little snippets of truth, one after the other. . . . Pick up this book and prepare to face sublime recognition."
—Emily Wood, Rookie 

"Untenable awareness, following the sincere attempt at connection even as it fumbles away, drives many of the stories in When Watched. . . . One gets an otherworldly sensation from Core's writing. . . . The characters that we watch in these stories we come to know deeply."
—Los Angeles Review of Books

"Core's stories enact domestic dramas that read like miniature plays perceived through a keyhole. . . . Perched precariously on the knife blade of desire, where people toggle between love and hate, Core's tales are never predictable."
—Anelise Chen, The Village Voice

"The genius of When Watched is the way its stories capture the dilation of desire—the way the twin impulses to make art and waste time circle back to essential concerns about living well with a small allotment of years."
—LitHub

"Leopoldine Core's odd little stories are often two-handers that plumb the intimate space between two people. From lovers to sisters and friends, Core catches these people in the 'chubby minutes' where we languish and think and do and be."
—Elle.com

"A gorgeous, poetic homage to downtown New York City and the eclectic, yearning characters that populate it. Tender, melancholy, and bold, Core's stories are filled with prostitutes, addicts, fathers, friends, and lovers. Against a backdrop of city stoops, fire escapes, and strangers, Core's characters fantasize about who they might be and whom they might love if they dared. In turns dreamy and dazed, hilarious and sharp, these stories have an undeniable lure, like a jaded city everyone wants to live in."
—Interview magazine

"Leopoldine Core's stories filled a void I didn't know was there. Selecting a favorite from her debut collection When Watched is an impossible task — each entertains, delights, and impresses. Her plots are meticulous, surprising, and her characters are fascinating: the kind of characters you'd want to get a phone call from, just for the chance to hear them speak."
—Claire Luchette, Electric Literature

"A striking debut collection of 19 short stories revolving around sexuality and city life. . . . Core is a master raconteur and organizes all of her tales around objects and places (most take place in a bedroom or in transit); she captures a quintessential New York cynicism—one punctuated with hopeless romanticism, stress, and hyperstimulation. But the cynicism also produces pure moments of bliss. . . . Entrancing, subtle, and tragically poetic, this collection is an important contribution to queer literature."
—Kirkus Reviews (starred review)

"Leopoldine Core is the author that's turning everybody's heads. These stories set in NYC form an unforgettable work about sexuality, identity, and gender."
—Bustle

"Full of dazzling insight and empathy, each of the 19 stories in this debut will force you to consider how personal identity is impossible to pin down: We are all chameleons, shifting parts of ourselves to make the best of new circumstances. While there is an undeniable headiness to Core's collection, her writing is never heavy-handed: It's refreshing—even bright—and full of heart. This new voice fills a void that, until finishing the final pages, we didn't know was sorely missing. But now that When Watched has surfaced, we can't wait for more from Core."
—Refinery 29

"Core's prose isn't fancy, but it's gemstone smooth, and that's its most important quality: the writing is a seamless, nearly translucent vehicle that connects us to the tangled brushwork of her characters—their sorrows and desires and their so many attempts at striving for human intimacy more profound than strained conversations."
—The Paris Review Daily

"[A] spiky collection."
—Ladies' Home Journal

"A stunning collection of short stories. Like most of her writing, the tales are often dark, always precise, and hard to put down."
—Afar magazine

"[Core's] prose is like a sniper in the wild. . . . The stories skip like pebbles, held intact by their emotional gravity and buoyed by the moving grace of small, playful ripples."
—Mask magazine

"This debut short story collection reveals Core's wisdom and deep understanding of the limits of human connection. The most intimate scenes of these short yet powerful stories, most of which take place in New York City, occur in the small, claustrophobic spaces of apartments and, most tellingly, bedrooms. . . . Core's dialogue is by turns searching and revelatory in this accomplished and singular new voice."
—Publishers Weekly

"Core's stories are quiet, simple, beautifully written—and, at times, heartbreaking. The debut collection from the East Village writer, who was born and raised in NYC, includes the title story, 'When Watched,' that will make you ignore the buzzing of your phone, completely submerged in her prose."
—StyleCaster

"Leopoldine Core is one of the most original new writers I've come across. Reading her carefully laid out sentences is like following a trail of white pebbles through a dark forest of strange insights and passion. Her ardent wanderers exist in the ever-churning flux of their moods and minds, in a haunted, desperate, and bejewelled New York. I get so much from being in her worlds."
—Sheila Heti, author of How Should a Person Be?

"Leopoldine Core writes deceptively poetic prose—there's a delicacy to it, without being precious at all, and it leaves you with a feeling that resonates long after. She captures an essence of her generation, a sort of alienated and self-destructive ennui. I felt so protective toward these characters, like I wanted to reach into the pages and pull them out and save them from themselves."
—Molly Ringwald, author of When It Happens to You

"Intent on both wasting and appreciating their youth, Leopoldine Core's distinct and fascinating characters know they're being watched but seldom fully seen. But every now and then, they see each other. And they don't just meticulously observe the sweetly gritty East Village of the recent past; they bring it absolutely to life."
—Sarah Manguso, author of Ongoingness
 
"Powerful and lucid, these stories are full of pain and sex and the cutting things people say to one another."
—Marie Calloway, author of what purpose did i serve in your life

"I love the way Leopoldine Core lets her characters fight toward a turbulent happiness.  Like a lesson in how to talk to each other—and also how to be alone.  Fast, lucid, and beautifully blunt, these stories cut and swoop to the conversations and meditations that, of an afternoon, can define an epoch in your life."
—Benjamin Lytal, author of A Map of Tulsa
Penguin Books, 9780143128694, 240pp.
Publication Date: August 9, 2016
About the Author
Leopoldine Core was born and raised in New York's East Village and graduated from Hunter College. Her fiction and poetry have appeared in The Paris Review Daily, Open City, PEN America and Apology Magazine, among others. She is the recipient of a 2015 Whiting Award for fiction, as well as fellowships from The Center for Fiction and The Fine Arts Work Center. Author of the poetry collection Veronica Bench, Core lives in New York.