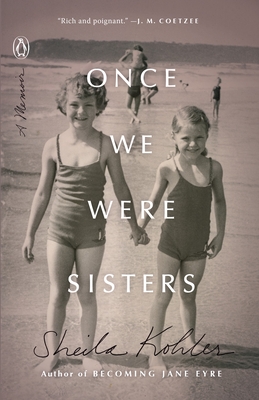 Once We Were Sisters
A Memoir
Paperback

* Individual store prices may vary.
Other Editions of This Title:
Digital Audiobook (1/16/2017)
MP3 CD (1/17/2017)
Compact Disc (1/17/2017)
Compact Disc (1/17/2017)
Description
ONE OF PEOPLE MAGAZINE'S BEST NEW BOOKS

"A searing and intimate memoir about love turned deadly." —The BBC

"An intimate illumination of sisterhood and loss." —People

When Sheila Kohler was thirty-seven, she received the heart-stopping news that her sister Maxine, only two years older, was killed when her husband drove them off a deserted road in Johannesburg.  Stunned by the news, she immediately flew back to the country where she was born, determined to find answers and forced to reckon with his history of violence and the lingering effects of their most unusual childhood—one marked by death and the misguided love of their mother.

In her signature spare and incisive prose, Sheila Kohler recounts the lives she and her sister led. Flashing back to their storybook childhood at the family estate, Crossways, Kohler tells of the death of her father when she and Maxine were girls, which led to the family abandoning their house and the girls being raised by their mother, at turns distant and suffocating.  We follow them to the cloistered Anglican boarding school where they first learn of separation and later their studies in Rome and Paris where they plan grand lives for themselves—lives that are interrupted when both marry young and discover they have made poor choices.  Kohler  evokes the bond between sisters and shows how that bond changes but never breaks, even after death.

"A beautiful and disturbing memoir of a beloved sister who died at the age of thirty-nine in circumstances that strongly suggest murder. . . . Highly recommended." —Joyce Carol Oates
Praise For Once We Were Sisters: A Memoir…
"In the end, this is a memoir of love, sorrow, sisterhood and privilege. It's also a memoir of the limitations of such privilege—in particular, the inescapable tragedy of being born female in a patriarchal world, where all the money, beauty and breeding cannot protect you from a man who takes what he wants without consequence. Rich, pretty, good Maxine, forever the dutiful doll, died young, and her husband lived to a ripe old age, his atrocities never acknowledged. Until now."
—The New York Times Book Review

"An intimate illumination of sisterhood and loss."
—People Magazine (Best New Books)

"Kohler digs into her past for a searing and intimate memoir about love turned deadly. . . . Her powerful story gives a sharp contrast between a sister's lasting love and the ways society protects a violent man."
—The BBC (Ten Books to Read in 2017)

"It's fitting that the book is written in the present tense, because [Kohler's] sister is forever with her. Their relationship changes shape yet lingers, as do the important questions about women and violence."
—Oprah.com (5 Powerful New Memoirs)

"In this intimate, exquisitely written memoir, the author's first work of nonfiction, she explores the impenetrable bond that can exist between sisters. . . . In spare, delicate prose, Kohler brings a seasoned novelist's skills to this deeply moving, compelling memoir."
—Kirkus Reviews (starred review)

"Sheila Kohler has written a beautiful and disturbing memoir of a beloved sister who died at the age of thirty-nine in circumstances that strongly suggest murder. Like all of Sheila Kohler's prose work, Once We Were Sisters reveals its story by degrees, amid a richly sensuous milieu of South African white privilege and repression. It is a tragic tale, with echoes of cultural sexism and misogyny, yet a triumphant story of a young woman's liberation from this culture and her emergence as a writer. Highly recommended."
—Joyce Carol Oates, National Book Award-winning author of Them

"Young Sheila Kohler abandons the time-warp of 1950s South Africa and heads for Europe on a voyage of self-discovery. Her quest to find out what it is that she desires—a quest that will last decades and is recounted with the seriousness it deserves, lightened with touches of dry comedy—ends in the discovery that she is and has always been a writer. The most striking parts of this rich and poignant memoir—rich above all in sensual experience—reflect on the necessary cruelty of the writer's art, sacrificing the truth of the world to the truth of fiction."
—J.M. Coetzee, author of Disgrace and winner of the Nobel Prize in Literature

"Throughout her literary career, Sheila Kohler has obsessively tried to find closure and justice for her sister's untimely death and, finally, in this memoir she has succeeded in coming to terms with the tragedy by movingly recalling their childhood together and expressing her love for her sister."
—Lily Tuck, National Book Award-winning author of The Double Life of Liliane

"For unto whom much is given, of him shall be much required: this Biblical verse takes on a tragic ring as this memoir of a privileged childhood ends in murder. Sheila Kohler has put together this heartfelt, suspenseful confession with a lifetime's worth of skill and an abundance of inborn genius."
—Edmund White, author of A Boy's Own Story

"Sheila Kohler's writing is visually potent,  viscerally compelling, and intensely personal. In Once We Were Sisters she conjures a lost world of privilege, violence, and repression that has chilling parallels in contemporary life."
—Rebecca Miller, author of Personal Velocity

"This lean memoir cuts straight to the heart of what it is to love—and lose—a sister.  Kohler sidesteps nothing; her private rage, regret, heartbreak, and revelation mingle unforgettably with the public shame of apartheid. Once We Were Sisters is an exquisite and devastating book."
—Tracy K. Smith, Pulitzer Prize-winning author of Ordinary Light

"To write a first-rate memoir is to encounter a mystery.  In Sheila Kohler's brilliantly intelligent, beautifully written, sensually detailed, sexy, exquisitely restrained and shocking memoir, there are several mysteries: Why do we act the way we do?  Why are we passive when we should be active, and vice versa?  What does it take for a young woman to find out who she is?  What griefs, what losses must attend that discovery?  How to account for the cruelty and self-indulgence of men, or the willed blindness and guilt of women? 'What is it I have done or failed to do?' the memoirist keeps asking here, and her responses are unfailingly, stringently honest."
—Phillip Lopate, author of Being With Children
 
Penguin Books, 9780143129295, 256pp.
Publication Date: January 17, 2017
About the Author
Sheila Kohler was born in Johannesburg, South Africa. She is the author of fourteen works of fiction including the novels Dreaming for Freud, Becoming Jane Eyre, and Cracks, which was nominated for the IMPAC Dublin Literary Award and made into a film starring Eva Green. Her work has been featured in the New York Times and O Magazine and included in The Best American Short Stories. She has twice won an O'Henry Prize, as well as an Open Fiction Award, a Willa Cather Prize, and a Smart Family Foundation Prize. She teaches at Princeton University and lives in New York City.
or
Not Currently Available for Direct Purchase