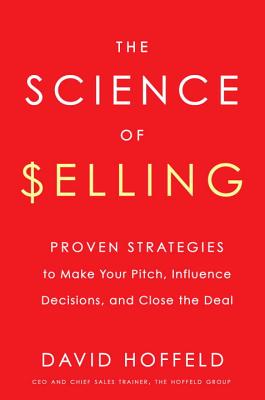 The Science of Selling (Hardcover)
Proven Strategies to Make Your Pitch, Influence Decisions, and Close the Deal
TarcherPerigee, 9780143129325, 288pp.
Publication Date: November 15, 2016
* Individual store prices may vary.
Description
The Revolutionary Sales Approach Scientifically Proven to Dramatically Improve Your Sales and Business Success

Blending cutting-edge research in social psychology, neuroscience, and behavioral economics, The Science of Selling shows you how to align the way you sell with how our brains naturally form buying decisions, dramatically increasing your ability to earn more sales. Unlike other sales books, which primarily rely on anecdotal evidence and unproven advice, Hoffeld's evidence-based approach connects the dots between science and situations salespeople and business leaders face every day to help you consistently succeed, including proven ways to:

- Engage buyers' emotions to increase their receptiveness to you and your ideas
- Ask questions that line up with how the brain discloses information
- Lock in the incremental commitments that lead to a sale
- Create positive influence and reduce the sway of competitors
- Discover the underlying causes of objections and neutralize them
- Guide buyers through the necessary mental steps to make purchasing decisions

Packed with advice and anecdotes, The Science of Selling is an essential resource for anyone looking to succeed in today's cutthroat selling environment, advance their business goals, or boost their ability to influence others.

**Named one of The 20 Most Highly-Rated Sales Books of All Time by HubSpot
About the Author
DAVID HOFFELD is the CEO and chief sales trainer at Hoffeld Group, one of the nation's top research-backed sales and consulting firms. A sought-after sales thought leader and speaker, David has worked with clients ranging from small and medium businesses to Fortune 500 companies. He is a contributor to Fast Company and has been featured in Fortune, U.S. News and World Report, The Wall Street Journal, CBS Radio, Fox News Radio, and more. With a robust following on Twitter and a popular YouTube channel, David has built a loyal audience as a trusted resource for sales and business leaders. To learn more about his work, visit his website at www.HoffeldGroup.com.
Praise For The Science of Selling: Proven Strategies to Make Your Pitch, Influence Decisions, and Close the Deal…
"Everyone needs to sell, not just the sales professional. This book shares top selling strategies backed by scientific data on how the mind makes trust and buying decisions, so you get best practice and the proof behind what makes them so effective." —Forbes

"A crisp, unmissable guide…. Hoffeld's deft guidebook is a must-read for salespeople unsatisfied with anecdotal evidence and hungry for real data to improve their techniques." —Publishers Weekly

"A terrific book! Sales trainer David Hoffeld has built his selling methods on a solid foundation of science. Let his research-based insights into why people buy help you increase sales and retain loyal customers." —Daniel H. Pink, bestselling author of To Sell Is Human

"A must-read to excel in the game of influencing others! This science-based approach to selling…will surely advance your career or business." —Chris Spurvey, Vice President, KPMG Canada and author of It's Time to Sell

"David Hoffeld provides strong, clear and practical advice about selling, supported by the relevant research, not just one-off anecdotes…. Read and study The Science of Selling: it's perhaps the best discussion yet of the core essentials about this key business--and life--activity." —Frank Cespedes, Harvard Business School, author of Aligning Strategy and Sales

"Grab your yellow highlighter and be prepared to use it on every page." —Stu Heinecke, author of How to Get a Meeting with Anyone

"An incredible resource of research-based strategies for influencing others—effective not only for meeting the needs of the sales person, but for anyone who is in leadership or aspires to leadership." —Toby Travis, International Head of School & Educational Consultant/Trainer

"This book is a breath of fresh air. While most sales books are based on the author's experience, every chapter in this superbly well-written book is rooted in science." —Gerhard Gschwandtner, CEO of Selling Power

"Can science and selling come together? YES, and in a powerful way—just read this book! The Science of Selling is as good as it gets—fantastic and really usable. I have already given it to my sales team to read." —David Horsager, CEO of Trust Edge Leadership Institute and bestselling author
 
"A must-read for anyone who wants to become more influential and increase their sales effectiveness." —Ron Friedman, Ph.D., author of The Best Place to Work: The Art and Science of Creating an Extraordinary Workplace

"Many believe that sales is just a numbers game, but David Hoffeld has proven that there is actually a science to it [and] that selling is a skill that can be developed and perfected. A fascinating book." —Donna Serdula, Founder & President, Vision Board Media & Linkedin-Makeover.com

"David has done a great job separating the science from the art of selling. It's refreshing to see research-backed methods and practices versus guesswork and theory around how influence really works. Hats off to Mr. Hoffeld for advancing our understanding around how to turn the practice of selling into a true profession." —Marc Miller, bestselling author of Selling is Dead and A Seat at the Table

"The Science of Selling is outstanding; I haven't been able to put it down. It's helped me reexamine and rethink how I sell, and it has my highest recommendation." —Ed Tate, Principal at Ed Tate & Associates and World Champion of Public Speaking

"Well-defined, repeatable sales strategies that are scientifically proven to improve your results. The Science of Selling is the future of selling!" —Ray Reyes, Managing Director, Globalize Localization Solutions

"Finally, you can get inside your buyer's head and this book is your blueprint. David Hoffeld unpacks the science behind what makes us choose, purchase, and trust those we buy from—essential insights for any sales professional wanting to become even more effective." —Leary Gates, Venture Coach & Founder, Lumina Consulting Group & StrategicCEO.com

"Following on from the science behind selling that Dan Pink introduced in To Sell Is Human, Hoffeld dives deeper into how to use scientifically-proven ways to build rapport, influence with ease, and pass through the skepticism that's inherent in the selling process. If you believe successful sales pros are made and not born, this book was written for you." —Mary Poul, founder of Sales Mastery Magazine

"A fast-paced and fact-filled analysis of how scientific principles of influence and decision-making can improve sales effectiveness…. You will have a much deeper understanding of the sales process and how you can be more effective after reading his book." —David Fairbarn, President, Kinney & Lange

"A tour de force of scientific research spanning a whole range of critical selling behaviors…. This book has done the hard work of identifying what they are and explaining clearly where to focus and how to adopt them. I highly recommend this book to anyone interested in sales success both now and in the future." —John Golden, CSO, Pipelinersales and bestselling author of Winning the Battle for Sales