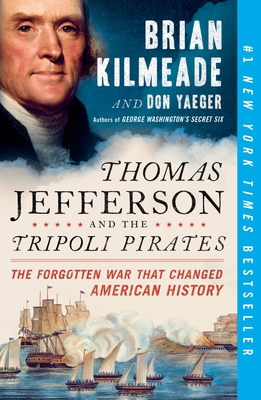 Thomas Jefferson and the Tripoli Pirates (Paperback)
The Forgotten War That Changed American History
Sentinel, 9780143129431, 272pp.
Publication Date: October 18, 2016
Other Editions of This Title:
Digital Audiobook (11/2/2015)
Hardcover (11/3/2015)
Paperback (10/24/2017)
CD-Audio (11/28/2017)
CD-Audio (11/3/2015)
Paperback (6/5/2018)
Hardcover (4/21/2020)
* Individual store prices may vary.
Description
When Thomas Jefferson became president in 1801, America was deeply in debt, with its economy and dignity under attack. Pirates from North Africa's Barbary Coast routinely captured American merchant ships and held the sailors as slaves, demanding ransom and tribute payments far beyond what the new country could afford.

For fifteen years, America had tried to work with the four Muslim powers (Tripoli, Tunis, Algiers, and Morocco) driving the piracy, but negotiation proved impossible. Realizing it was time to stand up to the intimidation, Jefferson decided to move beyond diplomacy. He sent the U.S. Navy and Marines to blockade Tripoli—launching the Barbary Wars and beginning America's journey toward future superpower status.

Few today remember these men and other heroes who inspired the Marine Corps hymn: "From the Halls of Montezuma to the Shores of Tripoli, we fight our country's battles in the air, on land and sea." Thomas Jefferson and the Tripoli Pirates recaptures this forgotten war that changed American history with a real-life drama of intrigue, bravery, and battle on the high seas.
About the Author
BRIAN KILMEADE and DON YAEGER are the coauthors of George Washington's Secret Six, a New York Times bestseller for more than five months. Kilmeade cohosts Fox News Channel's morning show Fox & Friends and hosts the daily national radio show The Brian Kilmeade Show. He lives on Long Island. This is his fourth book. Yaeger has written or cowritten twenty-four books and lives in Florida.
Praise For Thomas Jefferson and the Tripoli Pirates: The Forgotten War That Changed American History…
"Thomas Jefferson. Pirates. And national security. This is how you make history exciting. I dare you to put this book down."
—BRAD MELTZER, bestselling author of The President's Shadow
 
"Reads like a fast-paced thriller but is actually a thoughtful account of America's first foray into what has become a complex part of the world."
—GENERAL STANLEY MCCHRYSTAL (Ret.), author of Team of Teams
 
"This is a well-told tale, and there are lessons aplenty about both diplomacy and warfare—with useful application to the challenges the United States faces in our own time."
—PROFESSOR LARRY J. SABATO, director of the University of Virginia Center for Politics; author of The Kennedy Half-Century

"A fascinating story of extraordinary courage and resolve, and a brilliant reminder of an early chapter of our country's remarkable history."
—DONALD RUMSFELD