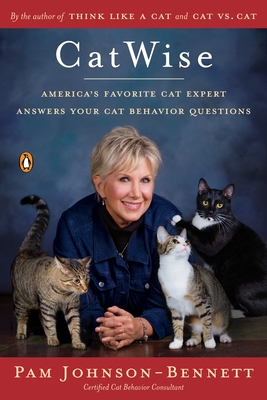 CatWise (Paperback)
America's Favorite Cat Expert Answers Your Cat Behavior Questions
Penguin Books, 9780143129561, 352pp.
Publication Date: October 18, 2016
* Individual store prices may vary.
Description
Mark your calendars for Pam's CatWise Cat Café Tour! Beginning in March, she'll travel to some of the greatest cat cafés across the country to share tips and tricks from her brand new book, Catwise.

Top feline behavior expert (and author of Penguin's bestselling Think Like a Cat and Cat vs. Cat) answers the 150 questions most often asked by puzzled cat owners.

Even those of us who have lived with and loved our cats for decades are constantly stymied by their seemingly inexplicable acts, or have questions about why they do what they do and where they do it, and how we can get them to not do it. Here, in one complete authoritative guide, those elusive mysteries are solved. Why does my cat lick my hair? Why does the cat only want attention when I'm on the phone? How can I introduce my cat to my new dog? How can I get my cat to like my new husband??

No one knows cats like Pam Johnson Bennett, whose pioneering thirty-year career  as a cat behavior consultant has changed the way cat owners and experts alike view cats. Her books are bibles, but her fans and owners still flood her website and social media platforms with questions on topics that  perplex them. Catwise combines the questions that come up most often with answers to help you solve your cat's behavior problems (or head them off before they start), or simply improve the relationship you have with your cat.
About the Author
Wellness CatWise Cat Cafe Tour Schedule
March 23 – Orlando, FL: Orange County Orlando Convention Center
March 23 – Orlando, FL: Orlando Cat Café
April 20 – New York, NY: Little Lions
April 21 – Hudson Valley, NY: Morgan's Cat Café
April 22 – Brooklyn, NY: Brooklyn Cat Café
April 23 – Philadelphia, PA: Kawaii Kitty Café
June 8 – Portland, OR: Purrington Cat Lounge
June 10 – Seattle, WA: Meowtropolitan Cat Café

Pam Johnson-Bennett is one of the most popular and sought-after cat behavior experts in the world. She has a private cat-consulting practice in Nashville, appears on Animal Planet UK and Canada, and lectures on cat behavior at veterinary and animal welfare conferences around the world. She's been featured on CNN, Fox News Channel, CBS, ABC, NBC, Fox & Friends, Animal Planet Radio, and many more shows. Print profiles include Wall Street Journal, The New York Times, Real Simple, Better Homes & Gardens, Woman's World, Newsweek, Prevention, USA Today, Family Circle, Complete Woman, Newsday, Chicago Tribune, USA Weekend, Washington Post, and Parade. She was VP of the International Association of Animal Behavior Consultants and founded the IAABC Cat Division. Pam served on the American Humane Association's Advisory Board on Animal Behavior and Training. She lives in Nashville, TN.
Praise For CatWise: America's Favorite Cat Expert Answers Your Cat Behavior Questions…
"Very good...answers every question imaginable for the new cat owner." --New York Times Book Review

"Fun and practical."–Parade magazine

"For more than 30 years, Pam has changed the lives of cats and their humans for the better… Pam's newest book,   addresses the questions that come up most frequently in Pam's work....This information packed volume belongs in every cat lover's cat care library."
--ConsciousCat.net

Praise for Pam Johnson-Bennett

"Cats are like pieces of art that grace your home and throw up on your laptop but oh how we love them and NOBODY knows the ways of the mysterious feline any better than Pam Johnson-Bennett. If you are holding this book be prepared to learn more about cats then you ever could have imagined. Seven kitties own my wife, Mary and I right now and we need to learn all we can! Thanks PAM!"
--Joseph S. Bonsall, 42-year member of The American Music Group The Oak Ridge Boys, and author of 10 books.

"I have been a big fan of Pam's for a long time. Her sound advice and unique insight into cat behavior have helped thousands of cats"
--Beth Stern, Spokesperson for North Shore Animal League America

"Everyday is 'Caturday' for cat lovers! And to strengthen our bond with our precious feline friends, Pam's advice is simply the best.  As a proud pet parent of three cats, our home is full of purrs, meows and love thanks to Pam's wisdom and training methods."
--Robin R. Ganzert, Ph.D., President & CEO American Humane Association