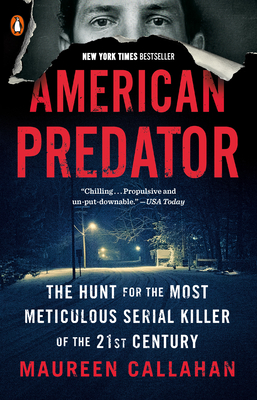 American Predator
The Hunt for the Most Meticulous Serial Killer of the 21st Century
Paperback

* Individual store prices may vary.
Other Editions of This Title:
Digital Audiobook (7/1/2019)
Library Binding, Large Print (10/16/2019)
Description
INSTANT NEW YORK TIMES BESTSELLER

An Amazon "Best Book of 2019"
A Washington Post "10 Books To Read in July"
A Los Angeles Times "Seven Highly Anticipated Books for Summer Reading"
A USA Today "20 of the Season's Hottest New Books"
A New York Post "25 Best Beach Reads of 2019 You Need to Pre-Order Now"
A Bustle "The Best New True Crime Books You Can Read Right Now"

"Maureen Callahan's deft reporting and stylish writing have created one of the all-time-great serial-killer books: sensitive, chilling, and completely impossible to put down." —Ada Calhoun, author of St. Marks Is Dead

Ted Bundy. John Wayne Gacy. Jeffrey Dahmer. The names of notorious serial killers are usually well-known; they echo in the news and in public consciousness. But most people have never heard of Israel Keyes, one of the most ambitious and terrifying serial killers in modern history. The FBI considered his behavior unprecedented. Described by a prosecutor as "a force of pure evil," Keyes was a predator who struck all over the United States. He buried "kill kits"--cash, weapons, and body-disposal tools--in remote locations across the country. Over the course of fourteen years, Keyes would fly to a city, rent a car, and drive thousands of miles in order to use his kits. He would break into a stranger's house, abduct his victims in broad daylight, and kill and dispose of them in mere hours. And then he would return home to Alaska, resuming life as a quiet, reliable construction worker devoted to his only daughter.

When journalist Maureen Callahan first heard about Israel Keyes in 2012, she was captivated by how a killer of this magnitude could go undetected by law enforcement for over a decade. And so began a project that consumed her for the next several years--uncovering the true story behind how the FBI ultimately caught Israel Keyes, and trying to understand what it means for a killer like Keyes to exist. A killer who left a path of monstrous, randomly committed crimes in his wake--many of which remain unsolved to this day.

American Predator is the ambitious culmination of years of interviews with key figures in law enforcement and in Keyes's life, and research uncovered from classified FBI files. Callahan takes us on a journey into the chilling, nightmarish mind of a relentless killer, and to the limitations of traditional law enforcement.
Praise For American Predator: The Hunt for the Most Meticulous Serial Killer of the 21st Century…
Praise for American Predator

Named a must-read book by: The Washington Post * The Los Angeles Times * USA Today * The New York Post * Bustle

Winner of the 2022 Grand Prix De Littérature Policière

"Chilling . . . Propulsive and un-put-downable."
—USA Today

"If you've never heard of Israel Keyes, his name will fill you with dread after reading Callahan's superb investigation of how such a monster managed to thrive in our modern world."
—Bethanne Patrick, The Washington Post

"A page-turning mystery."
—New York Post

"Riveting . . . American Predator is a fine book—exhaustively researched and candid without being prurient—that should be as illuminating to law-enforcement as it is fascinating to the general reader."
—Dennis Drabelle, The Washington Post

"A chilling and riveting read, it's a peek into the mind of a killer and the investigators who eventually tracked him down."
—Refinery29

"Callahan has produced a superb work of true crime writing that will haunt its readers long after the final page has been turned . . . A deeply frightening book."
—Anchorage Daily News

"An interesting, illuminating, and chilling account of a strange and lethal killer who baffled even the FBI's famed Behavioral Analysis Unit's profilers. . . . American Predator is a well-researched and well-written book about a modern monster and the law enforcement people who caught him and tried to understand him."
—The Washington Times

"Vivid . . . chilling . . . Callahan's portrait of this monster, and of the men and women who do their best to uncover his secrets, is one that will keep you up all night."
—Tampa Bay Times

"American Predator is the scariest book I've ever read. No exaggeration—the book you hold is bone-chilling. Maureen Callahan explores the black heart of a new kind of American monster—a serial killer that confounded our most elite criminal profilers—and the race-against-time investigation to follow. This is the work of a journalist in her prime, telling you the story the FBI doesn't want you to hear and delivering an unforgettable tale of evil that will haunt you. Mark my words: This modern true crime classic will stand with the likes of Jeff Guinn's Manson, Ann Rule's The Stranger Beside Me, and Michelle McNamara's I'll Be Gone in the Dark."
—Susannah Cahalan, New York Times bestselling author of Brain on Fire

"Wow! American Predator is excellent and it is terrifying. Maureen Callahan's deft reporting and stylish writing have created one of the all-time-great serial-killer books: sensitive, chilling, and completely impossible to put down."
—Ada Calhoun, author of St. Marks Is Dead  

"I started American Predator late at night and grew terrified just a few pages in—yet I could not put it down. Through deep interviews with FBI special agents and newly uncovered documents, Maureen Callahan crafts a chilling and unforgettable portrait of a singularly cunning killer and the diverse members of law enforcement he strove to outwit. Read it as soon as possible—in daylight."
—Karen Abbott, New York Times bestselling author of Liar, Temptress, Soldier, Spy and Sin in the Second City

"Prepare to lose sleep. Prepare to skip meals. Maureen Callahan delivers a masterful telling of the monster who threatened a nation. Spellbinding and unforgettable." 
—Adam Makos, New York Times bestselling author of Spearhead  

"An extensively researched and well-written account of a unique serial killer. . . . I commanded the Bronx Homicide Task Force, I have worked homicide investigations, I continue to consult on cases and have trained nearly 75,000 professionals in practical homicide investigation. . . .  I highly recommend this book."
—Vernon J. Geberth, author of Practical Homicide Investigation

"A riveting true crime saga . . . . The 21st century's most meticulous serial killer baffles investigators with his forethought and ruthlessness in Maureen Callahan's riveting true crime narrative."
—Shelf Awareness

"A deep dive into the twisted life of Israel Keyes, 'a new kind of monster' . . . Serial killers often commit their crimes close to home, inside a comfort zone, but as the author documents throughout this compelling narrative, little about Keyes fit the conventional serial-killer mold . . . [Callahan] offers fascinating context about law enforcement investigative techniques and revelations about how a murderer can strike again and again without being detected for more than a decade."
—Kirkus

"Investigative journalist Callahan provides a chilling true-crime narrative in this detailed study of Israel Keyes, whom she describes as 'a new kind of monster, likely responsible for the greatest string of unsolved disappearances and murders in modern American history.' . . . Through Callahan's access to many of the key players in law enforcement, she has produced the definitive account of a terrifying psychopath."
—Publishers Weekly (starred review)

"A riveting, propulsive account of a highly intelligent serial killer who skillfully evaded capture for years. . . . Callahan recounts the story with a deft touch, blending multiple sources, including his court psychological profile, into a seamless narrative. . . . Gripping and superbly researched, this is destined to be a true crime classic, alongside titles such as Vincent Bugliosi's Helter Skelter. And to readers who enjoyed Michelle McNamara's I'll Be Gone in the Dark: One Woman's Obsessive Search for the Golden State Killer."
—Library Journal (starred review)

"Keyes is terrifying, and his crimes horrific, but Callahan's focus on the FBI's attempts to learn about his other crimes makes for a truly edge-of-your-seat page-turner even without the "hunt." A must for fans of Mindhunter—both the book and its recent Netflix adaptation—and the long-running police drama Criminal Minds."
—Booklist (starred review)
Penguin Books, 9780143129707, 304pp.
Publication Date: June 9, 2020
About the Author
Maureen Callahan is an award-winning investigative journalist, author, columnist, and commentator. She has covered everything from pop culture to politics. Her writing has appeared in Vanity Fair, New York, Spin, and the New York Post, where she is critic at large. She lives in New York.