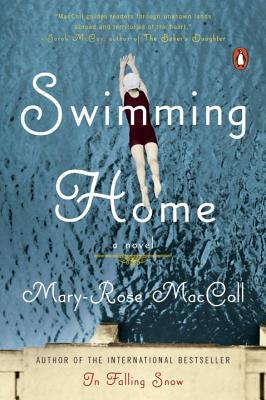 Swimming Home (Paperback)
A Novel
Penguin Books, 9780143129967, 432pp.
Publication Date: June 20, 2017
Other Editions of This Title:
Digital Audiobook (6/19/2017)
Library Binding, Large Print (12/20/2017)
Paperback (1/19/2017)
* Individual store prices may vary.
Description
From the author of the international bestseller In Falling Snow. In 1925, a young woman swimmer will defy the odds to swim the English Channel—a chance to make history. 

London 1925: Fifteen-year-old Catherine Quick longs to feel once more the warm waters of her home, to strike out into the ocean off the Torres Strait Islands in Australia and swim, as she's done since she was a child. But now, orphaned and living with her aunt Louisa in London, Catherine feels that everything she values has been stripped away from her.
 
Louisa, a London surgeon who fought boldly for equality for women, holds strict views on the behavior of her young niece. She wants Catherine to pursue an education, just as she herself did.  Catherine is rebellious, and Louisa finds it difficult to block painful memories from her past. It takes the enigmatic American banker Manfred Lear Black to convince Louisa to bring Catherine to New York where Catherine can train to become the first woman to swim the English Channel. And finally, Louisa begins to listen to what her own heart tells her.
About the Author
Mary-Rose MacColl is the author of five novels, a nonfiction book, short stories, feature journalism and essays. Her first novel, No Safe Place, was a runner-up for the Australian/Vogel Literary Award, and her first non-fiction book, The Birth Wars, was a finalist in the 2009 Walkley awards for journalism. Her novel In Falling Snow was an international bestseller. She lives is Brisbane, Australia, with her husband and son, and is an ordinary swimmer.
Praise For Swimming Home: A Novel…
Praise for In Falling Snow
 
"In her sweeping American debut, Mary-Rose MacColl creates a beautifully by the choice to follow her brother across continents into France. An epic tale of love, heartache, and a sisterhood created by nursing in a time of war, In Falling Snow is one of those novels you will want to read again. If you liked The Aviator's Wife, you will love this book!"—Michelle Moran, bestselling author of Cleopatra's Daughter
 
"This is a story of love, ultimately, and a woman whose life has sought to atone for a mistake she hardly knew she made... At once perceptive and sympathetic, In Falling Snow beguiles, a tale of selflessness and youthful indiscretion as singular and seductive as one could hope for."—Robin Oliveira, New York Times bestselling author of My Name Is Mary Sutter

"In Falling Snow is expertly researched and written with a keen eye to the complexities of wartime and the mighty role of women therein. From past to present, Australia to France, MacColl guides readers through unknown lands abroad and territories of the heart. For readers, like me, who love to see history's forgotten heroes given powerful voice, you will delight in this novel."—Sarah McCoy, author of the international bestseller The Baker's Daughter

"At once chilling yet strangely beautiful… MacColl's narrative is fortified by impeccable research and her innate ability to create a powerful bond between readers and characters. Well done."—Kirkus Reviews (starred)
1. In Swimming Home, the author incorporates historical fact into her fiction. How does this technique enhance the reading experience? What other novels have you read recently which also combine fact and fiction?
2. Two of the themes of the novel concern the birth of women's competitive swimming, and opportunities for equality for women through education and employment. How are these themes connected?
3. Dr. Louisa Quick is an intelligent and accomplished surgeon professionally yet struggles to personally connect with others, including her niece, Catherine. Why? How did this change throughout the novel?
4. Louisa is a strong advocate for the rights of women to choose their own paths yet she has trouble accepting Catherine's choices. Do you think Louisa was right to make decisions for Catherine? What do you learn about Louisa's initial protective nature of Catherine?
5. Swimming Home includes vivid sensory detail about Queensland and London. Did you notice this detail while you were reading? What did these details provide and how did they evoke and enhance the locations and the story?
6. The scenes set at Catherine's home in the Torres Strait islands explore the treatment of the Torres Strait Islander people by the non-indigenous government policies and enforced social strata. How did these politics become part of the overall story? How did they relate to other themes in the book? How do you feel about historic political information being incorporated into fiction?
7. How does Catherine's role and personality change throughout the book? How does the past motivate her purpose for the future?
or
Not Currently Available for Direct Purchase