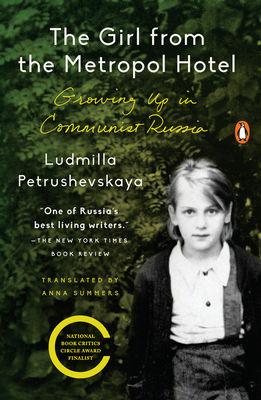 The Girl from the Metropol Hotel (Paperback)
Growing Up in Communist Russia
Penguin Books, 9780143129974, 176pp.
Publication Date: February 7, 2017
Other Editions of This Title:
Digital Audiobook (2/6/2017)
* Individual store prices may vary.
Description
Finalist for the National Book Critics Circle Award for Autobiography

The prizewinning memoir of one of the world's great writers, about coming of age as an enemy of the people and finding her voice in Stalinist Russia
 
Born across the street from the Kremlin in the opulent Metropol Hotel—the setting of the New York Times bestselling novel A Gentleman in Moscow by Amor Towles—Ludmilla Petrushevskaya grew up in a family of Bolshevik intellectuals who were reduced in the wake of the Russian Revolution to waiting in bread lines. In The Girl from the Metropol Hotel, her prizewinning memoir, she recounts her childhood of extreme deprivation—of wandering the streets like a young Edith Piaf, singing for alms, and living by her wits like Oliver Twist, a diminutive figure far removed from the heights she would attain as an internationally celebrated writer. As she unravels the threads of her itinerant upbringing—of feigned orphandom, of sleeping in freight cars and beneath the dining tables of communal apartments, of the fugitive pleasures of scraps of food—we see, both in her remarkable lack of self-pity and in the two dozen photographs throughout the text, her feral instinct and the crucible in which her gift for giving voice to a nation of survivors was forged.

"From heartrending facts Petrushevskaya concocts a humorous and lyrical account of the toughest childhood and youth imaginable. . . . It [belongs] alongside the classic stories of humanity's beloved plucky child heroes: Edith Piaf, Charlie Chaplin, the Artful Dodger, Gavroche, David Copperfield. . . . The child is irresistible and so is the adult narrator who creates a poignant portrait from the rags and riches of her memory." —Anna Summers, from the Introduction
About the Author
Ludmilla Petrushevskaya was born in 1938 in Moscow, where she still lives. She is the author of more than fifteen volumes of prose, including the New York Times bestseller There Once Lived a Woman Who Tried to Kill Her Neighbor's Baby: Scary Fairy Tales, which won a World Fantasy Award and was one of New York magazine's Ten Best Books of the Year and one of NPR's Five Best Works of Foreign Fiction; There Once Lived a Girl Who Seduced Her Sister's Husband, and He Hanged Himself: Love Stories; and There Once Lived a Mother Who Loved Her Children, Until They Moved Back In: Three Novellas About Family. A singular force in modern Russian fiction, she is also a playwright whose work has been staged by leading theater companies all over the world. In 2002 she received Russia's most prestigious prize, The Triumph, for lifetime achievement.
Praise For The Girl from the Metropol Hotel: Growing Up in Communist Russia…
"Powerful . . . Like a stained-glass Chagall window, Petrushevskaya's Soviet-era memoir creates a larger panorama out of tiny, vivid chapters, shattered fragments of different color and shape. . . . [It] brings to mind Auden's famous words about Yeats: 'Mad Ireland hurt him into poetry.' This memoir shows us how Soviet life hurt Ludmilla Petrushevskaya into crystalline prose." —The New York Times Book Review

"[An] extraordinary memoir . . . Lively, bold, iconoclastic . . . [Petrushevskaya] has succeeded Aleksandr Solzhenitsyn as the country's greatest writer and authentic moral voice." —Orlando Figes, The New York Review of Books

"A gritty, surprisingly disarming portrait of the grim Stalinist era." —BBC, "Ten Books You Should Read in February"

"Devastating, unjudgmental, and curiously uplifting, the memoir is a profound testament to the power of the creative, loving human spirit to vanquish brutal circumstance. . . . The stories she tells . . . show a girl of unerodable pride and defiant character, intent on finding joy." —The Christian Science Monitor

"Petrushevskaya is blessed with good material. . . . [Her] sunny outlook seems all the more remarkable as we learn more details of her childhood, some of which might read as straight out of the Brothers Grimm. . . . A preternaturally nimble and resourceful heroine, she keeps emerging unscathed. . . . Her memoir has the fairy-tale ending its plucky heroine deserves." —Bookforum

"Biting but beautiful, it's an autobiography that says much about the world both then and now." —Refinery29

"A well-crafted glimpse into the past of one of Russia's most intriguing writers . . . Spare, often darkly humorous . . . Many memories have a touch of the magic Petrushevskaya includes in her fiction. . . . Her perspective . . . is decidedly original." —BookPage

"Matter-of-fact and without pity, Petrushevskaya writes of a deprived upbringing in Stalinist Russia, and the tenacity she developed along the way." —Bustle, "Fifteen Memoirs from Modern Dictatorships That Every American Needs to Read"

"Powerful . . . Her vivid memories . . . resonate viscerally. . . . We are given a child and then young woman whose resilience is remarkable." —PopMatters

"A terse, spirited memoir that reads like a picaresque novel . . . Lively, irreverent . . . With spunk and defiance, [Petrushevskaya] survived, and transcended, the privations of her youth." —Kirkus Reviews

"A blend of dark humor and clipped, piercing realism . . . Petrushevskaya is the definition of incorrigible and indomitable, both on the page and in her life." —Publishers Weekly

"I loved The Girl from the Metropol Hotel. Charming and brave with a sense of wonder and mischief, the young Ludmilla Petrushevskaya struck me as nothing less than a Russian Huck Finn." —Martin Cruz Smith, New York Times bestselling author of Gorky Park and The Girl from Venice

Acclaim for Ludmilla Petrushevskaya
 
"We are likely to hear a lot more of this woman. Some October, perhaps, from the Nobel Prize committee." —The Nation
 
"One of Russia's best living writers . . . Her tales inhabit a borderline between this world and the next." —The New York Times Book Review
 
"Petrushevskaya, now seventy-six and finally attracting the readership she deserves, [has] a ringleader's calm mastery of the absurd." —The New Yorker
 
"Petrushevskaya writes instant classics." —The Daily Beast
 
"Petrushevskaya is the Tolstoy of the communal kitchen. . . . She is not, like Tolstoy, writing of war, or, like Dostoevsky, writing of criminals on the street, or, like poet Anna Akhmatova or novelist Aleksandr Solzhenitsyn, noting the extreme suffering of those sent to the camps. Rather, she is bearing witness to the fight to survive the everyday. . . . [She is] dazzlingly talented and deeply empathetic." —Slate
 
"This celebrated Russian author is so disquieting that long after Solzhenitsyn had been published in the Soviet Union, her fiction was banned—even though nothing about it screams 'political' or 'dissident' or anything else. It just screams." —Elle
 
"Her suspenseful writing calls to mind the creepiness of Poe and the psychological acuity (and sly irony) of Chekhov." —More
 
"Petrushevskaya's fiction [offers] a glimpse of what it means to be a human being, living sometimes in bitter misery, sometimes in unexpected grace." —Jenny Offill, The New York Times Book Review
 
"The fact that Ludmilla Petrushevskaya is Russia's premier writer of fiction today proves that the literary tradition that produced Dostoyevsky, Gogol, and Babel is alive and well." —Taylor Antrim, The Daily Beast
 
"What distinguishes the author is her compression of language, her use of detail and her powerful visual sense." —Time Out New York
 
"A master of the Russian short story." —Olga Grushin, author of The Dream Life of Sukhanov
 
"There is no other writer who can blend the absurd and the real in such a scary, amazing and wonderful way." —Lara Vapnyar, author of There Are Jews in My House
 
"One of the greatest writers in Russia today and a vital force in contemporary world literature." —Ken Kalfus, author of A Disorder Peculiar to the Country
 
"A master of the short story form, a kindred spirit to writers like Angela Carter and Yumiko Kurahashi." —Kelly Link, author of Get in Trouble, Magic for Beginners, and Stranger Things Happen
 
"In her best work Petrushevskaya steers a sure course between neutrally recording the degraded life of the Soviet-era urban underclass and ratcheting up the squalor of that life for the mere pleasure of it. She does so by the steadiness of her moral compass and the gaiety of her prose." —J. M. Coetzee, winner of the Nobel Prize in Literature