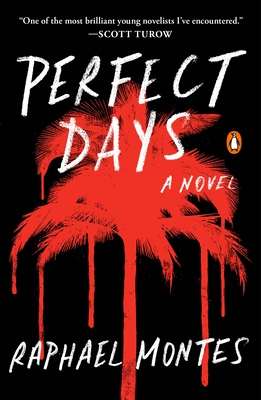 Perfect Days (Paperback)
A Novel
Penguin Books, 9780143129998, 272pp.
Publication Date: February 14, 2017
Other Editions of This Title:
Hardcover (2/16/2016)
* Individual store prices may vary.
Description
A twisted young medical student kidnaps the girl of his dreams and embarks on a dark and delirious road trip across Brazil in the English-language debut of Brazil's most celebrated young crime writer.
 
Teo Avelar is a loner. He lives with his paraplegic mother and her dog in Rio de Janeiro, he doesn't have many friends, and the only time he feels honest human emotion is in the presence of his medical school cadaver—that is, until he meets Clarice. She's almost his exact opposite: exotic, spontaneous, unafraid to speak her mind. An aspiring screenwriter, she's working on a screenplay called Perfect Days about three friends who go on a road trip across Brazil in search of romance. Teo is obsessed. He begins to stalk her, first following her to her university, then to her home, and when she ultimately rejects him, he kidnaps her and they embark upon their very own twisted odyssey across Brazil, tracing the same route outlined in her screenplay. Through it all, Teo is certain that time is all he needs to prove to Clarice that they are made for each other, that time is all he needs to make her fall in love with him. But as the journey progresses, he digs himself deeper and deeper into a pit that he can't get out of, stopping at nothing to ensure that no one gets in the way of their life together. Both tense and lurid, and brimming with suspense from the very first page, Perfect Days is a psychological thriller in the vein of Patricia Highsmith's The Talented Mr. Ripley—a chilling journey in the passenger seat with a psychopath, and the English language debut of one of Brazil's most deliciously dark young writers.
About the Author
Raphael Montes was born in Rio de Janeiro in 1990. He is a lawyer and a writer and his short stories have appeared in Playboy and Ellery Queen Mystery Magazine. His debut novel, Roulette, was published to much acclaim in Brazil in 2010 and was a finalist for the São Paolo Literature Prize. Perfect Days is being published in 13 countries. Montes published his third book, The Village, in August 2015, earning him comparisons with Stephen King. He also writes screenplays for cinema and television.
Praise For Perfect Days: A Novel…
"With the frenetic spirit of Gone Girl (and then some), expect scream-worthy cliffhangers and one very bizarre ending." — Elle.com

"In any language, Perfect Days may be the most original and viscerally explicit novel you'll read this year….This novel — not for readers with delicate dispositions — is cringe-inducing and utterly monstrous. Filled with plot twists, violence and nail-biting scenes, this tale of psychological suspense uses pitch-black humor as its release valve. Montes makes you laugh, even as he makes you feel bad about doing it."—Chicago Tribune 


"[An] odd, macabre, fast-paced, twisted, and twisty novel. Is it for everyone? Not at all. But if you've ever wondered what Humbert Humbert would look like in modern times, you might want to pick up this short, dark, kind of sick, alternately propelling and repellant book. In its own creepy way, it's kind of perfect." —Omnivoracious
 
"This is the most messed up book I've read in a long time….super dark and twisted and weird and alarming and great." —Book Riot

"Montes is one of Brazil's rising crime novelists, and he has filled Perfect Days with suspense and joltingplot twists." —Booklist

"I was gripped from the very beginning by this, yes, perfect novel, merging literary sensibilities, psychological insight and breathtaking suspense. To top it all off, Montes brings Rio de Janeiro and Brazil to life as few authors could do. A superb achievement! Raphael Montes is a must-read!"
-Jeffery Deaver

"A nifty, albeit nasty little thriller….Montes pulls out the stops with a series of twists—one of which is not for the squeamish."- Publisher's Weekly 

"A gripping debut. Raphael Montes is a writer to watch - he will do great things!"-Sophie Hannah


"A chilling, twisty exposed nerve of a novel. Even creepier than Gone Girl. I loved it."- Lauren Beukes

"Raphael Montes is one of the most brilliant young novelists I've encountered. He is certain to redefine Brazilian crime fiction and to emerge as a figure on the world literary scene."-Scott Turow


From the Hardcover edition.
or
Not Currently Available for Direct Purchase