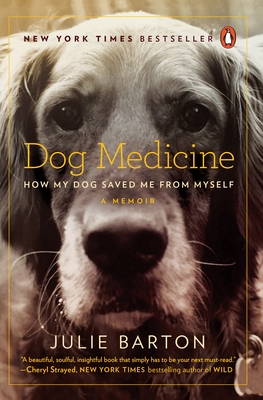 Dog Medicine
How My Dog Saved Me from Myself
Paperback

* Individual store prices may vary.
Other Editions of This Title:
Digital Audiobook (7/18/2016)
Library Binding, Large Print (9/1/2016)
Prebound (7/19/2016)
Description
An honest and deeply moving debut memoir about a young woman's battle with depression and how her dog saved her life

A New York Times Bestseller

"Dog Medicine simply has to be your next must-read." —Cheryl Strayed 

At twenty-two, Julie Barton collapsed on her kitchen floor in Manhattan. She was one year out of college and severely depressed. Summoned by Julie's incoherent phone call, her mother raced from Ohio to New York and took her home.

Haunted by troubling childhood memories, Julie continued to sink into suicidal depression. Psychiatrists, therapists, and family tried to intervene, but nothing reached her until the day she decided to do one hopeful thing: adopt a Golden Retriever puppy she named Bunker. Dog Medicine captures the anguish of depression, the slow path to recovery, the beauty of forgiveness, and the astonishing ways animals can help heal even the most broken hearts and minds.
Praise For Dog Medicine: How My Dog Saved Me from Myself…
"Dog Medicine offers a carefully measured appreciation of life, in which every step forward is a victory worth celebrating, and every dark day is something that must be endured before moving on. Barton's story of her life with Bunker is truly moving, and provides heartwarming proof of the ability of pets to alter our lives for the better." —San Francisco Book Review

"A heartfelt page-turner about depression and how dogs can save us from ourselves." —Kirkus Reviews
 
"You may think you're about to read a book about a charming dog, or about struggling with identity in your twenties, or about how a young woman pulls herself together after a diagnosis of depression. But you'd be wrong. Dog Medicine is a love story—a great big beautiful honest touching intoxicating riveting page-turning instruction manual on the palpable healing power of love and forgiveness. Every word in this book is as honest and courageous as any I've ever read, and I've read a lot." —Robin Oliveira, New York Times bestselling author of My Name is Mary Sutter
 
"There are times when another creature can hold our love until we can hold it for ourselves. And then, in perfect symbiosis, the beloved can become the lover, until they are one force. Dog Medicine shows us that this is not just possible, but sometimes, a matter of life or death." —Laura Munson, New York Times bestselling author of This Is Not The Story You Think It Is
 
"Anyone who has ever opened their heart and asked an animal to teach them how to live—and there are so many of us—will be deeply moved by the story of Julie Barton and her soulmate Bunker. In this honest, gloriously unselfconscious and compelling memoir, she does great honor, not only to her dog, but to the miracles made possible when logic, and even language, is not allowed to stand in the way of love." —Pam Houston, author of Sight Hound and Contents May Have Shifted
 
"Dog Medicine is the kind of memoir that will bring tears of sadness and joy to anyone who has ever felt rescued by a pet. It is a memoir about how the right animal can inspire not just hope but mercy. Julie Barton's prose is lyrical and unflinching, a gorgeous howl in the darkness that leads the reader into the light." —Steve Almond, author of Against Football and Candyfreak
 
"Dog Medicine accomplishes what only the most authentic writing can do: craft language so that readers live an experience. In this brilliant and lyrical debut memoir, Barton has written a narrative of inescapable appeal. The bond, here, between human and animal isn't easy or sentimental—rather, it's archetypal and magical. There is a Buddhist story of a Bodhisattva, an enlightened one, who refused to enter paradise until an ailing companion dog could also enter. Dog Medicine relates an equally powerful story of devotion, only related in real, worldly terms with heartbreaking consequences and rewards." —Sue William Silverman, author of The Pat Boone Fan Club: My Life as a White Anglo-Saxon Jew
 
"Julie Barton's memoir Dog Medicine is the most heartbreaking and heartwarming book I've read in years. It tells both the harrowing story of a depression so severe that Barton felt it might 'vaporize her into millions of tiny molecules' and the consoling story of her eventual recovery through the love of and for her beloved dog and 'spirit twin,' Bunker. Reader, this book about how Barton's dog changed her life will change your life." —David Jauss, author of Glossolalia: New & Selected Stories
 
"A raw and honest memoir about Julie Barton's clinical depression and how the love of a dog helped pull her back from hell. An eloquent testament to the resilience of humans and the healing power of canine love." —Susan Richards, New York Times bestselling author of Chosen By a Horse: How a Broken Horse Fixed a Broken Heart
 
"Julie Barton was haunted by a major depression that threatened to topple her. What could one small puppy, Bunker, do in the face of such calamity? Only when Barton created a sacred place where she and Bunker could meet, a place without ridicule, doubt, sorrow, or anger, could the true healing begin. Her meticulous rendering of this transformation honors the power of love." —Jacqueline R. Sheehan, New York Times bestselling author of Lost & Found

- 
Penguin Books, 9780143130017, 256pp.
Publication Date: July 19, 2016
About the Author
Julie Barton holds a B.A. from Kenyon College, an M.F.A. in writing from Vermont College of Fine Arts, and an M.A. in women's studies from Southern Connecticut State University. She lives in Northern California with her husband, two daughters, and small menagerie of pets.

www.byjuliebarton.com
or
Not Currently Available for Direct Purchase