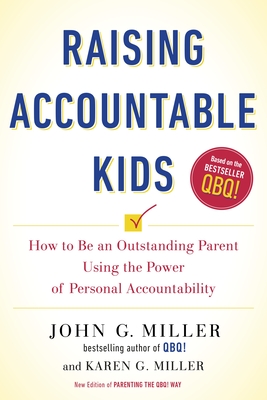 Raising Accountable Kids
How to Be an Outstanding Parent Using the Power of Personal Accountability
Paperback

* Individual store prices may vary.
Description
How often have we heard complaints like these?

"Why don't my kids do what I say?"
"Who made the mess in here?"
"When will my teen make better choices?"

These are the kinds of questions that parents ask that lead not only to complaining, but to victim thinking, procrastination, and blaming. The solution: Learn to parent the QBQ® way – and bring personal accountability to life within our families.

Based on the same concepts that have made John Miller's signature work, QBQ: The Question Behind the Question, an international bestseller over the last decade, Raising Accountable Kids provides the tool called the QBQ or The Question Behind the Question that will help every parent look behind questions such as "Why won't my kids listen?" or "When will they do what I ask?" to find better ones—QBQs—like "What can I do differently?" or "How can I improve as a parent?" This simple but challenging concept turns the focus – and responsibility – back to parents and to what they can do to make a difference.

With thoughtful commentary, observation, and advice, illustrated with engaging and memorable anecdotes that are the hallmarks of John Miller's previous books, Raising Accountable Kids provides all moms and dads with the means and inspiration to be more effective parents – as well as teach their children how to practice their own brand of personal accountability – to create a happy, healthy family for a lifetime.  
TarcherPerigee, 9780143130024, 176pp.
Publication Date: October 18, 2016
About the Author
John G. Miller is the author of QBQ! The Question Behind the Question, Flipping the Switch, and Outstanding! 47 Ways to Make Your Organization Exceptional. John and his daughter Kristin E. Lindeen coauthored The QBQ! Workbook. John is a Cornell University graduate and the founder of QBQ, Inc., a training firm dedicated to "Helping Organizations Make Personal Accountability a Core Value." Learn more at QBQ.com.

Karen G. Miller has served as a mentor to other moms in MOPS (Mothers of Preschoolers) and MOMSNext. She has held leadership positions in Bible Study Fellowship (BSF) and taught parenting classes at Champa House, a home for single moms sponsored by the Denver Rescue Mission. Karen was a registered nurse for sixteen years. She now spends her time helping young parents raise accountable kids and reveling in grandmotherhood.