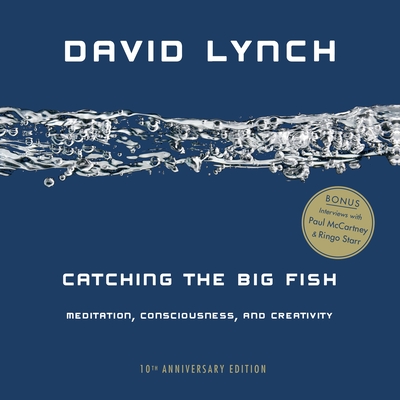 Catching the Big Fish (Paperback)
Meditation, Consciousness, and Creativity: 10th Anniversary Edition
TarcherPerigee, 9780143130147, 208pp.
Publication Date: September 6, 2016
Other Editions of This Title:
Digital Audiobook (12/27/2006)
Hardcover (12/28/2006)
Compact Disc, Abridged (1/1/2007)
Paperback (1/1/2008)
* Individual store prices may vary.
Description
For the 10th anniversary of David Lynch's bestselling reflection on meditation and creativity, this new edition features interviews with Paul McCartney and Ringo Starr.
When it first appeared in 2006, David Lynch's Catching the Big Fish was celebrated for being "as close as Lynch will ever come to an interior shot of his famously weird mind" (Rocky Mountain News) Now for the bestseller's 10th anniversary, Lynch dives deeper into the creative process and the benefits of Transcendental Meditation with the addition of his exclusive q-and-a interviews with Paul McCartney and Ringo Starr.
The musicians open up to Lynch about their artistry, history, and the benefits they have experienced, artistically and personally, from their decades-long practice of Transcendental Meditation -- a technique that they and their fellow Beatles helped popularize in the 1960s.
Catching the Big Fish is a revelation for all want to understand Lynch's personal vision. And it is equally compelling for any who wonder how they can nurture their own creativity.
About the Author
Three-time Oscar-nominated director David Lynch is among the leading filmmakers of our era. From the early seventies to the present day, Lynch's popular and critically acclaimed film projects, which include Eraserhead, The Elephant Man, Wild at Heart, Blue Velvet, Mulholland Drive, INLAND EMPIRE, and Twin Peaks are internationally considered to have broken down the wall between art-house cinema and Hollywood moviemaking.
Praise For Catching the Big Fish: Meditation, Consciousness, and Creativity: 10th Anniversary Edition…
"The director explores every aspect of his work in film, music, photography, and other aesthetic pursuits, including behind-the-scenes stories about Twin Peaks, Blue Velvet and Mulholland Drive and revelations on his thirty-five years of Transcendental Mediation. Read it because: This is about as close as Lynch will ever come to an interior shot of his famously weird mind."
—Kelly Lemieux, Rocky Mountain News
 
"The book, an unexpected delight, serves as a sort of skeleton key to the rest: In it he muses on the relationship between Transcendental Meditation and his work with appealingly nondidactic and non–New Age-y clarity, and in so doing opens the door—a crack, at least—to the heretofore impenetrable mysteries of his imagination."
 —Katie Bolick, The Boston Globe

"The quirky helmer known for Boy Scout demeanor and twisted tales shares his creative vision in a surprisingly gentle tome informed by the underlying teachings of Transcendental Meditation. But don't worry: David Lynch, one-time creator of "The Angriest Dog in the World" comic, keeps the proselytizing to a minimum. He addresses topics ranging from working with wood (for it) to director's commentaries (against) in deceptively simple, yet ultimately affirming, chapters. There's much for fans and aspiring filmmakers to enjoy."
—Variety
 
"Ideas are like fish. If you want to catch little fish, you can stay in the shallow water. But if you want to catch the big fish, you've got to go deeper," says David Lynch the idiosyncratic filmmaker whose creations include Eraserhead, Blue Velvet, Mulholland Drive, Inland Empire, and the cult TV classic, Twin Peaks. He claims that he has savored the pleasures of diving deep thanks to a 33-year practice of Transcendental Meditation (TM). He describes the fun of gathering what he calls "firewood" (all kinds of ideas and things for a film), the joy he takes in seeing an aging building or a rusted bridge, and the respect he has for Fellini and Kubrick. Lynch loves making movies and diving deep, and this testament bears witness to both loves."
—Spirituality & Practice
 
"In Catching the Big Fish: Meditation, Consciousness, and Creativity, David Lynch puts aside his filmic quest to get inside the viewer's head and lets them instead inside his, an invitation almost as rare as a ticket to fiction's Wonka Chocolate Factory, and possibly just as out of this world. Catching the Big Fish is a blend of thoughts and themes, sometimes random like a stream of consciousness, or — the analogy he personally prefers for creativity — casting a hook into a bottomless sea. The book melds biography, film analysis, philosophy and spirituality with a heart-on-sleeve sincerity, while incorporating a narrative of the author's passion for charting the world of dreams and ideas and rendering them unto action."
—BlogCritics
 
"With this book, Lynch offers us a rare glimpse into his own head. In the process, he reveals just enough biographical information, philosophy of film, and general behind-the-scenes dirt (including the connection between Lynch's Lost Highway and O. J. Simpson)to keep the attention of those more interested in Lynch's films than in his consciousness."
—Booklist