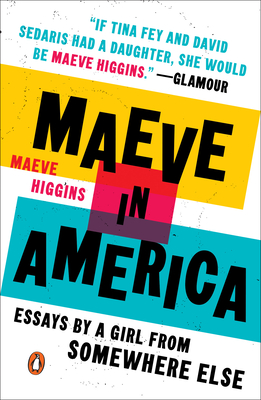 Maeve in America
Essays by a Girl from Somewhere Else
Paperback

* Individual store prices may vary.
Other Editions of This Title:
Digital Audiobook (8/6/2018)
Description
"If Tina Fey and David Sedaris had a daughter, she would be Maeve Higgins." —Glamour

A startlingly hilarious essay collection about one woman's messy path to finding her footing in New York City, from breakout comedy star and podcaster Maeve Higgins

Maeve Higgins was a bestselling author and comedian in her native Ireland when, at the grand old age of thirty-one, she left the only home she'd ever known in search of something more and found herself in New York City. Together, the essays in Maeve in America create a smart, funny, and revealing portrait of a woman who aims for the stars but sometimes hits the ceiling and the inimitable city that helped make her who she is.

Here are stories of not being able to afford a dress for the ball, of learning to live with yourself while you're still figuring out how to love yourself, of the true significance of realizing what sort of shelter dog you would be. Self-aware and laugh-out-loud funny, this collection is also a fearless exploration of the awkward questions in life, such as: Is clapping too loudly at a gig a good enough reason to break up with somebody? Is it ever really possible to leave home?

"Maeve Higgins is hilarious, poignant, conversational, and my favorite Irish import since U2. You're in for a treat." —Phoebe Robinson
Praise For Maeve in America: Essays by a Girl from Somewhere Else…
"If Tina Fey and David Sedaris had a daughter, she would be Maeve Higgins. (And while I'm building the fantasy family of comedy, let's put Nora Ephron somewhere on the family tree.) Higgins's essays cover subjects ranging from what kind of shelter dog she would be to emigrating from Ireland, but a single thread weaves through each one: that elusive feeling of laughing around a big lump in your throat."
—Glamour (The Best Books to Read This Summer)

"Sharp-eyed . . . deeply funny and astute."
—People (The Best New Books)

"Hilarious . . . Maeve in America lives up to the hype. It's chock-a-block full of personal tales of both success and failure, all told with that elusive combination of self-deprecation and grandeur."
—Entertainment Weekly

"One of the most charming exports to the American comedy scene is Irish writer Maeve Higgins. . . . Higgins's vibe [is] wary but hopeful, clever but earnest. [The] sensibility [that] runs through: deep empathy and genuine curiosity about the American experience of newcomers . . . with more Michael Fassbender jokes, and a bit more self-deprecating humor (stop, Maeve, you're perfect)."
—Maris Kreizman, Vulture (New Paperbacks You Should Read This August)

"[A beach read] that is actually beach appropriate."
—New York Magazine (The Approval Matrix: Brilliant)

"[An] ingenious collection of essays that examine the personal and the political, offering an incredible outsider's view of America's current cultural climate and its place within the world. . . . Higgins's insightful and wacky essays will not only make you laugh; you'll also nod in recognition and sigh in solidarity. . . . It's her outsider's perspective that makes her commentary of current day America so unique and critical at a time when migrants and immigrants are fighting to have their voices heard."
—Esquire (The Best Books of 2018 (So Far))

"Celebrate the person who stands out from the crowd with [this] memoir from [a] self-described outsider: Maeve in America, Maeve Higgins's hilarious essay collection about leaving Ireland in her thirties, and finding herself in New York."
—Buzzfeed (The Best Books From 2018 For Every Kind Of Reader)

"Maeve turns her wise eye toward our culture in witty, relatable essays."
—Good Housekeeping

"Maeve in America will provide the laughter to soothe your soul. . . . Maeve Higgins is funny. So funny you will laugh multiple times while reading each of these essays, replete with uncanny imagery and off-the-wall situations. So funny that, at 31, she was confident enough in her career as an Irish comic to make it in America. Higgins expertly threads important social commentary amid the hilarity. Maeve in America is a satisfying essay collection that is as stimulating as it is funny. It's a great book to read and then to give to a friend."
—Refinery29 (Get Excited About These Amazing August Reads)

"Higgins's essays are a fun romp that are perfect summer reading."
—Bustle

"Upbeat and funny . . . The chapters are short and spunky . . . like a collection of Snapchat Stories that you can keep forever."
—BUST

"Anyone who delves into the compulsively readable Maeve in America would surely pronounce [Higgins's] abilities extraordinary enough to game any visa system, no matter how flawed."
—Fast Company

"Wickedly funny . . . with incisive humor and deep humility . . . Higgins has the rare gift of being able to meaningfully engage with politics and social ills while remaining legitimately funny."
—Publishers Weekly (starred review)

"Sharp and readable . . . A keen observer of culture, [Maeve Higgins] offers timely insights about race and immigration in America. . . . Witty, humane, and topical, these essays offer an enlightened perspective on modern American culture while probing the energetic inner life of a bright young Irish comic. A warmly intelligent and insightful collection."
—Kirkus Reviews

"Prepare to laugh as comedian Maeve Higgins shares tales of an Irish girl in New York . . . with humor and flair. Higgins is a smart essayist, providing thoughtful insights, and you can tell she cares deeply about her subjects. . . . She deftly balances humor and gravitas. . . . Maeve Higgins may not be a household name yet, but she certainly has some things to say."
—Booklist

"If this is your first time reading Maeve Higgins, I'm jealous. She's hilarious, poignant, conversational, and my favorite Irish import since U2. You're in for a treat."
—Phoebe Robinson, New York Times bestselling author of You Can't Touch My Hair

"Maeve Higgins is hilarious. She is the true Irish voice of our American generation."
—Amy Schumer

"Maeve Higgins is brilliant; but her brilliance isn't the braggy, headlight kind that tries to trap her subjects deer-like in a cold, dead glare. Instead, she lights every room she enters with warmth, welcome, and generous rays of sheer funny. And in this book, she illuminates the world."
—John Hodgman, bestselling author of Vacationland

"Maeve Higgins is easily one of my favorite, most treasured comedic voices. She is one of those rare artists who makes her unique point of view relatable and refreshing, leaving you feeling like you've been on the same page with her your whole life."
—Kristen Schaal

"Until space aliens land in America, Maeve Higgins from Ireland is the next best thing. She offers fresh and insightful perspectives from a faraway place on all we take for granted."
—Neil deGrasse Tyson

"Maeve Higgins is the funniest writer I know. And Maeve in America is just so smart and joyful. I especially like it when she's unhappy. Because she's very funny about it. Always be unhappy, Maeve!"
—Jon Ronson, author of So You've Been Publicly Shamed

"This is a really funny, really natural, really gifted writer."
—Kevin Barry, author of Beatlebone and City of Bohane

"Higgins is rarer than a blessing of unicorns. . . . She is original and relatively calm, her observations are pithy, her wit delicate, her persona oddly alluring and deftly honest."
—The Irish Times
Penguin Books, 9780143130161, 256pp.
Publication Date: August 7, 2018
About the Author
Maeve Higgins is a contributing writer for The New York Times and the host of the hit podcast Maeve in America: Immigration IRL. She is a comedian who has performed all over the world, including in her native Ireland, Edinburgh, Melbourne, and Erbil. Now based in New York, she cohosts Neil deGrasse Tyson's StarTalk, both the podcast and the TV show on National Geographic, and has also appeared on Comedy Central's Inside Amy Schumer and on WNYC's 2 Dope Queens.
or
Not Currently Available for Direct Purchase