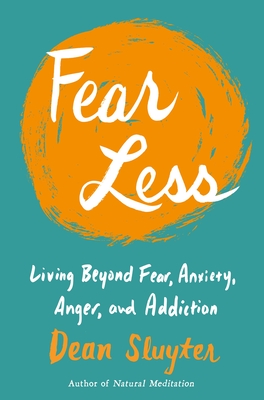 Fear Less
Living Beyond Fear, Anxiety, Anger, and Addiction
Paperback

* Individual store prices may vary.
Other Editions of This Title:
Digital Audiobook (3/19/2018)
Compact Disc (3/20/2018)
MP3 CD (3/20/2018)
Description
Less Fear, More Life—a Practical Guide
 
These days there's so much fear in the air, you can almost taste it—along with all the varieties of anxiety, anger, and addiction that grow out of it. How can you navigate your way through the fear and confusion, and find your way to peace?

In Fear Less, acclaimed teacher and award-winning author Dean Sluyter shows how to use simple meditative techniques and subtle tweaks of body, mind, and breath to open your life to deep, relaxed confidence. Drawing on ancient enlightenment teachings as well as contemporary research, he lays out practical, easy-to-follow steps for addressing such issues as:

• letting go of compulsive overthinking
• loosening the bonds of addiction (including smartphone addiction)
• overcoming the fear of death
• finding meditative stillness in the thick of activity
Praise For Fear Less: Living Beyond Fear, Anxiety, Anger, and Addiction…
"Trying to be fearless often becomes yet another thing to fail at, but if you can just fear less, peace is well within reach. This book is your best guide for achieving that. Dean Sluyter's kind, accessible tone talks with you, so you always feel he is by your side as you make the journey."
—Mark Goulston, M.D., author of Get Out of Your Own Way and Just Listen
 
"Om meets Wheeeeeee! Sluyter careens merrily from the Buddha to Willie Nelson, from prison stories to The Wizard of Oz, but it all leads us—step by practical, loving step—toward a life of peace. Who knew that learning how not to be freaked out could be so much fun?"
—Michael Kane, author of Heal Your Broken Heart
 
"As a recovering alcoholic and not-so-recovered depressed person, I've long been aware that mindfulness would be helpful to my life, but it's just so intimidating. Not so with Sluyter, who pairs concrete suggestions with a no-pressure attitude that makes this book feel like it's written by a really smart friend. He also shows how to incorporate the techniques into other programs of recovery—a rare but crucially important component. You'll want to revisit Sluyter's wisdom again and again."
—Katie MacBride, journalist, author of "Ask Katie" recovery advice column
 
"In his friendly, easygoing style, Dean Sluyter shows how to surf even the biggest waves of powerful emotions. A delightful and necessary guide to staying sane in these 'interesting times.'"
—Lyn Genelli, marriage and family therapist, author of Death at the Movies
 
"Dean Sluyter has written a beautiful book that shows us how to navigate the free-floating anxiety of everyday fears. He shows us, with insight and humor, how to access the deep silence that is available to everyone. Fear Less is rich with inspiration and practices that lead to a more unobstructed view of reality. It is a book to be enjoyed over and over again."
—Edward Viljoen, author of Ordinary Goodness and The Power of Meditation

"I especially like the lessons Dean draws from his experiences teaching in prison. I've had the privilege of going behind bars with him and have witnessed his transformative work there. If those men can come out of fear and rage, anyone can."
—Lama Willa Miller, Ph.D., founder of Natural Dharma Fellowship, author of Everyday Dharma
 
"Dean Sluyter wields his pithy wit and profound wisdom like a laser light, pointing directly to the truth we need to embrace: fear doesn't have to own us any longer. Using various forms of exquisitely simple meditation techniques, the author doesn't just point the way—he takes our hand and gently leads us. Dean equips us with the tools necessary to slay the tyrant that holds us captive in the dungeon of our own making. The dungeon is our mind and the tyrant is fear. Read Fear Less—it will help you set yourself free!"
—Dennis Merritt Jones, award-winning author of The Art of Uncertainty, Your ReDefining Moments, and The Art of Abundance 
TarcherPerigee, 9780143130277, 336pp.
Publication Date: March 20, 2018
About the Author
Dean Sluyter (pronounced "slighter") has taught natural methods of meditation and awakening throughout the U.S. and beyond since 1970, from colleges and yoga studios to corporate offices and maximum-security prisons. Dean is known for his warm, funny, down-to-earth style, and for making authentic, life-transforming teachings accessible and easy.  His previous books include The Zen Commandments and Natural Meditation. Dean lives in Southern California.
or
Not Currently Available for Direct Purchase