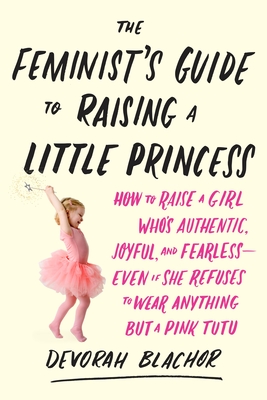 The Feminist's Guide to Raising a Little Princess (Paperback)
How to Raise a Girl Who's Authentic, Joyful, and Fearless--Even If She Refuses to Wear Anything but a Pink Tutu
TarcherPerigee, 9780143130352, 288pp.
Publication Date: November 7, 2017
Other Editions of This Title:
Compact Disc (11/7/2017)
* Individual store prices may vary.
Description
"May God grant me the serenity to accept the color pink, the courage to not let my house become a shrine to pink and princesses, and the wisdom to know that pink is just a color, not a decision to never attend college in the hopes of marrying wealthy."
 - from The Feminist's Guide to Raising a Little Princess
 
 Smart, funny, and thought-provoking, this book shows feminist parents how to navigate their daughters' princess-obsessed years by taking a non-judgmental and positive approach.
   
Devorah Blachor, an ardent feminist, never expected to be the parent of a little girl who was totally obsessed with the color pink, princesses, and all things girly. When her three-year-old daughter fell down the Disney Princess rabbit hole, she wasn't sure how to reconcile the difference between her parental expectations and the reality of her daughter's passion.
   
In this book inspired by her viral New York Times Motherlode piece "Turn Your Princess-Obsessed Toddler Into a Feminist in Eight Easy Steps," Blachor offers insight, advice, and plenty of humor and personal anecdotes for other mothers who cringe each morning when their daughter refuses to wear anything that isn't pink. Her story of how she surrendered control and opened up—to her Princess Toddler, to pink, and to life—is a universal tale of modern parenting. She addresses important issues such as how to raise a daughter in a society that pressures girls and women to bury their own needs, conform to a beauty standard and sacrifice their own passions.
About the Author
Devorah Blachor wrote the 'Coming to America' parenting column for the New York Times Motherlode and also writes for The Huffington Post, McSweeney's, The Hairpin, Redbook, Mommyish, Good Housekeeping and The Rumpus, among other websites and magazines. Her children Cai and Mari provide endless material for her humor and essays.
Praise For The Feminist's Guide to Raising a Little Princess: How to Raise a Girl Who's Authentic, Joyful, and Fearless--Even If She Refuses to Wear Anything but a Pink Tutu…
"Blachor's The Feminist's Guide to Raising a Little Princess is a fun, informative read peppered with funny anecdotes and informative thoughts on things like the value of embracing the feminine, American optimism, and maternal healthcare. (There's also a chapter that will feel all too familiar to any parent that's ever taken their toddler to Disneyland Paris and immediately regretted it). This is a book about what it means to be a feminist and trying to raise a feminist daughter who happens to be obsessed with the color pink, frilly dresses, and also being a princess. It's also about why you can't blame Disney. Even if you really, really want to." 
– Jennifer McCartney, New York Times bestselling author of The Joy of Leaving Your Sh*t All Over the Place

"I am pro-princess and became a staunch feminist (this combo is because of, not in spite of, my feminist mother). Devorah Blachor is a staunch feminist and became pro-princess (this is because of, not in spite of, her princessy daughter.) Eventually, we both arrived at the same conclusion: the concepts are symbiotic, not mutually exclusive. In a world of toxic masculinity, knee-jerk reactions against princess culture are passé. Blachor's humorous guide helps parents surrender to the magic and find the right balance." 
– Jerramy Fine, author of In Defense of the Princess: How Plastic Tiaras and Fairy Tale Dreams Can Inspire Strong, Smart Women

"Devorah Blachor deftly weaves personal stories with research and clever humor in The Feminist's Guide to Raising a Little Princess. This funny and relatable book Is perfect for any imperfect parents who find things not going according to their parenting plans."
– Julie Vick, Parenting Writer for The Washington Post "On Parenting", Parents Magazine

"I happen to be the mother of a boy, but I have many friends who are both feminists and parents of pink-obsessed girls. I wholeheartedly recommend they read Devorah Blachor's The Feminist Guide to Raising a Little Princess. It's hilarious, wise, relatable,  and insightful. I snort-laughed more than once while I read it. Before I even finished it, I started telling friends 'You have to read this book - you'll love it'."
– Janine Annett, writer for The New York Times Well Family, The Huffington Post and Parent.Co

"I adored Devorah Blachor's "The Feminist's Guide to Raising a Little Princess." It's a rare book that combines "serious" science with hilarious "opposite of serious" stories that bring the point of the "serious" science home in a completely relatable way. For feminists with pink-and-princess-obsessed preschoolers who wonder where they went wrong, Blachor reassures you that it's not you -- it's them! There's hard wiring that makes your child the way she is. I wish this book had been around when my daughter was small. I'll be sharing it with friends who are mystified by the little princesses in their own lives."
– Page Barnes, Editor and Founder, The Haven

"I would call this book "adorable" if I didn't think I'd get a punch in the nose.  "Genuinely funny", "hilariously inventive", and "truly insightful" work as well.  With raw honesty, cynical wit, and even scientific research, Devorah has let us into her life as a mom who loves her daughter even as she is mystified by who the hell her daughter is.  She exposes the real emotions as she competes for role-model dominance with Ariel, Cinderella, Elsa, and the whole gang of pink loving Disney princesses.  As a dad with a daughter who is constantly confusing me as well, I highly recommend this book.  Even the footnotes made me laugh out loud. Don't miss them!"
– Gary Rudoren, Co-author of McSweeney's Comedy By The Numbers and dad of twins.


"The struggle is real. As a fellow feminist and mother of a young daughter, I too have battled the Princess Industrial Complex, but have been beaten down by tiaras and tutus. This hilariously funny book is a guide to tackling pink-glitter-bomb-fluffiness and #winning. Best of all, Devorah Blachor's common-sense talk teaches us how to counteract harmful messages while allowing our daughters to become their own people."
– Fiona Taylor, Co-founder of The Belladonna