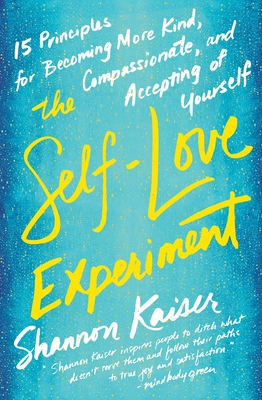 The Self-Love Experiment (Paperback)
Fifteen Principles for Becoming More Kind, Compassionate, and Accepting of Yourself
TarcherPerigee, 9780143130697, 336pp.
Publication Date: August 29, 2017
* Individual store prices may vary.
Description
Put a stop to self-sabotage and overcome your fears so that you can gain the confidence you need to reach your goals and become your own best friend.

Too many people seem to believe that they are not allowed to put themselves first or go after their own dreams out of fear of being selfish or sacrificing others' needs. The Self-Love Experiment rectifies this problem. Whether you want to achieve weight loss, land your dream job, find your soul mate, or get out of debt, it all comes back to self-love and accepting yourself first. Shannon Kaiser learned the secrets to loving herself, finding purpose, and living a passion-filled life after recovering from eating disorders, drug addictions, corporate burnout, and depression.
    Shannon walks you through her own personal experiment, a simple plan that compassionately guides you through the process of removing fear-based thoughts, so you can fall in love with life. If you want to change your outcome in life, you have to change your daily habits and perspective. Shannon takes you on this great journey into self-love and true self-acceptance.
About the Author
Shannon Kaiser is the author of Adventures for Your Soul: 21 Ways to Transform Your Habits and Reach Your Full Potential, Find Your Happy: An Inspirational Guide to Loving Life to the Fullest, and Find Your Happy Daily Mantras: 365 Days of Motivation for a Happy, Peaceful and Fulfilling Life. She has been named among the "top 100 women to watch in wellness" by Mind Body Green. She is a six-time contributing author to Chicken Soup for the Soul and an international life coach and speaker.
Praise For The Self-Love Experiment: Fifteen Principles for Becoming More Kind, Compassionate, and Accepting of Yourself…
"Shannon Kaiser inspires people to ditch what doesn't serve them and follow their paths to true joy and satisfaction."
—Mind Body Green

"One of the freshest voices in mental health and wellness, Shannon is on a mission to empower others to be true to themselves and live their full potential."
— Marci Shimoff, New York Times bestselling author of Happy for No Reason and Chicken Soup for the Woman's Soul

"Shannon Kaiser is an incredible woman on a mission to help people find peace, happiness, and fulfillment in their lives. Her desire to serve others shines through all of her work."
—Gabrielle Bernstein, New York Times bestselling author of May Cause Miracles

"[A] profound book and a must-read for anyone that prioritizes happiness. . . . This is the playbook for making small changes and shifts that will yield you large results in your happiness."
—Kristine Carlson, New York Times bestselling author of Don't Sweat the Small Stuff for Women

"Shannon offers easy-to-absorb advice to help you become your happiest, most loved, highest potential self—and best of all she makes it a fun process. My kind of gal."
—Karen Salmansohn, bestselling author of How to Be Happy, Dammit: A Cynic's Guide to Spiritual Happiness

"This is a breakthrough guide to help you release negative thought patterns and live a life you are in love with."
—Christine Hassler, life coach, speaker, and author of 20-Something, 20-Everything and Expectation Hangover

"She not only believes in the message of happiness, she lives it and breathes it. Every time I talk to Shannon, happiness finds a way in. Pick up this book and breathe in some happiness into your heart and mind."
—Christine Arylo, author of Madly in Love with ME

"I admire Shannon because she's battled her own demons—overcoming depression, drug addiction, and an eating disorder—and has emerged with an enthusiasm for life, a belief in herself, and a passion for helping others identify and pursue what they truly want."
—Lori Deschene, founder of TinyBuddha.com and author Tiny Buddha: Simple Wisdom for Life's Hard Questions

"Shannon shares her story of vulnerability and victory and emerges as a radiant example of what is possible with a mental makeover. Shannon gives you an easy-to-follow road map to lasting happiness, joy, and inner transformation. People say happiness is an inside job—this is the ultimate how-to manual."
—Amy Leigh Mercree, author of The Spiritual Girl's Guide to Dating

 "The Self-Love Experiment is the book I wish I'd had in my 20's. And my 30's. Now more than ever, we as women need to rise up and empower ourselves and each other. Shannon's book is the necessary guidebook we need to get ourselves there. Self-love can seem elusive, but Shannon has broken it down in easy to digest lessons."
— Andrea Owen, Author of 52 Ways to Live a Kick-Ass Life: BS-Free Wisdom to Ignite Your Inner Badass and Live the Life You Deserve 

"Shannon's blazing one hell-of-a self-love trial for others to show up, release fear, and live life, fully. You know, one where your dreams come true, and we live happily ever after in love, with ourselves! The world needs this self-love injection. And so do you."
—Emma Mildon, bestselling author of The Soul Searcher's Handbook and Evolution of Goddess

"Shannon is an absolute Goddess. She's a beautiful example of what is possible when you free yourself from self-criticism, blame and guilt, and choose love instead. I am in total adoration of this woman and that's because of how in love she is with herself, the world and life! Thank you, Shannon for being such a light. Readers, you are in for a treat!"
—Mel Wells, Eating Psychology Coach and Bestselling Author of 'The Goddess Revolution: Make Peace With Food, Love Your Body and Reclaim Your Life"