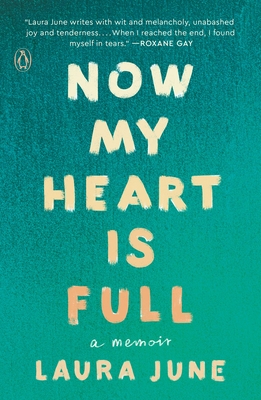 Now My Heart Is Full
A Memoir
Paperback

* Individual store prices may vary.
Other Editions of This Title:
Digital Audiobook (7/23/2018)
Description
A deeply affecting memoir of motherhood and daughterhood, and how we talk about both, from popular writer Laura June

"Laura June writes with wit and melancholy, unabashed joy and tenderness. . . . When I reached the end, I found myself in tears." —Roxane Gay

Laura June's daughter, Zelda, was only a few moments old when she held her for the first time, looked into her eyes, and thought, I wish my mother were here. It wasn't a thought she was used to having. Laura was in second grade when she realized her mother was an alcoholic. As the years went by, she spiraled deeper, and by the time of her death, before Zelda's birth, the two had drifted apart entirely.

In Now My Heart is Full, Laura June explores how raising her daughter forced her to confront this tragic legacy and recognize the connective tissue that binds generations of women together. As she documents in beautiful and irreverent prose the pain and joy of raising a child, Laura shows how, even a generation later, we still do not have the language to fully discuss the change that a woman undergoes when she becomes a parent and finds that, to her surprise, she has more in common with her mother than she ever knew.
Praise For Now My Heart Is Full: A Memoir…
"June writes eloquently and provides thoughtful insight on issues new parents face, but you don't have to be a parent to find meaning in this book."
—The Washington Post

"Laura June's joyful, empathic, but uncompromisingly irreverent memoir, Now My Heart Is Full, is such a balm, whether one regards parenthood with clear-eyed enthusiasm or with leery ambivalence. . . . June reckons unflinchingly with the muck of motherhood and daughterhood without disavowing the precious particularities of both."
—Rachel Vorona Cote, The New Republic

"This beautiful, heart-rending and -restoring memoir explores what it means to be a mother and a daughter, and coming to terms with the imperfections within these most foundational of familial bonds. Laura June writes with grace, wit, and honesty."
—Nylon (Great Books To Read This Summer)

"June's memoir is one of the rare ones that captures the ambivalence, the joy, the hardship, the struggle, and the simple grace of [motherhood]. . . . Exploring the mother-daughter complexities from a variety of viewpoints and seeing how they're connected made this an especially wonderful read."
—Book Riot (Must-Read July 2018 New Releases)

"Mommy memoirs aren't always entertaining or self-reflective, but Now My Heart is Full offers both in abundance."
—Bitch Media (Books Feminists Should Read in July)

"A poignant memoir . . . exploring motherhood with searing intimacy and honesty."
—PopSugar

"Moving . . . heartbreaking but so enjoyable."
—HelloGiggles

"[A] wrenching memoir about family and addiction."
—Bustle (12 New Books You Need To Read)

"Fans of Laura June's parenting essays on The Cut will definitely want to check this one out."
—The Millions (Most Anticipated: The Great Second-Half 2018 Book Preview)

"Warm, wrenching, and full of light."
—Booklist

"Sometimes, a book swells into something far lovelier than you assume it will be. Laura June's warm and moving Now My Heart is Full is one such unforgettable book. What seems like a straightforward memoir about motherhood slowly, carefully, becomes so much more. This is the story of how the daughter of an alcoholic mother becomes a motherless mother and reconciles the ways she was loved, the ways she was hurt and how the birth of her own daughter allowed her heart to finally grow full. There is no maudlin sentimentality here. Instead, Laura June writes with wit and melancholy, unabashed joy and tenderness. Imagine my surprise, when I reached the end, and found myself in tears."
—Roxane Gay, New York Times bestselling author of Hunger

"Is there any more formative bond than the one between mother and daughter? Laura June's heartbreaking but ultimately hopeful memoir intertwines the story of her daughter's birth with an insightful and forgiving account of her own mother's alcoholism and their complex relationship. A moving, beautiful exploration of what it means to love—and let go."
—Julie Buntin, author of Marlena

"Laura June's writing is affecting, clear-eyed, and honest. Her ambivalence toward many of life's biggest milestones is particularly refreshing in a culture that demands a woman's every attention be paid to marriage and motherhood. But Now My Heart is Full is not cynical, or cutting—rather, it is surprised by its own warmth and joy."
—Katie Heaney, author of Would You Rather? and Never Have I Ever

"Now My Heart Is Full explores in heartfelt prose how the familial ties that bond us are inevitably the ones that threaten to break us—and the messy miracle of breaking them first. Laura June triumphs by resisting the inertia of inherited suffering and surrendering to the possibility of a boundless, unbreakable love."
—Alana Massey, author of All the Lives I Want
Penguin Books, 9780143130918, 272pp.
Publication Date: July 24, 2018
About the Author
Laura June was born and raised in Pittsburgh, Pennsylvania. Her writing has appeared on The Awl, Buzzfeed, Cosmopolitan, Jezebel, New York Magazine, The Outline, and The Washington Post. She was previously a staff writer at New York Magazine's The Cut and is a contributing writer at The Outline.
or
Not Currently Available for Direct Purchase