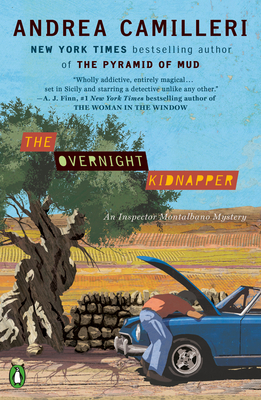 The Overnight Kidnapper (An Inspector Montalbano Mystery #23)
Paperback

* Individual store prices may vary.
Other Editions of This Title:
MP3 CD (2/5/2019)
Compact Disc (2/5/2019)
Compact Disc (2/5/2019)
Library Binding, Large Print (4/1/2019)
Description
"[Camilleri's mysteries] offer quirky characters, crisp dialogue, bright storytelling—and Salvo Montalbano... a delightful creation, an honest man on Sicily's mean streets." —USA Today

The day gets off to a bad start for Montalbano: while trying to break up a fight on Marinella beach, he hits the wrong man and is stopped by the Carabinieri. When he finally gets to the office, the inspector learns about a strange abduction: a woman was abducted, drugged, and then released unharmed only hours later. Within a few days, the same thing happens again. Both women are thirty years old and work in a bank. 

Montalbano also has to deal with an arson case. A shop has burned down, and its owner, Marcello Di Carlo, seems to have vanished into thin air. At first this seems like a trivial case, but a third abduction—yet again of a girl who works in a bank—and the discovery of a body bring up new questions.
Praise For The Overnight Kidnapper (An Inspector Montalbano Mystery #23)…
"The Sicilian dialect . . . as rendered in Sartarelli's adept translation, provides comic relief. Camilleri fans are in for a treat." —Publishers Weekly

"[The Overnight Kidnapper is] another wry, amiable procedural from the prolific Camilleri, whose unflappably put-upon hero soldiers on no matter how absurd the crime or aggravating the situation." —Kirkus Reviews


Praise for Andrea Camilleri and the Montalbano Series:

"You either love Andrea Camilleri or you haven't read him yet. Each novel in this wholly addictive, entirely magical series, set in Sicily and starring a detective unlike any other in crime fiction, blasts the brain like a shot of pure oxygen. Aglow with local color, packed with flint-dry wit, as fresh and clean as Mediterranean seafood — altogether transporting. Long live Camilleri, and long live Montalbano." —A.J. Finn, #1 New York Times bestselling author of The Woman in the Window

"The idiosyncratic Montalbano is totally endearing." —The New York Times

"Camilleri is as crafty and charming a writer as his protagonist is an investigator." —The Washington Post Book World

"Hailing from the land of Umberto Eco and La Cosa Nostra, Montalbano can discuss a pointy-headed book like Western Attitudes Toward Death as unflinchingly as he can pore over crime-scene snuff photos. He throws together an extemporaneous lunch of shrimp with lemon and oil as gracefully as he dodges advances from attractive women." —Los Angeles Times

"Like Mike Hammer or Sam Spade, Montalbano is the kind of guy who can't stay out of trouble. . . . Still, deftly and lovingly translated by Stephen Sartarelli, Camilleri makes it abundantly clear that under the gruff, sardonic exterior our inspector has a heart of gold, and that any outburst, fumbles, or threats are made only in the name of pursuing truth." —The Nation

"Camilleri can do a character's whole backstory in half a paragraph." —The New Yorker

"Subtle, sardonic, and molto simpatico: Montalbano is the Latin re-creation of Philip Marlowe, working in a place that manages to be both more and less civilized than Chandler's Los Angeles." —Kirkus Reviews (starred review)

"The novels of Andrea Camilleri breathe out the sense of place, the sense of humor, and the sense of despair that fills the air of Sicily." —Donna Leon
Penguin Books, 9780143131137, 272pp.
Publication Date: February 5, 2019
About the Author
Andrea Camilleri, a mega-bestseller in Italy and Germany, is the author of the New York Times bestselling Inspector Montalbano mystery series as well as historical novels that take place in nineteenth-century Sicily. His books have been made into Italian television shows and translated into thirty-two languages. His thirteenth Montalbano novel, The Potter's Field, won the Crime Writers' Association International Dagger Award and was longlisted for the IMPAC Dublin Literary Award.

Stephen Sartarelli is an award-winning translator and the author of three books of poetry.