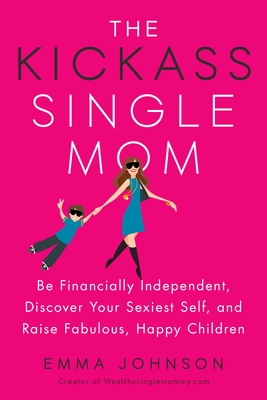 The Kickass Single Mom (Paperback)
Be Financially Independent, Discover Your Sexiest Self, and Raise Fabulous, Happy Children
TarcherPerigee, 9780143131151, 304pp.
Publication Date: October 17, 2017
* Individual store prices may vary.
Description
When Emma Johnson's marriage ended she found herself broke, pregnant, and alone with a toddler. Searching for the advice she needed to navigate her new life as a single professional woman and parent, she discovered there was very little sage wisdom available. In response, Johnson launched the popular blog Wealthysinglemommy.com to speak to other women who, like herself, wanted to not just survive but thrive as single moms. Now, in this complete guide to single motherhood, Johnson guides women in confronting the naysayers in their lives (and in their own minds) to build a thriving career, achieve financial security, and to reignite their romantic life—all while being a kickass parent to their kids. The Kickass Single Mom shows readers how to:


   • Build a new life that is entirely on their own terms.

   • Find the time to devote to health, hobbies, friendships, faith, community and travel.

   • Be a joyful, present and fun mom, and proud role model to your kids.


Full of practical advice and inspiration from Emma's life, as well as other successful single moms, this is a must-have resource for any single mom.
About the Author
Emma Johnson is the creator of the popular blog, WealthySingleMommy.com, and the podcast, "Like a Mother," where she explores issues facing professional single moms like herself. She is a writer, journalist, entrepreneur, former small-town Midwesterner, and current New Yorker. Since launching her blog four years ago, she has become the leading voice of single motherhood in the popular media and has been quoted in The New York Times, The Wall Street Journal, U.S. News and World Report, Women's Day, and NPR, among others.
Praise For The Kickass Single Mom: Be Financially Independent, Discover Your Sexiest Self, and Raise Fabulous, Happy Children…
"It's high time that mothers, just like all women, are embraced and supported to access the power of their sensual truth. In her new book, The Kickass Single Mom, Emma Johnson takes a fierce stand for removing the shame and stigma around motherhood, sex, pleasure and power." 
—Regena Thomashauer, New York Times Bestselling Author of Pussy: A Reclamation, and Founder of The School of Womanly Arts

"The Kickass Single Mom is a much-needed roadmap for the 10 million U.S. single moms to achieving their goals and creating an abundant and happy future for themselves and their kids. Emma Johnson's writing is smart, researched and hilarious at the same time."
—Jean Chatzky, NBC Today, HerMoney Podcast

"This book is like having a stand-up comic, high-priced divorce attorney, no-nonsense mentor and perfect best friend by your side as you make the same trek Emma Johnson did: from alone and scared to happy, wealthy and sexy. Emma's work is a new movement that re-brands single moms for what they really are: competent, capable, sensual, solvent, loving, lovable, and, of course, kickass!" 
—Lenore Skenazy, founder of the book and blog Free-Range Kids

"All the single mommies! Get your hands up and get a copy. This book is raw, real, and mandatory reading for the 10 million-plus single moms and the friends and family who love them. Single mom superhero Emma Johnson is re-defining what it means to fly solo with kids — and lookout. She has heard it all, makes no excuses, and pulls no punches in fighting to empower her tribe of single moms."
—Bobbi Rebell, Author of How to be a Financial Grownup: Proven Advice from High Achievers on How to Live Your Dreams and Have Financial Freedom.

"Woah! What an awesome read. I could not put this book down! Every single mom — or woman considering single motherhood — MUST read The Kickass Single Mom! Emma's book provides all the financial tools solo moms need to create the positive mindset shifts required to thrive — no matter what your family looks like. The Kickass Single Mom is the seminal book to elevate the 'single mom' status, once and for all." 
— Tiffany "The Budgetnista" Aliche