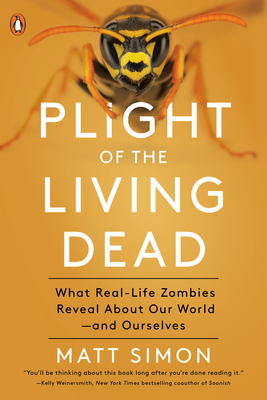 Plight of the Living Dead
What Real-Life Zombies Reveal About Our World--and Ourselves
Paperback

* Individual store prices may vary.
Other Editions of This Title:
Digital Audiobook (10/1/2018)
Description
A brain-bending exploration of real-life zombies and mind controllers, and what they reveal to us about nature—and ourselves

Zombieism isn't just the stuff of movies and TV shows like The Walking Dead. It's real, and it's happening in the world around us, from wasps and worms to dogs and moose—and even humans.

In Plight of the Living Dead, science journalist Matt Simon documents his journey through the bizarre evolutionary history of mind control. Along the way, he visits a lab where scientists infect ants with zombifying fungi, joins the search for kamikaze crickets in the hills of New Mexico, and travels to Israel to meet the wasp that stings cockroaches in the brain before leading them to their doom.

Nothing Hollywood dreams up can match the brilliant, horrific zombies that natural selection has produced time and time again. Plight of the Living Dead is a surreal dive into a world that would be totally unbelievable if very smart scientists didn't happen to be proving it's real, and most troublingly—or maybe intriguingly—of all: how even we humans are affected.

"Fantastic . . . You'll be thinking about this book long after you're done reading it." —Kelly Weinersmith, New York Times bestselling coauthor of Soonish
Praise For Plight of the Living Dead: What Real-Life Zombies Reveal About Our World--and Ourselves…
"Burned out on human interaction? Consider zombies instead. . . . Matt Simon looks at zombification, brain-altering viruses and parasites, and the myriad ways mind control shows up in the natural world. It's fun, weird, and fascinating."
—Outside Magazine

"Spine-tingling . . . Faced with living (and undead) examples of unimaginable suffering, Simon questions the cruelty of nature, explores the way that mind-controlling viruses have ravaged human society, informs us that one in three humans is strolling around with a zombifying parasite right now, and nearly disproves the existence of free will along the way. It's a fun read that will haunt you to your very core."
—Gizmodo

"Surprisingly lively and lighthearted . . . Simon's fascination is contagious. . . . [His] work is easily the most fun one could ever expect to have reading about the mind-controlling insects, insidious fungi, and parasites living alongside humanity."
—Publishers Weekly

"An extensively documented, easily digestible, occasionally irreverent, and always engaging look at parasitical zombifiers."
—Booklist

"Utterly engrossing (no pun intended) . . . [Simon's] splendid narrative voice can't help but evoke an enthralling documentary. Conversational and engagingly funny, Simon captures the reader's mind like a wasp larva virus in a ladybug."
—Shelf Awareness

"This book is fantastic! The sci-fi stories you've read barely hold a candle to the gruesome ways in which parasites manipulate their hosts in real life. This book will make your skin crawl with some of the best examples of manipulation we've encountered, fascinate you with what we know about how parasites achieve these amazing feats of control, and leave you wondering what this all means for the nature of free will. You'll be thinking about this book long after you're done reading it."
—Kelly Weinersmith, New York Times bestselling coauthor of Soonish: Ten Emerging Technologies That'll Improve and/or Ruin Everything

"Matt Simon is, to borrow his term, a zombifier: Plight of the Living Dead will infect your brain, forcing you to spout a stream of bizarre facts—about fat-sucking worms, muscle-eating fungi, brain-stabbing wasps—until your friends buy the book for themselves, and the chain of infection continues."
—Mark Essig, author of Lesser Beasts: A Snout-to-Tail History of the Humble Pig

"A gruesome, fascinating, and somehow hilarious exploration of the most devious, mind-altering tactics of the bug wars. I found myself cringing, laughing, learning, but most of all thankful I'm not an ant."
—Cody Cassidy, author of And Then You're Dead: What Really Happens If You Get Swallowed by a Whale, Are Shot from a Cannon, or Go Barreling over Niagara
Penguin Books, 9780143131410, 256pp.
Publication Date: October 2, 2018
About the Author
Matt Simon is a science writer at Wired magazine, where he specializes in zoology, particularly of the bizarre variety, and the author of The Wasp That Brainwashed the Caterpillar. He is one of just a handful of humans to witness the fabled mating ritual of the axolotl salamander. He lives in San Francisco.
or
Not Currently Available for Direct Purchase