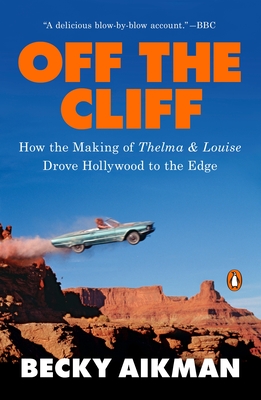 Off the Cliff
How the Making of Thelma & Louise Drove Hollywood to the Edge
Paperback

* Individual store prices may vary.
Other Editions of This Title:
Digital Audiobook (6/26/2017)
Hardcover (6/27/2017)
Description
A lively and revealing behind-the-scenes look at the making of one of history's most controversial and influential movies, drawing on exclusive interviews with the cast and crew.

"You've always been crazy," says Louise to Thelma, shortly after she locks a police officer in the trunk of his car. "This is just the first chance you've had to express yourself."

In 1991, Thelma & Louise, the story of two outlaw women on the run from their disenchanted lives, was a revelation. Suddenly, a film in which women were, in every sense, behind the wheel. It turned the tables on Hollywood, instantly becoming a classic, and continues to electrify audiences as a cultural statement of defiance. But if the film's place in history now seems certain, at the time its creation was a long shot. Only through sheer hard work and more than a little good luck did the script end up in the hands of the brilliant English filmmaker Ridley Scott, who saw its huge potential. With Scott on board, a team willing to challenge the odds came together—including the stars Geena Davis and Susan Sarandon and a fresh-faced up-and-coming actor named Brad Pitt, as well as legends like actor Harvey Keitel, composer Hans Zimmer, and old-school studio chief Alan Ladd Jr.—to create one of the most controversial movies of all time.
 
But before icons like Davis and Sarandon got involved, Thelma & Louise was just an idea in the head of Callie Khouri, a thirty-year-old music video production manager, who was fed up with working behind the scenes on sleazy sets. At four a.m. one night, sitting in her car outside the ramshackle bungalow in Santa Monica that she shared with two friends, she had a vision: two women on a crime spree, fleeing their dull and tedious lives—lives like hers—in search of a freedom they had never before been able to realize. But in the late 1980s, Hollywood was dominated by men, both on the screen and behind the scenes. The likelihood of a script by an unheard-of screenwriter starring two women in lead roles actually getting made was remote. But Khouri had one thing going for her—she was so inexperienced she didn't really know she would be attempting the nigh impossible. 

In Off the Cliff, Becky Aikman tells the full extraordinary story behind this feminist sensation, which crashed through barricades and upended convention. Drawing on 130 exclusive interviews with the key players from this remarkable cast of actors, writers, and filmmakers, Aikman tells an inspiring and important underdog story about creativity, the magic of cinema, and the unjust obstacles that women in Hollywood continue to face to this day.
Praise For Off the Cliff: How the Making of Thelma & Louise Drove Hollywood to the Edge…
An O Magazine "Summer Must Read" pick! 

"Thelma & Louise may be a classic now, but in the male-dominated landscape of late-1980s Hollywood, it was almost a miracle that the film got made. Here Aikman tells the whole story, from Callie Khouri's screenplay to that heart-stopping final scene, and all the star power in between." — Entertainment Weekly, Best New Books

"Becky Aikman's new book is a fierce, funny chronicle of the making of Thelma & Louise." — NPR.org

"A delicious blow-by-blow account."— BBC

"The movie became almost as famous for the casting of the hitchhiker -- Brad Pitt in his first film role.  The story of his now-legendary big-screen breakthrough is alone worth the cover price.  Reading it literally made me feel giddy."— Wall Street Journal

"Read this for the fascinating interviews with all those involved in making the 1991 iconic film." — AARP 

"Aikman's book is not just a tell-all, but a tell-why…Off the Cliff is inspiring in the way the best speculative literature is: it shows what would be, could be, if women were allowed their own stories." – Paste Magazine

"Off the Cliff tells the remarkable story of the underdog project that marked Brad Pitt's very first movie role, landed Davis and Sarandon on the cover of Time magazine, was nominated for six Academy Awards, and still stands today as a shining, pop-cultural icon of defiance." —Parade

"Lively….[A] thoroughly reported chronicle of the movie's improbable path to the multiplex, the subsequent cultural reverberations and a Hollywood revolution that never happened." – Dallas Morning News

"Robustly researched, anecdote-rich and snappily written."— Buffalo News

"Fascinating… [Aikman] takes readers on an intimate journey through the making of this film."— The Desert News

"Brings fascinating revelations from interviews with people of varying degrees of involvement in the work: try outs and casting, costuming, location selecting, props and equipment (dust blowers, tumbleweed, five Thunderbirds), relationships among actors (Geena Davis, Susan Sarandon, director Ridley Scott, new discovery Brad Pitt)….For film buffs and historians, feminists, and residents of La La Land." – Library Journal

"Aikman's copious research, much of it her own interviews with all the heavies, and journalist's knack for turns of phrase imbue the story with genuine suspense and capture the film's bewildering singularity at every step of its development…. As both a razzle-dazzle, inside-Hollywood legend and a fearless lamentation of film-industry opportunities for women, this succeeds handsomely."— Booklist

"Aikman delivers an informative and lively behind-the-scenes look at the making of Thelma & Louise."— Publishers Weekly

"Entertaining… Off the Cliff is enhanced by informative, brief biographies of key players and mini-essays on pertinent topics like the history of women in film. For fans of the iconic film, Aikman provides everything you wanted to know about it." —Kirkus Reviews

"'Thelma & Louise' is both historic and anomalous—historic because it is so anomalous. Becky Aikman has told its story with the same propulsion as the film itself and manages to ground it in the sexual politics of Hollywood when a movie like 'Thelma and Louise' seemed an impossibility. Entertaining, informed, and unfortunately still timely in its perspective on women and the movies, Off the Cliff is one of the very best behind-the-scenes books you are likely to read."—Neal Gabler, author of Walt Disney: The Triumph of the American Imagination and An Empire of Their Own: How the Jews Invented Hollywood

"A making-of book on 'Thelma & Louise,' one of the few diamonds among the films released by the studios in the late '80s and '90s, is long overdue. This breezy, smart, and informative account is it. Thank you, Becky Aikman!"—Peter Biskind, author of Easy Riders, Raging Bulls: How the Sex-Drugs-and-Rock 'N' Roll Generation Saved Hollywood

"Thelma and Louise are a modern Damon and Pythias. Until they choose to go out in blazing glory, they live through a free-wheeling, slam-bang, bad-ass, sisterhood adventure saga. It's great to learn how a modern movie that says women's lives are important got made and to contemplate what it means in film history and American culture. A great read!"—Jeanine Basinger, Founder of the Film Studies Department and Curator of Cinema Archives at Wesleyan University, and author of I Do and I Don't: A History of Marriage in the Movies and A Woman's View: How Hollywood Spoke to Women, 1930-1960
Penguin Books, 9780143131489, 320pp.
Publication Date: August 7, 2018
About the Author
BECKY AIKMAN is the author of the memoir Saturday Night Widows: The Adventures of Six Friends Remaking Their Lives. She was a journalist at Newsday, and her work has also appeared in the New York Times and the Los Angeles Times. She lives in Brooklyn, New York, and can be reached at www.BeckyAikman.com.
or
Not Currently Available for Direct Purchase