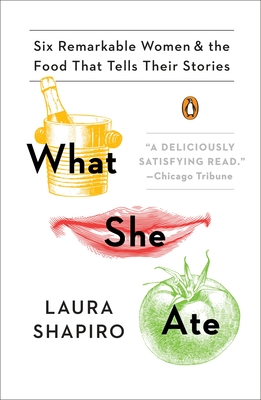 What She Ate
Six Remarkable Women and the Food That Tells Their Stories
Paperback

* Individual store prices may vary.
Other Editions of This Title:
Digital Audiobook (7/24/2017)
Hardcover (7/25/2017)
Description
A Washington Post Notable Nonfiction Book of The Year
One of NPR Fresh Air's "Books to Close Out a Chaotic 2017"
NPR's Book Concierge Guide To the Year's Great Reads

"How lucky for us readers that Shapiro has been listening so perceptively for decades to the language of food." —Maureen Corrigan, NPR Fresh Air

Six  "mouthwatering" (Eater.com) short takes on six famous women through the lens of food and cooking, probing how their attitudes toward food can offer surprising new insights into their lives, and our own.

Everyone eats, and food touches on every aspect of our lives—social and cultural, personal and political. Yet most biographers pay little attention to people's attitudes toward food, as if the great and notable never bothered to think about what was on the plate in front of them. Once we ask how somebody relates to food, we find a whole world of different and provocative ways to understand her. Food stories can be as intimate and revealing as stories of love, work, or coming-of-age. Each of the six women in this entertaining group portrait was famous in her time, and most are still famous in ours; but until now, nobody has told their lives from the point of view of the kitchen and the table. 

What She Ate is a lively and unpredictable array of women; what they have in common with one another (and us) is a powerful relationship with food. They include Dorothy Wordsworth, whose food story transforms our picture of the life she shared with her famous poet brother; Rosa Lewis, the Edwardian-era Cockney caterer who cooked her way up the social ladder; Eleanor Roosevelt,  First Lady and rigorous protector of the worst cook in White House history; Eva Braun, Hitler's mistress, who challenges our warm associations of food, family, and table; Barbara Pym, whose witty books upend a host of stereotypes about postwar British cuisine; and Helen Gurley Brown, the editor of Cosmopolitan, whose commitment to "having it all" meant having almost nothing on the plate except a supersized portion of diet gelatin.
Praise For What She Ate: Six Remarkable Women and the Food That Tells Their Stories…
"Both a biography and a book of culinary history, What She Ate is charming, well-researched and thoughtful. Food has never meant so much."
—Adriana E. Ramirez, Los Angeles Times

"Laura Shapiro has put together a rich meal. . . . A seriously and hilariously researched culinary history."
—Susan Stamberg, NPR Morning Edition

"[F]ascinating . . . Shapiro, like a consummate maître d', sets down plate after plate . . . and an amazing thing happens: Slowly the more familiar accounts of each of [the women's] lives recede and other, messier narratives emerge. . . . How lucky for us readers that Shapiro has been listening so perceptively for decades to the language of food."
—Maureen Corrigan, NPR's Fresh Air

"Who could resist?"—People

"It's great fun to read about notoriously abysmal dishes served in the Roosevelt White House"
—The New York Times Book Review

"If you want to know what makes a woman of substance, consider the substances she consumes. . . . Fascinating."
—The New York Post

"If you find the subject of food to be both vexing and transfixing, you'll love . . . What She Ate."
—Elle

"Such a fun read . . . Shapiro deftly uses food to link one woman to another—and to us today. . . . Writing this book, Shapiro notes, has made her 'aware of all the food stories that will never be told' . . . A deliciously satisfying read."
—Chicago Tribune

"Shapiro approaches her subject like a surgeon, analytical tools sharpened. The result is a collection of essays that are tough, elegant and fresh."
—Washington Post

"A delectable and sometimes spicy dish on some intriguing women and their sustenance of choice."
—The Plain Dealer

"Fascinating."
—Moira Hodgson, Wall Street Journal

"A collection of deft portraits in which food supplies an added facet to the whole . . . What She Ate redeems the whole sentimental, self-indulgent genre of food writing."
—Slate

"Delectable . . . Buy this book, read this book and then spend a few seconds before every meal thinking about what message the dish sitting in front of you could be sending to your dinner companions."
—PureWow.com

"History gets plated."
—Vanity Fair

"Simply a fun read."
—Bon Appetit

"Fascinating . . . you'll quickly see that food choices are more revealing than you might expect."
—Bustle 

"Clever . . . This dissection of diet is a telling window into the lives of these fascinating historical figures."
—PopSugar

"In studying these women's meals and attitudes toward food, [Shapiro] reveals surprising insights into how they lived."—Hello Giggles

"Mouthwatering."
—Eater.com 

"Like a textbook for my own feminist food studies curriculum."
—Austin American Statesman

"An unconventional approach…[that] works deliciously."
—Fort Worth Star-Telegram

"Fascinating."—Tampa Bay Times

"Chock full of 'iconic repasts' and lesser but no-less-piquant morsels, What She Ate establishes Laura Shapiro as the founder of a delectable new literary genre: the culinary biography. 'It's never just food' is Shapiro's mantra as she sifts through letters, journals, manuscript drafts, and of course scads of recipes, to derive six thrilling 'food stories' spanning two centuries and a spectrum of appetites. Only as fundamental a subject as food and as skillful a writer as Shapiro could bring Dorothy Wordsworth, Eleanor Roosevelt, and Helen Gurley Brown together happily in one richly satisfying volume."
—Megan Marshall, Pulitzer Prize-winning author of Margaret Fuller: A New American Life and Elizabeth Bishop: A Miracle for Breakfast

"Laura Shapiro has done it again! She's given us a fascinating and wonderfully entertaining history of six women of the last two centuries you might never have thought of as foodies, yet here they are, distinguished by how differently they dealt with the overwhelming importance of food in their lives. What She Ate argues—and proves--that every woman has a food story. It ought to inspire all of us who love food to get busy on our memoirs."
—Marion Nestle, professor of nutrition, food studies, and public health at New York University and author of Soda Politics

"Six crisply written, ardently researched, and entertainingly revelatory portraits of very different women with complicated relationships with eating and cooking…. A bounteous and elegant feast for hungry minds."
—BookList, (starred review)

"Offering an interesting angle from which to view the lives of various women, [What She Ate] will appeal to not only food readers but also to anyone wishing to learn more about women's history."
—Library Journal

"[Laura Shapiro] changed the way I thought about American food, and did so in the most entertaining and informative way possible."
—SheKnows

Penguin Books, 9780143131502, 320pp.
Publication Date: July 24, 2018
About the Author
Laura Shapiro has written on every food topic from champagne to Jell-O for The New York Times, The New Yorker, The Atlantic, Slate, Gourmet, and many other publications. She is the author of three classic books of culinary history. Her awards include a James Beard Journalism Award and one from the National Women's Political Caucus. She  has been a fellow at the Dorothy and Lewis B. Cullman Center for Scholars and Writers at the New York Public Library, where she also co-curated the widely acclaimed exhibition Lunch Hour NYC.