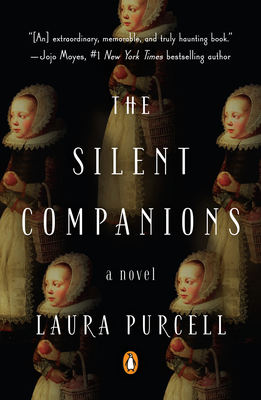 The Silent Companions
A Novel
Paperback

* Individual store prices may vary.
Description
"[An] extraordinary, memorable and truly haunting book." —Jojo Moyes, #1 New York Times bestselling author

Laura Purcell's THE SHAPE OF DARKNESS is now out from Penguin!

Some doors are locked for a reason.
                 
When Elsie married handsome young heir Rupert Bainbridge, she believed she was destined for a life of luxury. But pregnant and widowed just weeks after their wedding, with her new servants resentful and the local villagers actively hostile, Elsie has only her late husband's awkward cousin for company. Or so she thinks. Inside her new home lies a locked door, beyond which is a painted wooden figure—a silent companion—that bears a striking resemblance to Elsie herself. The residents of the estate are terrified of the figure, but Elsie tries to shrug this off as simple superstition—that is, until she notices the figure's eyes following her.

A Victorian ghost story that evokes a most unsettling kind of fear, The Silent Companions is a tale that creeps its way through the consciousness in ways you least expect—much like the companions themselves.
Praise For The Silent Companions: A Novel…
"A perfect read for a winter night . . . An intriguing, nuanced, and genuinely eerie slice of Victorian gothic."
—The Guardian

"If The Silent Companions lands on your night table, don't plan on leaving your bed anytime soon. Immersive, meticulous, and reminiscent of the masters of gothic fiction—not only a compulsively readable ghost story, but a skillful, loving ode to the entire genre."
—Lyndsay Faye, bestselling author of Jane Steele

"Purcell crafts a virtually flawless work of Gothic fiction with this deeply atmospheric, foreboding story. . . . In inviting us into her eerie Gothic world, Purcell masterfully attends to every atmospheric detail—from the dirty hems of skirts to the slanting light of dawn. Her novel is reminiscent of the work of all the greats, particularly Shirley Jackson and Daphne du Maurier, but Purcell has a style all her own. A must for all lovers of Gothic literature."
—Library Journal (starred review)

"An atmospheric, eerie Victorian gothic novel . . . its combustible tale of a 19th-century woman tormented by an English country house's creepy curios does produce sparks."
—Publishers Weekly

"This perfect fireside read combines all the best characteristics of the gothic genre."
—Booklist

"Irresistibly creepy, this romps along, Purcell turning her screws with skill. It's what crumpets and dismal afternoons were made for."
—Glamour (UK)

"A genuinely creepy Victorian ghost story, it'll keep you up half the night reading it . . . and you won't want to turn off the light."
—Good Housekeeping (UK)

"One of the most well-written horror stories I've read this year, The Silent Companions is proper Gothic fare. . . . What is commendable is how Purcell is able to weave all these [classic] elements in a story that is layered and psychologically complex till the very end."
—Book Riot

"The chill of The Silent Companions sneaks up on you and then settles in like a gray mist on a British moor . . . a shivery treat."
—BookPage

"Laura Purcell weaves a classic tale of gothic horror. . . . Purcell has all the finest ingredients of the gothic tradition. . . . Reminiscent of Susan Hill's The Woman in Black and even du Maurier's Rebecca, The Silent Companions will chill readers who fall under its spell."
—Shelf Awareness

"Ghost stories are having a revival at present, and The Silent Companions . . . is a worthy newcomer to the genre. . . . These silent companions . . . are one of the creepiest concepts I've come across in a ghost story, both frightening and original. . . . The writing is strong and the concept provides a fresh twist on an old classic."
—The Historical Novels Review

"Layering on the dark and creepy, this intriguingly plotted novel is the full-blown Gothic, maintaining throughout an unsettling claustrophobic atmosphere mixed with some unusual historical detail."
—Daily Mail (UK)

"A sinister slice of the Victorian Gothic . . . It is a measure of Laura Purcell's skill...that she spins these tropes into something creepy and page-turning."
—The Times (UK)

"This atmospheric Gothic novel tells a deliciously creepy ghost story."
—Sunday Express (UK)

"Chilling."
—Sunday Post (UK)

"Creeptastic . . . Laura Purcell has nailed it with a story that conjures up Susan Hill's The Woman In Black, Henry James's The Turn Of The Screw and a little bit of Rebecca by Daphne du Maurier."
— Emerald Street

"You may want to leave the light on once you put down this intensely spooky gothic chiller. . . . Irresistibly creepy."
—The People (UK)

"A superbly atmospheric, tense novel full of creeping dread."
—Red Magazine (UK)

"Really tense and unnerving. It still won't let me go."
—Woman & Home Magazine (UK)

"A creepy, unsettling tale that I had to finish reading in broad daylight."
—Stylist, "10 must-read books for October" (UK)

"A delightfully creepy, unsettling gothic ghost story that will send a shiver down your spine and stay with you long after you've turned the final page. Prepare to be chilled!"
—Dead Good

"Writing in the tradition of country house ghost stories, Laura Purcell has created a book that is unnerving and compelling in equal measure. The Silent Companions is an atmospheric gothic tale that chills the blood."
—Sophia Tobin, bestselling author of The Silversmith's Wife

"Magnificently creepy . . . I really wished it were longer."
—Natasha Pulley, author of The Watchmaker of Filigree Street

"Frighteningly atmospheric, genuinely haunting and psychologically astute, the horror of The Silent Companions lingers like truth in the darkest corners of the human mind."
—Helen Sedgwick, author of The Comet Seekers

"Compelling and claustrophobic. The pages all but turn by themselves."
—Essie Fox, author of The Last Days of Leda Grey

"Not since The Little Stranger has a book so entranced and haunted me. Compelling, bewitching and beautifully written. Read it if you dare."
—Anna Mazzola, author of The Unseeing
Penguin Books, 9780143131632, 320pp.
Publication Date: March 6, 2018
About the Author
Laura Purcell worked in local government, the financial industry and a bookshop before becoming a full-time writer. She lives in Colchester, the oldest recorded town in England, with her husband and pet guinea pigs. Fascinated by the darker side of royal history, Laura has also written two historical fiction novels about the Hanoverian dynasty.