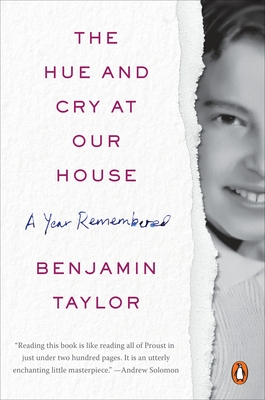 The Hue and Cry at Our House (Paperback)
A Year Remembered
Penguin Books, 9780143131649, 208pp.
Publication Date: May 23, 2017
* Individual store prices may vary.
Description
The award-winning memoir of one tumultuous year of boyhood in Fort Worth, Texas, opening with a handshake with JFK, and recalling the changes and revelations of the months that followed.

Winner of the LA Times Christopher Isherwood Prize for Autobiographical Prose, and a New York Times Editor's Choice.
 
"A marvel of a book—elegant, touching, singular." —Mary Karr

"Brief and moving . . . An elegantly written book, erudite, perceptive and at times painfully candid."—Moira Hodgson, Wall Street Journal

After John F. Kennedy's speech in front of the Hotel Texas in Fort Worth on November 22, 1963, he was greeted by, among others, an 11-year-old Benjamin Taylor and his mother waiting to shake his hand. Only a few hours later, Taylor's teacher called the class in from recess and, through tears, told them of the president's assassination. From there Taylor traces a path through the next twelve months, recalling the tumult as he saw everything he had once considered stable begin to grow more complex. Looking back on the love and tension within his family, the childhood friendships that lasted and those that didn't, his memories of summer camp and family trips, he reflects upon the outsized impact our larger American story had on his own.
 
Benjamin Taylor is one of the most talented writers working today. In lyrical, translucent prose, he thoughtfully extends the story of twelve months into the years before and after, painting a portrait of the artist not simply as a young man, but across his whole life. As he writes, "[A]ny twelve months could stand for the whole. Our years are so implicated in one another that the least important is important enough . . . Any year I chose would show the same mettle, the same frailties stamping me at eleven and twelve."
About the Author
Benjamin Taylor is the author of Proust: The Search, named a Best Book of 2016 by Thomas Mallon in The New York Times Book Review; Naples Declared: A Walk Around the Bay, named a Best Book of 2012 by Judith Thurman in The New Yorker; and of two award-winning novels, Tales Out of School and The Book of Getting Even. He edited Saul Bellow: Letters, named a Best Book of 2010 by Michiko Kakutani in The New York Times and Jonathan Yardley in The Washington Post, along with Bellow's There Is Simply Too Much to Think About: Collected Nonfiction. A faculty member in The New School's Graduate School of Writing, Taylor also teaches in the Graduate Writing Division of the School of the Arts at Columbia University. A past fellow and current trustee of the John Simon Guggenheim Memorial Foundation, he has also been elected president of the Edward F. Albee Foundation.
Praise For The Hue and Cry at Our House: A Year Remembered…
"Taylor's self-portrait of an odd, bewildered boy born into the frightening middle of the 20th century is touching, and a little shattering . . . His brush with history has the breath of life." -- Stephen Harrigan, New York Times Book Review
 
"In this lyrical and brilliant memoir, Benjamin Taylor investigates his childhood with piercing clarity and unapologetic nostalgia.  His insights are wise, his sense of humor always in evidence, and his yearning for lost time exquisitely palpable.  Reading this book is like reading all of Proust in just under two hundred pages.  It is an utterly enchanting little masterpiece."  -- Andrew Solomon    

"Part of the marvel of the The Hue and Cry at Our House is how one year of Taylor's life stands for the whole, which is a kind of microcosm of the magic of memoir, where one life can stand in for all of us." —Los Angeles Times     

"In this brief and moving memoir, Mr. Taylor chronicles the events of the following 12 months from the double viewpoint of a boy and of a middle-aged writer recollecting the past . . . Mr. Taylor writes bracingly of life in the early '60s, a time at once light-hearted and filled with dread—of polio, race riots and Russian missiles . . . An elegantly written book, erudite, perceptive and at times painfully candid." -- Moira Hodgson, Wall Street Journal

"In his keen focus on the 1963 death of John F. Kennedy in Dallas, Benjamin Taylor returns to the morning of the assassination in his hometown of Fort Worth when he had the dazzling experience, as a schoolboy, of shaking the hand of the President, his hero.  This acute, intense memoir achieves the stature of national as well as personal elegy, a breathtaking accomplishment, classical and impassioned.   It belongs to the best American literature of idealism and loss, a profoundly eloquent reading of our mid-century history and its heartbroken legacy to this day."      -- Patricia Hampl 
 
"What was it like to be a gifted, gay, upper-middle-class Jewish kid (with a touch of Asperger Syndrome) in 1964 Fort Worth, Texas? The answer is brilliantly explicated in Ben Taylor's memoir, THE HUE AND CRY AT OUR HOUSE, which begins with the assassination of JFK (Taylor shook the president's hand a few hours before Dealey Plaza) and gains momentum from there. That the author will grow up to be one of our most elegant, multifaceted writers is the final turn of the screw."   -- Blake Bailey, author of Cheever: A Life and The Splendid Things We Planned 
 
"[A] witty, painful, uninhibited, compactly Proustian memoir of, ostensibly, one year of childhood. Within his chosen focus, Taylor achieves a necessary feat of autobiography: The child who grew and the adult who more than remembers live together as one on the page. You encounter vitalistic youth; and sense there, also, the wing of mortality. Taylor's Hue and Cry is a vast offer of thanks and glowing triumph, his masterpiece to date."  -- Richard Howard

"In pellucid prose, Benjamin Taylor unties the knots in the country's psyche and more urgently in his own life growing up Jewish and gay in suburban Fort Worth. . . . In the end, we are aware that we have been reading an exquisite portrait of the artist as a young man, the developing consciousness of our narrator abundant recompense for the suffering engendered by the long-held secrets of his childhood."  -- Prof. Jonathan Wilson, Tufts University
 
"Benjamin Taylor enchanted readers by his Tales Out of School. He has done it again. The Hue and Cry at Our House, a short elegiac memoir that moves gracefully between the fateful year of President Kennedy's assassination, when Taylor was eleven, and other moments of searing significance in Taylor's life, is wondrously candid and deeply moving."  -- Louis Begley
 
"Reaching the last page of The Hue and Cry at Our House, I found myself marveling that such a slender volume could contain so much wisdom and emotion.  Benjamin Taylor writes in beautiful, precise prose about his younger self and his older self, about his parents and his friends, about a life lived over time, and about all our lives lived over time.  This is a mesmerising memoir."  --Margot Livesey
 
"Taylor has painted a gem-like portrait, in delicate colors and with fine detail, of a childhood in genteel Fort Worth at the end of the Kennedy era, and has written an honest and moving account of a frail, mercurial boy's struggle to be himself." -- Caleb Crain

"Short on length and long on power, this self-exposé has a haunting poetry" --Huffington Post

"Historic and cultural incidents dot the crackling narrative . . . Taylor, a lyrical wordsmith, broadens the usual boundaries of memoir writing with his analysis of time and childhood . . . In this skillful blend of dialogue between youth and maturity, Taylor sums up the value and quality of the years of his treasured past and unforgettable present, while stressing the sanctity of life."
-- Publishers Weekly
 
"Taylor is erudite, often eloquent, and eminently quotable...[A] sage memoir from an elegant writer." -- Kirkus Reviews

"This is a marvelous memoir that will appeal to anyone who loves good stories and interesting lives." -- Library Journal