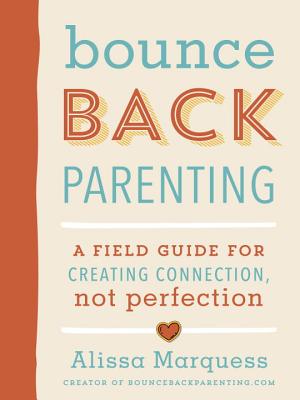 Bounceback Parenting
A Field Guide for Creating Connection, Not Perfection
Paperback

* Individual store prices may vary.
Description
Looking for more connection with your kids--and more fun, too? Welcome to the Bounceback Parenting League!

This insightful and empowering book is more than just another parenting guide. It's a playbook filled with simple yet powerful "secret missions" for parents who want to recharge, refresh and restart in a positive new way.

Filled with simple challenges, journal prompts with room to write, and inspiring advice to try today, this is a game-changing resource for overwhelmedmoms and dads everywhere.

Get ready for your first mission....
Praise For Bounceback Parenting: A Field Guide for Creating Connection, Not Perfection…
"Bounceback Parenting shows you how to foster strong bonds with your kids without having to be perfect. The "secret missions" will reduce your guilt and allow you to love more and yell less as you discover simple yet powerful ways to communicate and connect with your kids."
  --Amy McCready, author of The "Me, Me, Me" Epidemic and If I Have to Tell You One More Time…


"I think it's safe to assume many of us struggle with how to create connection with our children while also trying to maintain a household, honor our work and social commitments, and maintain our sanity. That may explain why I breathed easier every time I opened Bounceback Parenting. Guided by Alissa's gentle wisdom, relatable anecdotes, and practical strategies, I felt equipped and encouraged to lighten up, focus less on end results, and simply enjoy the journey. Alissa Marquess proves connection is possible, even in the chaos of daily life, and why it is worth the effort."  
—Rachel Macy Stafford, New York Times bestselling author of Hands Free Mama, Hands Free Life, and Only Love Today 


"You don't have to be perfect to be the connected, loving parent your kids need. Bounceback Parenting's journal prompts and 'secret missions' will give you simple and actionable ways to reduce guilt, build on strengths and increase peace in your home through connection, not perfection."
--Dr. Laura Markham, author of Peaceful Parent, Happy Kids and Peaceful Parent, Happy Siblings


"Bounceback Parenting is one of those rare dog-eared gems. The journal prompts and secret missions provide ways to turn words and ideas into action, and the shift to a growth mindset in parenting is truly a game-changer! What a relief to parents everywhere to discover 'connection, not perfection!'
--Rebecca Eanes, author of Positive Parenting


"Alissa begins this book reminding parents that 'everyone can learn and grow, starting right from where they are.' It really sets the tone for all parents to pick up and become stronger, no matter how confident they are today. Bounceback Parenting offers a beautiful combination of why connection (not perfection) matters and action steps to bring those ideas to life."
--Jill Riley, ConfidenceMeetsParenting.com 
 
 
"Bounceback Parenting is the perfect antidote for the parenting guilt that a lot of us unwittingly build up in our quest to become 'perfect' parents. Through fun operations, secret missions, assignments and field notes, Alissa helps us let go of the need for perfection and control, develop a growth mindset and resilience, and get more connected with our kids."
--Sumitha Bhandarkar, AFineParent.com


"Human development isn't driven by checklists guiding our perfection, but rather by the quality of our closest relationships.  Bounceback Parenting is a tremendous guide for parents who are ready to focus on those critical relationships rather than the alluring lie of perfection. This book is an ideal starting point to help you ditch the overwhelm and savor the joy in parenting."
--Amanda Morgan, educator, speaker, and creator of Not Just Cute


"Alissa's book is the cure to guilt in perfectionist moms! She reminds us that no one is a perfect parent and, more importantly, that perfection is not our goal. Bounceback Parenting is a guide to connecting with kids -- which is giving them what they truly need -- and bouncing back when you lose that connection. Its interactive and fun format will make it a favorite on the parenting bookshelf."
  --Chelsea Lee Smith, Moments a Day


"If you want to really enjoy parenting and feel more connected to your kids, this is the book for you! Bounceback Parenting offers a step-by-step guide for your journey. Soon you, too, will be shouting, 'Connection, not Perfection!'"
--Denise Roy, MFT, author of MOMfulness
TarcherPerigee, 9780143131779, 192pp.
Publication Date: April 24, 2018
About the Author
Alissa Marquess is a mom to three and the founder of Bounceback Parenting, where she helps parents build loving, resilient relationships with their kids. She has a built a large and loyal community of readers across many social media platforms.
or
Not Currently Available for Direct Purchase