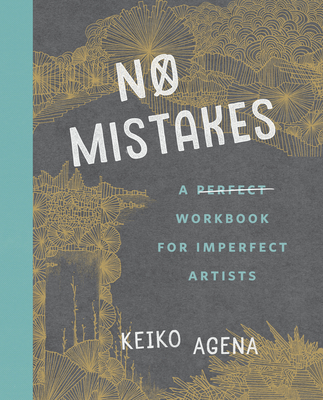 No Mistakes (Paperback)
A Perfect Workbook for Imperfect Artists
TarcherPerigee, 9780143131786, 176pp.
Publication Date: August 7, 2018
* Individual store prices may vary.
Description
An inspiring creative journal based on mindfulness practices and the "no mistakes" principles of improv, by a Gilmore Girls alum.

What if there were no mistakes? OK, that's impossible--but what if you learned to view your mistakes in a whole new light?

In this inspiring workbook, artist and former Gilmore Girls actress Keiko Agena guides you through simple exercises based on one of the founding ideas of improv: Any misstep is an opportunity for growth and creativity. Interspersed with coloring pages and original artwork by Agena, each exercise teaches you to confront your emotions, rethink your art, and take mindful breaks to recharge in her own playful, encourgaging voice:
* Describe a success you had, and identify the skills you learned to get you there.
* Look at an old piece of art that you're not proud of. What works, and how could you rework what doesn't?
* What actions can you take today to feed or rest your artistic impulse?

No Mistakes is a supportive space for amateurs, professional creatives, and everyone in between to test their boundaries, get to know their inner artist, and produce unique, meaningful work they feel proud of.
About the Author
KEIKO AGENA is an actress best known for the TV show, Gilmore Girls, where she played Lane Kim for seven seasons and reprised the role in 2016. As a guest star she has appeared on such shows as NCIS LA, Shameless, Scandal, House, ER and 13 Reasons Why. Agena regularly podcasts and is a graduate of the UCB and iO West improv programs, has studied at the Groundlings and currently performs with multiple improv teams. She and her work have been featured in EW, The Hollywood Reporter, and more.
Praise For No Mistakes: A Perfect Workbook for Imperfect Artists…
"If you're feeling stuck, uninspired, or in your head about your creative pursuits, Keiko Agena can help you rediscover your inner artist."
—HelloGiggles

"Keiko Agena has written a little gem. No Mistakes is an artistic workbook that encourages, inspires, and comforts the creative artist in all of us. Filled with thoughtful exercises, this book helps artists to evaluate and break through their creative blocks, helping them to shape their artistic perspective and recognize the unique gifts they have to share with the world."
—Jenna Fischer, actress, The Office

"No Mistakes is the perfect friend to have with you on your creative journey. Kind, encouraging, thoughtful, and imaginative, this companion will help you find inspiration in places where you'd never think to look. I sincerely hope that Keiko gives me a free copy once this goes to print. And if not, then I will definitely buy one, quietly resent her, and then use that resentment as springboard to make something cool." 
—Randall Park, actor, Fresh Off the Boat and Veep

"If I'd had access to this book years ago it would have saved me so much money in therapy! If you are plagued by self-doubt, if your fears are keeping you from making creative progress, check this out. The bottom line is this: you're supposed to make mistakes! Embrace them! Make friends with them! Let them lead you down different pathways--you might discover something better than your original idea!"
—Wendi Mclendon-Covey, actress, The Goldbergs and Bridesmaids

"There are many days when I feel like a janky piece of kid art. Keiko's book helps me underline the art and appreciate the janky. I'm excited to gift this to myself and to all of the creatives in my life!" 
—Kulap Vilaysack, actress, showrunner for Bajillion Dollar Propertie$, and host of the Who Charted? podcast

"I smiled my way through this entire book. It was the gentle reminder I needed that making art is actually supposed to be fun."
—Sarah Watson, showrunner on The Bold Type, writer on Parenthood

"I'm so grateful that Keiko wrote this book just for me, the only person in the arts who frequently gets in the way of her own creative process with perfectionism and/or negative thinking. This book is a fun and challenging way to recalibrate my brain when necessary. It's going to take a really long time to get all the exercises right though."
—Rhea Seehorn, star of Better Call Saul

"No Mistakes is now going to be my go-to birthday gift. Perfect for my 80-year-old dad all the way down to my crayon wielding little cousins, everyone can benefit from Keiko Agena's ingenious way of instilling confidence into the heart of any aspiring artist."
—Amber Benson, author and actress, Buffy the Vampire Slayer

"This book is about so much more than being creative. It's about how to embrace our imperfect selves, and how to live our lives with joyful exuberance. Everybody needs this book."
—Misa Sugiura, APALA Award winning author of It's Not Like It's A Secret

"It's like the kind, brave part of improv became a person and wrote a book. This is the voice we all need in our heads as we make stuff."
--Will Hines, veteran improvisor at UCB and author of How to Be the Greatest Improviser on Earth

"If you're feeling stuck, uninspired, or in your head about your creative pursuits, Keiko Agena can help you rediscover your inner artist."
—HelloGiggles